The stressors of COVID-19 and online learning actively affect the mental state of students and teachers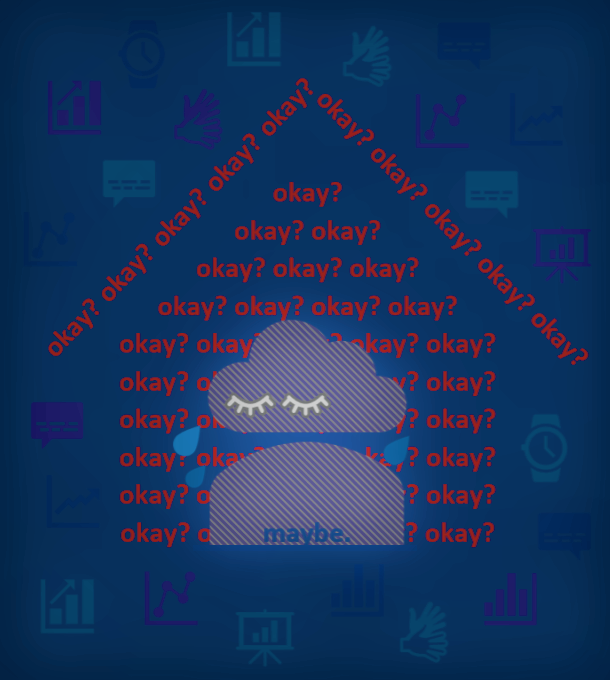 Are you okay? Take a moment to think: have you been okay? Ever since the hurricane of 2020 hit the nation, it has become harder and harder to answer "yes" amidst the wind and rain. As society and school as we know it transitions into a more isolated, online-based medium, the burden upon people's mental health follows.
The coronavirus crisis has had far-reaching consequences across the nation, many of which placed a strain on communities' mental health. With reports of depression, anxiety and stress on the rise, therapeutic support systems, communication with friends and family and caring for one's mind and body are all the more important.
"Back in March, kids were definitely feeling more depressed and anxious than usual," Marjory Stoneman Douglas High School Wellness Center therapist Stephanie R. Maguire said. "In their high school years, socialization with friends is huge, and in isolation during those beginning months, there was a lack of that socialization."
The vulnerability of a support network, as described by Maguire, illustrates the impact of uncertainty on one's well-being. According to the 2008 study, Mental Health During Revolt, rising mental health insecurity is linked to financial uncertainty, exposure to terrorism and hostility, civil and social conflict and lack of systemic support. The instability of these factors that influence one's environment adds strain to someone's sense of safety.
"People were really anxious- am I going to catch this, is my family going to catch this, what's going to happen with school- so many unknowns," Maguire said.
During a crisis of this scale, it is very common for people to report a deterioration in mental health. The Morbidity and Mortality Report conducted by the Center for Disease Control further illustrates the correlation, with 46% of young adults reporting a COVID-19 related trauma or stress related disorder and 62.9% reporting an anxiety or depressive disorder.
"The pandemic is a big stressor. If you already suffer from anxiety or depression, and you have a new stressor, you might see your symptoms getting worse," MSD Wellness Center social worker Glenis Contreras said.
As quarantine entangles once-normal activity with the risk of spreading coronavirus, students find themselves restricted in their ability to relax with friends, and people struggling to cope with the trauma associated with the pandemic find it harder to reach out and surround themselves with needed support.
"Now, I'm 100% on my own- metaphorically. You don't realize how much it affects you until it really does happen," MSD alumnus Enzo Yara said.
Although Yara has enrolled in the seemingly more intimate in-person learning, he restricts the amount of time he spends with other people on campus, as he is anxious about the threat of coronavirus to his and his family's wellbeing. This is a common theme amongst citizens everywhere, as the pandemic has brought upon hardships including parents worried for their children, low-income families concerned by their financial security and teachers and students adjusting to the structural change of school.
"This year has been much more taking and exhausting mentally and physically. I have a child at home, a lot more work, trying to get it all done," English teacher Holly Van Tassel said. "Everyone is doing what they think is right."
Because virtual learning has its own inconveniences and accommodations, its flexibility goes hand in hand with finding the time to fulfill one's needs and responsibilities appropriately. Students can find assistance from utilities and resources such as ASK BRIA, alarms, online agendas, study groups, tutors and teacher contact.
"Ah, online school. At first, I was stressed because technology is not my strong suit. But, I am lucky that I had a lot of help," Trigonometry teacher Nancy Lazar said. "I've learned many new things, and I think it's going pretty well. I feel much better now than I did three weeks ago."
When MSD shifted to an online curriculum, its support systems followed. One recommended resource is the Virtual Wellness Center, located on Canvas and Clever, where a student can choose to enter the course and connect with the staff.
Eagles Haven is another accessible wellness center that maintains a schedule of activities such as meditation, arts and crafts, yoga and kickboxing in addition to its supportive services.
"Eagles Haven has been providing therapy services for me for the past few months, which has been a godsend," Yara said.
Another resource includes 2-1-1 Broward, an agency designed to provide assistance through an expansive array of services such as financial aid, mental support, health care, relief programs and other essential human and social programs. Additionally,  MSD and Eagles Haven both link alternative counseling opportunities, services, and information.
"Sometimes you're not taking the time to take care of yourself. If you're stressed out over school, what are you doing to stay balanced?" Contreras said. "What are you doing for your physical and mental health?"
In addition to these readily available support programs, there are a variety of practices students can pursue to maintain their mental health with hobbies like baking, drawing and exercising; soothing activities such as meditation, reading and going on walks; and whatever else brings a sense of achievement, fulfillment and stability.
"Watching a funny movie, talking with friends on the phone- all of that can help," Maguire said.
As mental health practitioners, both Contreras and Maguire emphasize the importance of overwhelmed students and citizens to reach out. In opening up to one's family, friends, teachers and other possible moral supports, people can alleviate the burden of coping with their trauma and additional stressors placed upon them, whether or not they meet online or in-person.
"Social distancing doesn't have to be isolating," Contreras said.
Drawing from her experience of advising students of differing backgrounds and grade levels, she details that the process of bettering one's mental health is distinct to each person, and identifying one's needs is key to understanding how she and the Wellness Center team can help.
"Nobody knows you better than you do. Everybody experiences stress in different ways," Contreras said.
In this crisis, it becomes all the more pressing for people to recognize where they need to create boundaries and what space they need to establish, as mental and physical wellbeing are essential to support one's welfare. Although these unusual times can be distressing, students and citizens have many resources to help them create a healthy environment and develop skills to help cope with the circumstances.
Infographic by Hannah Kang