The Eagle Regiment hosts their 31st annual Pops N' Pies event
Members of the band look forward to this event because they get to show off all of the songs they worked on in band camp, which is usually at school, but this year online. However, this tradition looked a little different this year due to COVID-19.
"Having Pops N' Pies change in order to follow CDC guidelines was definitely a letdown for my senior year, but I'm grateful for the fact that we were able to get back together and put on a performance," senior, percussionist and Eagle Regiment social media ambassador Nick Hernandez said. 
In previous years, both families and community members would come to the event and gather on the bleachers of MSD's Cumber Stadium to watch the Eagle Regiment perform their show. After the performance, pizza and drinks were served in the cafeteria and while everyone ate, a mini award ceremony took place awarding different sections of the band with awards such as the most improved section, most hyped section and best section.
The Fort Lauderdale Marriott Coral Springs Hotel & Convention Center provided a remote parking lot for everyone to come in and out with their cars. Parents wrote their student's name on a sheet of paper for their dashboard, so direct contact could be avoided. Although the event was a drive-thru, only the percussion section of the band and colorguard performed to maintain social distancing rules. They were required to have masks on at all times.
"We made the best out of it and had fun," junior and color guard member Asha Advani said. "My favorite part of the event was seeing everyone I haven't seen in months or weeks, [and] I really liked when we all got to talk to one another." 
As families drove through the line, they passed the drumline who were playing drum cadences and stand tunes. Soon after, they passed the color guard who were performing pom pom routines along to the music that they typically performed at football games. At the very end of the line, parents picked up their pizzas.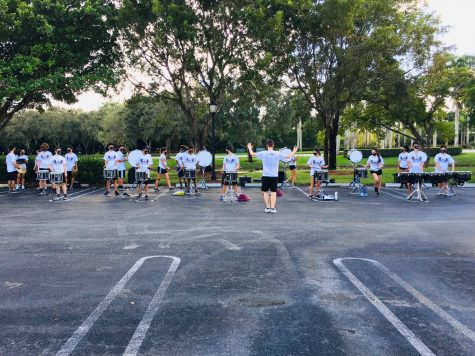 Not only did the coronavirus make the Pops N' Pies event different, but it also changed their band camp this summer. Students were not allowed to rehearse in person, so band camp became virtual.
"This was our first time playing together since COVID-19, and we had a bunch of freshmen who had never played with us before, so I think overall it went better than expected and our freshmen really adapted well because we trained them well during our online rehearsals," junior and percussionist Ayla Bogart said. "It was difficult but we all worked as a team."
This added another obstacle for the students since Pops N' Pies was the first time a part of the band performed together since the pandemic hit. 
Rehearsals have been every Wednesday, since the first week school started, and this upcoming Wednesday, Oct. 21, will be their first in-person rehearsal since COVID-19. Only those who opted to participate will be rehearsing in person, while following all CDC guidelines. Unfortunately, the Eagle Regiment's marching season has been canceled this year due to COVID-19, so the planned show is being shelved until the following school year.
"Be on the lookout for Pops N' Pies next year, we would always love to have the school community come out and support the program. On a normal year, there's a lot of great music and hard work being displayed," Director of Color Guards Dean Broadbent said. "In the future if you see it pop up on the dates or something and [you] have some free time, come out and get pizza."
Even though the event could not be like that of previous years, the fundraiser was successful for the Eagle Regiment. To know about more Eagle Regiment events, more information can be found on their Twitter, Instagram and Facebook.