Pizza Carousel Restaurant Review
Dante Sacks
October 9, 2015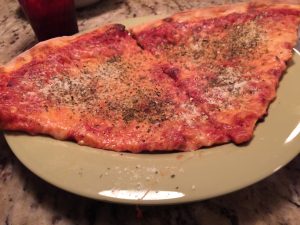 Walking into Pizza Carousel I was greeted by a majority of the staff, as I was seated immediately to a comfortable booth. Roughly thirty seconds after I was seated, a waitress introduced herself and asked what I wanted to drink.
From there, I had 5 minutes to view the menu as there were tons of options to select from such as pizza, pasta, salads, and more! I decided to order two slices of pizza, and I was stunned at the fact that the two slices were at my table in the matter of 2 minutes.
The waitress provided phenomenal service as she always came by to ask if everything was alright, as well as providing refills every 5-6 minutes. The staff overall never stopped smiling and they all looked like one happy family.
Once I received the bill, I was shocked by the low overall charge as I left only paying $7 after having a delicious dinner with some of the best service I've ever had, as well as a fancy atmosphere!
Overall, with the service, food, and atmosphere, I would rate this restaurant a 4.5/5 as although my experience was perfect, there's always room for improvement on anything!
For all information about Pizza Carousel, including the phone number, directions, and menu, head over to http://www.pizzacarousel.com!