[Review] Lorde's 'Solar Power' is the perfect finale for summer
Musical artist Lorde released her third studio album "Solar Power" on Friday, Aug. 20, 2021. The long-awaited album was released four years after her previous chart topper, Melodrama, which was her sophomore album.
The 43-minute body of work has 12 songs, all of which are co-written and co-produced by Lorde, whose real name is Ella Yelich-O'Connor, and Jack Antanoff, a well-known music producer. It includes background vocals from indie pop artists Phoebe Bridgers and Clairo. It was produced at the studios Electric Lady in New York City, N.Y., Conway in Los Angeles, C.A., Roundhead in Auckland, New Zealand and Rough Customer in Brooklyn, N.Y.
The opening song, "The Path," starts with a mystical tone and is full of stacked vocals. Lorde talks about her experience at the 2016 Met Gala with the line, "Arm in a cast at the museum gala, fork in my purse to take home to my mother." The song is about turning down her role as a "savior," as many people call her, and saying "the sun will show us the path." The sun symbolizes taking responsibility for leading people out of their sadness towards their hopes and dreams, instead of Lorde doing it herself.
"Solar Power," the title track and leading single, is a perfect song to listen to while relaxing at the beach. While the majority of the song is acoustic, it has a surprise pick-up that has a 1960s groove influence. It includes iconic lyrics like, "I'm kinda like a prettier Jesus," and "Can you reach me? No, you can't (aha)."
In "California," Lorde sings about straying away from the Hollywood fame that she has gained throughout her career. She states, "Goodbye to all the models, all the bottles." Throughout the chorus, she repeats, "Don't want that California love." The song gives off a Coachella-golden state aura.
Lorde wrote the next track, "Stoned at the Nail Salon," after coming off her tour for "Melodrama." Transitioning from an intense tour to a domestic life made her question if she had chosen the right career path and if she should be working more. A stand out line was, "Cause all of the music you loved at sixteen you'll grow out of." It has a very similar vibe to the songs "Liability" and "Writer In The Dark" from her previous album.
"Fallen Fruit" has a spiritual feel to it. The song takes you on a journey through several sounds, from harmonies and acoustic guitar to a sudden beat drop and an unknown beeping noise. The noise sounds like a microwave beeping, but could just be for effect. A possible theory is that it is hospital machines beeping, connecting to the Earth in critical condition or dying.
"Secrets from a Girl (Who's Seen it All)" has a great beat and rhythm. Lorde is singing to the younger version of herself, with her current 24-year-old self being the "girl who's seen it all." The outro of the song is narrated by Swedish singer Robyn. It sounds like an announcement you hear at the airport, but with a twist. "Your emotional baggage can be picked up at carousel number two."
Track seven, "The Man with the Axe," has a melancholy yet cozy sound. The idea is that an axe cuts down a tree, but you don't have control over which way the tree falls. Many fans believe this is a parallel to Lorde's personal love life. They theorize she knew her rumored boyfriend was a keeper when his "favorite record was the same" as her father's.
"Dominoes" gives off a Hawaiian vibe by not having any harsh drums or booming vocals. There is a subtle sound of sirens in the background of the song. Lorde said the sound is produced by leaving the windows open in the studio while recording. The whole album is about embracing the environment and how the planet and people are changing. Sirens are a prime example of what is happening in our world today.
"Big Star" is a tribute to Lorde's dog, Pearl, who unfortunately passed away in 2019. She wrote it before she knew anything was wrong with him. She sings about life after Pearl and how hard it is to lose someone special, as she sings, "I'll still watch you run through the winter light. I used to love the party, now I'm not alright."
"Leader of the New Regime," the shortest song on the album, is very spiritual and down-to-earth. The one minute and 33-second song takes place in the future, where a new leader is needed to "free the keepers of the burnt-out scene." The future that Lorde is talking about is burning due to climate change and people are escaping in order to start over.
In the third single "Mood Ring," Lorde sings from the point-of-view of a person who is down and does not know why, so they feed into popular wellness trends. "I keep looking at my mood ring. Tell me how I'm feeling." It is significantly more upbeat than the other songs and is very catchy.
The closing song, "Oceanic Feeling," is a homage to her birthplace, New Zealand. The longest song on the album takes various turns, from Lorde talking about the essence of the country and reminiscing on life there, to dreaming about being a mother and what her baby would be like. It is a very whimsical and beachy song.
Overall, "Solar Power" is packed with complex harmonies, satiric lyrics and a prevalent 1960s vibe to it. Lorde showed off how she is very in tune with the environment and her willingness to stray away from social media and celebrity culture. The songs have a recurring topic of poking fun at Hollywood influencers and trends.
Songs like "The Path" and "Solar Power" pick up later into the song. On the other hand, "Stoned at the Nail Salon" and "Big Star" were more emotional songs throughout that stood out.
Overall, this album shows off Lorde and Jack Antanoff's amazing lyricism and producing skills. This album might not top her previous ones, but is just as breathtaking.
You can listen to the album on Spotify and Apple Music.
Leave a Comment
Your donation will support the student journalists of Marjory Stoneman Douglas High School. Your contribution will allow us to purchase equipment and cover our annual website hosting costs.
About the Contributor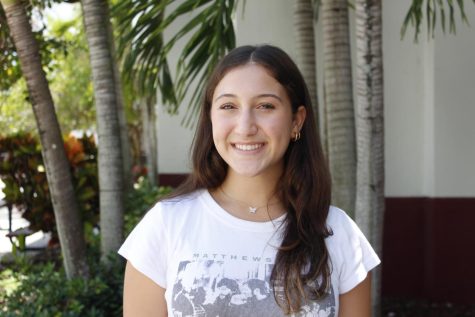 Jessie Gesund, Arts & Leisure Editor
Jessie Gesund is a junior at Marjory Stoneman Douglas High School. She is a member of Key Club and DECA. She enjoys reading and listening to music.