[Multimedia] An overview for the top colleges in Florida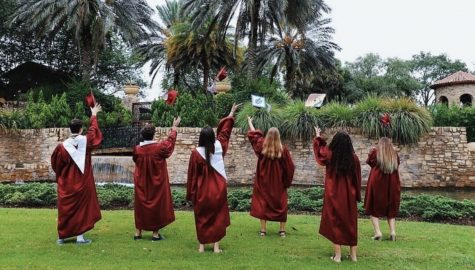 In the midst of the college application process, Marjory Stoneman Douglas High School seniors struggle to determine where they should apply. Living in Florida, a Florida university may be specifically beneficial to them, as it is cost-efficient and close to home.
Public universities are additionally advantageous, as they are more affordable, diverse, populated and generally have higher reputations. There are a variety of public schools to choose from, but in-state options may be better for MSD students and other seniors that live in Florida, especially if they meet the Bright Futures requirement.
The Florida Bright Futures Scholarship Program has helped hundreds of thousands of students attend the college of their dreams. To receive the full Bright Futures Scholarship, MSD students need to graduate with four English credits, four mathematical credits, three natural science credits, three social science credits, two world language credits, 3.50 weighted GPA, 29 ACT or 1330 SAT superscore and 100 service hours. However, do not be alarmed if you do not meet these requirements, as you are able to receive a partial Bright Futures Scholarship.
With all this application information in mind, it is implied that a Florida public university is the best college option and it is important to discover colleges specifically under this category. According to the U.S. News, the six top ranked Florida public universities, in order, are the University of Florida, Florida State University, University of South Florida, University of Central Florida, Florida International University and Florida Agricultural and Mechanical University.
University of Florida
The University of Florida is a public land grant research university that holds the top spot for public universities in Florida and ranks as the fifth public school in the nation. Founded in 1858, UF's main campus is located in Gainesville with additional campuses associated with the College of Pharmacy in Jacksonville and Orlando. For those who are interested in expanding their horizons, the UF International Center offers hundreds of study abroad programs for students.
UF has a relatively large campus of 2,000 acres with over 900 buildings, as it holds a student body of over 50,000. Historically, the campus' main attraction is the Century Tower, a bell tower located at the focal point of the campus, made to honor fallen alumni of World War I and World War II. The dominant architectural style of UF is gothic, as the majority of buildings are covered in brick, which is complimented by the many orange and blue banners across campus.
Being located in Northern Florida, students are able to enjoy consistent warm temperatures, but not to the extreme of South Florida, which they can use to their advantage to study, relax or hang out with friends outdoors.
The campus also offers indoor facilities where students can participate in similar activities at the Hub or Reitz Union. There are a wide variety of food options for students distributed throughout campus, such as Starbucks, Chick-fil-A, Panda Express and more.
With approximately 34,931 undergraduate students, students are provided with 30 on campus housing complexes. This large number of houses comes from a variety of housing styles, such as suite, traditional and apartments. For incoming freshmen interested in spending their first year in a dormitory, which is what the majority of freshmen are inclined to, there are 18 residence halls to choose from, the most popular being Broward Hall.
A traditional dormitory at UF can house up to three students with either communal or grouped bathrooms and a self-stocked refrigerator. Every residence hall has a common area kitchen on each floor with a provided microwave and stove. Due to the varying time of construction, each hall's accommodations differ in quality. Regardless, every hall is located near campus facilities, which allows on campus students to have easy access to them.
Social life at UF is very active with its plethora of extracurricular activities for student participation. Sports play a commanding role at UF, as all of its teams participate in the NCAA Division I Southeastern Conference. In regards to social life, the football games at UF have the largest participation rate than any other activities, as Ben Hill Griffin Stadium gets packed with current students and alumni during college football season to cheer on the Gators.
There are nearly 1,000 student organizations and multiple leadership opportunities for students to get involved in at UF, one being the Campus Beautification program that was created in the wake of Hurricane Irma in an effort to engage the community in keeping the campus clean.
For students interested in joining a sorority or fraternity, Greek life is very prominent, as 15 percent of students are connected to the 66 Greek organizations of the university.
High School seniors seeking a university that has a dual focus on academics and social life will find a perfect balance of the two at the University of Florida. However, the university has an acceptance rate of 38 percent, making it more difficult for students applying to be admitted.
An average student accepted into UF has a Grade Point Average of 4.4-4.6 and a SAT and ACT score of 1330-1470 and 30-34, respectively. Although not every admitted student meets the high standards of UF, the majority have exhibited dedication throughout their high school careers represented by their high GPA, subject test scores and school clubs/ activities.
We recommend you apply to the University of Florida during the application process. There are several ways to apply, including the Common App and Coalition Application.
Florida State University
Florida State University, the second best public university in Florida, is a public institution located mainly in Tallahassee with an additional location in Panama City; however, there are 40 international programs to study abroad in 20 various locations, which is beneficial to adventure seekers. Founded in 1851, FSU is the oldest site of top-level education in Florida. With approximately 43,953 students, the prime campus size is quite large, covering 486.7 acres.
Though many people deem FSU as eerie or "haunted" due to its old brick buildings, it is important to be open to other perspectives in a positive light, such that FSU is simply antiquated or old-fashioned.
Right after entering the FSU campus, you notice the most exquisite trees: southern live oak trees. These majestic trees have long branches reaching in multiple directions with leaves plummeting from the wood. Providing an abundance of shade, the trees are a great spot for students to nest.
Not only is the campus large and beautiful, but it is also very safe with top vehicle patrols, late night transport services, 24-hour emergency telephones, well-lit sidewalks and controlled dormitory access.
With approximately 6,712 undergraduate students living on campus, there are 18 residence halls to choose from. As a freshman at FSU there are multiple housing opportunities to choose from, but the most common one is living in the dormitories, which is demonstrated within 14 of the residence halls.
These halls feature two bedrooms and a bathroom that can be shared between four to five students. Unlike most dormitories, the sink is located in the bedroom rather than the bathroom, which is beneficial for those who need to shower or use the bathroom while the other roommates simply need the sink to get ready.
The only hall that does not use this advantageous bathroom setup is the Salley Hall. However, this hall features a four-person study room in the dormitory. This is a great space for those who need a quiet place to prepare for major tests or if the roommates simply want to all get together and hangout.
The social life of Florida State University exceeds expectations for an average college, as students are encouraged to remain active with a variety of sports and extracurricular activities. One club that tends to catch people's attention is the FSU Flying High CIrcus with approximately 40 members. The students here practice crazy tricks and show them off at multiple performances.
Also, there are several places to snack sprinkled across the campus, like Starbucks, Chick-fil-A and Four Rivers, which are places you are promised to find a new friend.
If these characteristics catch your attention, you should consider applying to FSU. However, be aware that this university is quite an academically competitive school, being ranked number 19 in top public schools according to U.S. News.
Though the acceptance rate here is 58 percent, FSU is still a very competitive university. The acceptance rate only demonstrates the percentage of people who are accepted that actually applied. Several people do not apply out of fear that they will not be admitted to the school.
Students admitted to FSU generally have an Academic Core GPA of 4.2-4.6 and a 1250-1400 SAT score or 28-32 ACT score. Therefore, by staying academically inclined in high school, you have a much higher chance of being accepted into FSU.
After hearing about all the wonders of FSU, we would recommend applying here during the application process if you are an academically inclined person who loves the old-fashion aesthetic. There are several ways to apply to FSU, including the Common App, Coalition Application and simply applying through the FSU website.
University of South Florida
University of South Florida, ironically located in Tampa, which is more central than south in the state, is the third best public university in Florida. Founded in 1956, USF has other small campuses in St. Petersburg and Sarasota-Manatee.
The main campus in Tampa, covering over 1,500 acres, is fairly large and filled with scenic beauties. Students are able to explore the USF Contemporary Art Museum, featuring multiple artistic cultural trends, and the USF Botanical gardens, filled with over 3,000 plants and animals.
USF gives off a very bright, warm and nature vibe with the green grass, beautiful tree variety and clear water fountains. Despite it raining during the USF tour, we still felt warm and bright vibes from the campus. USF is definitely a place you could call home.
Similar to UF and FSU, USF offers enriching study abroad programs. This is beneficial to students who seek traveling.
The rough 44,000 student population contains diverse students from over 140 countries. Though the large population may seem intimidating, there are several ways to meet your college "bestie."
With more than 600 clubs, over 200 majors and 19 varsity sports, USF offers an activity for everyone. The students enjoy an abundance of fun, whether it is watching movies on the lawn, listening to celebrity lectures, watching the football games, taking the 20 minute bus ride to Busch Gardens and so much more. It is truly an exciting place to attend school.
USF makes it so every undergraduate has a housing option to accommodate them, whether it is living in an apartment style, suite style or traditional style. Apartment style housing is more common for older students, so as freshman at USF it is recommended to stay in either the traditional or suite style.
Traditional style rooms contain a bedroom with a roommate and a community bathroom that is used by all the floormates. There are eight halls that feature these traditional style rooms.
While we believe that the traditional style housing sounds too public and open. However, some people like the idea of being able to meet more people.
The more favorable housing option, and our favorite, is the suite style room. These rooms additionally have a bedroom shared with a roommate or individually, but the bathroom is only shared with the suite-mates, allowing two to four people to share a bathroom. Nine halls feature the suite style rooms.
Suite style rooms are definitely the advisable housing plan. It is the best of both worlds, offering the perfect combination of independence and still a sufficient amount of social opportunities with your roommate and/or suite-mates.
If you are interested in attending USF, you need to keep in mind what you are up against, as the acceptance rate in 2021 was 42 percent. The middle 50 percent of freshmen admitted to USF for fall in 2021 had a high school GPA between 4.0-4.4. The test super-scores ranged from a 1230-1370 SAT and a 26-31 ACT.
If you are worried about your acceptance chances, you should consider applying for summer term, as it is easier to be admitted. The mid-range of freshmen admitted for summer in 2021 had SAT super-scores between 1090-1160 and ACT super-scores between 22-25.
USF is definitely a great school that you should consider during your application process. It is very unique and gives off a modern vibe, the opposite of FSU.
If these characteristics interest you in attending USF, there are multiple ways to apply: the Institution (VZ) Application, otherwise known as directly through the USF website, Common App Application and Coalition Application.
University of Central Florida
The fourth most prestigious public university in Florida is the University of Central Florida. There are multiple UCF locations throughout central Florida, but the main campus centers in Orlando. Orlando is a very beneficial area to attend school, as it is an increasingly-grown metro region.
UCF is located in the Heart of Orlando which gives students a great opportunity to spend their free time going to amusement parks in the area, such as Disney World or Universal Studios. Some students who attend UCF also find themselves doing an internship for the Disney College Program, where they can still attend school from Disney property and work for Disney as well.
Despite there being a variety of locations throughout central Florida, UCF also has a study abroad program. Places people have traveled to through the UCF study abroad program include Greece, Spain and the United Kingdom.
UCF has grown into a very impressive campus since 1968. Being built in 1968, UCF is the most modern campus out of these top six. It's known for having the largest enrollment compared to all the other universities in Florida.
With multiple majors offered at the university, students often find themselves growing their careers. Their top ten majors are Psychology, Health Sciences, Computer Science, Biomedical Sciences, Nursing, Biology, Mechanical Engineering, Finance, Integrated Business and Hospitality Management.
The UCF College of Engineering specifically gives students the opportunity to partner with some of the most popular companies which include NASA, Lockheed Martin, Boeing, Siemens and Walt Disney World.
There are several restaurants from Burger U, Blaze Pizza, to BurgerFi and so many more. Not only does UCF have restaurants around campus, but they also have the Student Union. The student union is where students can grab a bite to eat and study.
At the Student Union, there are places to eat such as Panda Express, Huey Magoos, Bento Sushi, Chili's, etc. Many students also spend their time studying or chatting with their friends at Foxtail Coffee Co. Right next to Foxtail is a huge knight merchandise store where they sell anything from knight footballs and sweatpants to lanyards.
For dorms at UCF, there is an option for freshmen to fill out a dorm questionnaire so they can find out who they are compatible with. In this survey, they ask questions on what time they go to bed, how clean they like to keep their room, if they like to have company over, etc. This helps students find the perfect match for a roommate.
The student body at UCF is very accepting towards others and is known for its diversity. As of the years 2020-21, According to the UCF Facts flyer of 2020-2021, there is 46.3 percent white students, 27.5 percent hispanic/latnix students, 10.3 percent Black/african american students, 6.4 percent asian students, 4.3 percent international students, 3.9 percent Multicultural students, 1 percent not specified and 0.1 percent Native Hawaiian/other.
UCF also has Greek life with about 3,000 students involved. Greek life is a great way for students to get associated with others and get involved with a group of people where everyone will look out for each other. The 43 Sororities and Fraternities at UCF also hold events for students to socialize such as Trick or Treat on Greek Street, Greek Gala and Greek Week.
The admission for UCF is competitive with the GPA of 4.25 as the average GPA for fall 2021 freshman and the average SAT score being 1325. However, students who get into UCF have an average SAT score of 1170-1340, and an ACT score of 25-30. Students who feel unsure about their personal statistics can apply for the summer term as well.
UCF has great opportunities for their students that will help them succeed in whatever path they take in the future. We encourage you to apply to UCF if you are interested in being involved in an amazing student body, living on a beautiful campus, or succeeding in your career path.
Florida International University
Florida International University, home of the Panthers, was founded in June of 1965. It is the only public research university located in Miami that is mostly known for their research studies. FIU was ranked for having the highest research activity by the Carnegie Classification of Institutions of Higher Education.
One main attraction of FIU is their underwater research lab, which is the only one to exist in the world. This is 60 feet below the surface of the Florida Keys National Marine Sanctuary.
FIU has a diverse student body with 61 percent hispanic students, 15 percent white non-hispanic students, 13 percent black students, 4 percent Asian or pacific Islander students and 7 percent other minority groups.
For students looking for a relaxing and more low-key place to attend, FIU is the right place. FIU, being not a major party school, is more of a school for students who want a quiet atmosphere.
FIU provides a variety of majors, just under 200, such as Business, Management, Marketing, Biomedical Sciences, Psychology and so many more.
The middle half of the students admitted to FIU have a SAT score between 1100 and 1260 or an ACT of 23 to 29. However, FIU examines a student's GPA, most admitted students having an average of 3.81, as an important factor for admission.
Being a relatively small campus, FIU provides four housing halls to live in your first year, including the Honors Hall, which is only opt-able to those in the honors program. Within the halls there are various options to decipher between depending on whether you desire living in a more private or public environment.
A major benefit in attending this university is its relative distance to home. MSD seniors who plan on attending this university can easily visit home whenever they feel home-sick.
Florida Agricultural and Mechanical University
Florida Agricultural and Mechanical University is a public land grant university and is the sixth best university to attend in Florida. FAMU's main campus is located in Tallahassee with the College of Law based in Orlando and the College of Pharmacy and Pharmaceutical Sciences and Institute of Public Health spread amongst Crestview, Tampa, Jacksonville and Miami.
FAMU is a historically Black university, initially called the State Normal College for Colored Students, founded in 1887 with a small class of 15 students. Over the course of 70 years, the institution had been renamed to the Florida Agricultural and Mechanical University, as it expanded its student body to more than 3,500 and broadened its graduate studies. Currently, FAMU has approximately 10,000 enrolled students and covers 422 acres of land.
FAMU offers 98 majors, with its most prominent school being associated with Health Relations. For those who are interested in international education and want to be more involved with intercultural diversity, the Office of International Education and Development works closely with FAMU to send students abroad.
FAMU and FSU are located 1.3 miles away from each other, expanding the college town in Tallahassee. Diving deeper, the school's main attraction is the Carnegie Library, which, despite its name, now serves as the Southeastern Regional Black Archives Research Center and Museum.
FAMU has eight residence halls for undergraduates looking to live on campus, consisting of suites, apartments and traditional style housing. Most incoming freshmen opt for traditional residence halls, which consist of single or double accommodations and an option to live co-ed.
Despite its cheap costs, traditional housing may not be feasible for students who require more amenities. Suites and apartments will prove to be more desirable, as this housing style provides students with a kitchen, courtyard and more accessible parking.
FAMU does not fall short when it comes to student activities with its array of clubs and over 250 student organizations. Students can choose to participate in clubs that spark change in the community, such as the Active Minds club at FAMU that covers topics on mental health awareness in efforts to decrease the stigma around mental health issues.
For collegiate-level sports fans, FAMU teams participate in the NCAA Division I Southwestern Athletic Conference. Football and basketball are two very prominent sports at FAMU, as several students attend games to support the Rattlers on the field as well as the court.
More celebrated than it's sports teams, FAMU's fanfare extends to the university's band, also known as the Marching 100, as it is ranked number one for historically black college and universities division 1 bands. The band has performed multiple times for the National Football League, even with renowned American-singer and song-writer Prince. They were also featured on the Grammy Awards Show in 2006 with American rapper Kanye West.
Florida A&M University is certainly not an easy school to get into with an acceptance rate of 38 percent. However, the average admitted student in 2021 held a grade point average between 2.66-3.58 and SAT and ACT scores of 1030-1160 and 19-23, respectively. The lower academic profile of incoming freshmen yet lower acceptance rates at FAMU can be associated with students who have higher profiles attending more prestigious schools, like UF.
Despite their lack of applicants, FAMU still offers great programs and allows students of other races to be immersed in African-American culture, which holds the majority. In order to apply, you must go directly through the university's website to their Application Menu.
Overall, Florida high school students have many options to choose from when looking to apply in state. Each university offers a college experience that involves academic prestige and social life as a balanced mixture. The Early Decision applications for every college listed is due on Nov. 1. Regardless of which university you decide to go to from this list, success will most certainly find you.