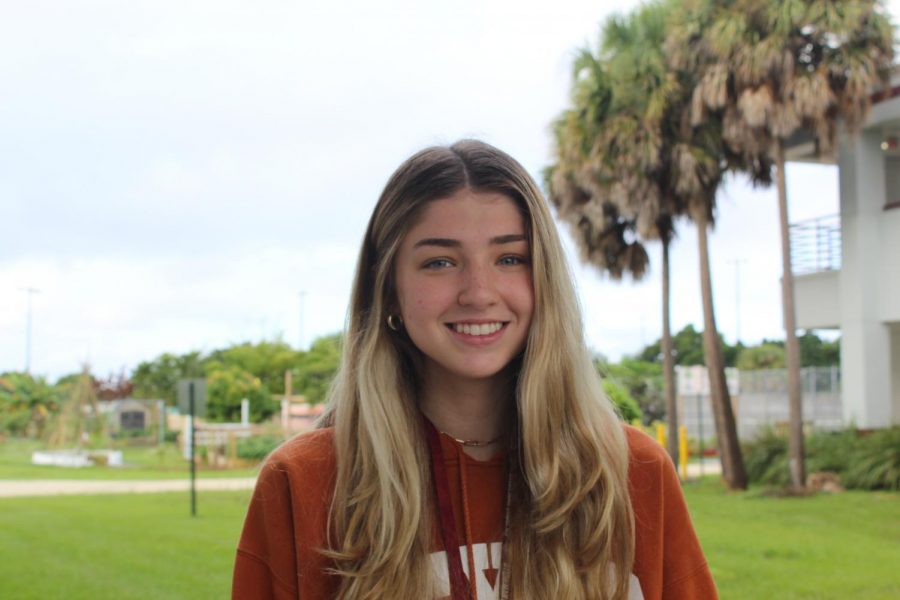 A friendly face to lead
Senior Zoey Handfinger is leading everything, from MSD to breast cancer awareness
Not only does Marjory Stoneman Douglas High School senior Zoey Handfinger tackle the difficult task of raising awareness for breast cancer among teens, a cancer that 1 in 8 U.S. women will develop over the course of their lifetime, as President of Not My Daughter Teen, but she is also is a leader on campus..
Handfinger was elected treasurer of the Student Government Association last month for the 2021-2022 school year. This is her first year as SGA treasurer, but she ran for the class of 2022 treasurer in her freshman, sophomore and junior years.
"Winning the position as treasurer made me feel really good," Handfinger said. "I've been running for treasurer for class board the last three years and unfortunately lost, so it felt good to get something I've wanted for so long."
The SGA treasurer's task is to fundraise and budget for school activities. They serve on the Executive Board and work the financial aspects of SGA, including accurately keeping record of all accounts, maintaining a cooperative relationship with MSD's financial officer, filing receipts and invoices, submitting financial statements every nine weeks and accounting for all projecting earnings and desposting as such.
Handfinger is eager to begin to fundraise, so SGA can implement more fun activities around school for the students. It is currently unknown what fundraisers SGA will organize this year, but Handfinger hopes they'll bring large profits and allow students to have a lot of fun around campus.
Handfinger is a part of National Honor Society, Girls Who Start and Make Our Schools Safe Club, apart from SGA. National Honor Society is for select students. Their goal is to elevate the values of scholarship, service, leadership and character. Girls Who Start was an organization founded by Ariel Beck to inspire young women to become entrepreneurs. Make Our Schools Safe Club works to educate students about what to do in life-threatening situations and is part of the national non-profit organization Make Our Schools Safe.
Outside of school, Handfinger has another leadership position that is very important to her. She is the president of the teen side of Not My Daughter. Not My Daughter is a local breast cancer organization. The organization is based in the South Florida area, and has the goal of raising awareness and funds for breast cancer. Once a year, the organization comes together and celebrates how much money they earned over the course of the year.
NMD has a support service location in Plantation for patients and survivors. People who are interested in getting involved with NMD can donate, attend an event, partner with Not My Daughter, sponsor NMD and/or join the organization's committee.
"My job is to recruit teenage girls to be a part of [Not My Daughter] Teen and also raise money for NMD Teen," Handfinger said.
Her talents are constantly in use in various areas of her life, as her role in raising money for NMD helps with her fundraising plans as SGA treasurer. Handfinger thinks her personality helps her significantly in her leadership role at Not My Daughter. She describes herself as outgoing, friendly, motivated and hard working.
She hopes her hard-working tendencies will help her well after she leaves MSD, as she hopes to go to college and have a successful career.