[Multimedia] 2023 NYFW and LFW showcase compelling designs on the runways
New York Fashion Week:
New York Fashion Week (NYFW) is a long-awaited event every year where designers are able to showcase their designs. People look for new trends to follow and the latest high-end outfits to buy. Inside and outside the show, designers and guests dress for the new season of fashion that will soon influence the rest of society. This year's NYFW began Feb. 10 and continued to Feb. 15.
Day one of fashion week began with invite only events, spanning from runway walks to presentations. Five designers that walked on the first day: Rodarte, Collina Strada, SIMKHAI, Prabal Gurung and Dion Lee.
The first walk of the season was Rodarte, whose models were styled in gothic style clothing and dark, heavy makeup. Their models were dressed in draped fabric, ribbon and accessories that completed their looks. Strada took a different approach to the runway, as her models were turned into animals and wore prosthetics to gain the full effect. Strada's collection, titled "Don't Eat My Friends," had models wearing floral, tweed and plaid suits and two pieces. The first day of NYFW showed promise to a new world of fashion.
The second day kicked off with a full day of events, including 13 runway walks, presentations, digital features and workshops. Sandy Liang launched her collection and aimed to reach a younger audience, as her collection could be described as "ballet core" or "coquette." Liang assembled her clothing from sheer dresses, leg warmers, ballet flats, big bows and light makeup.
Area, co-founded by Piotrek Panszczyk, named their collection "Fantastic Fruits Collection," taking the name literally and assembling his clothing out of bananas and eccentric fabrics. This is a major change from Area's previous collections, where pieces were made out of stiff fabrics and had whimsical silhouettes.
On the third day, the number of walks on the runway peaked and so did the designs. Designer Ulla Johnson, known for her feminine, free-spirited designs, started off the day with ruffles, pantsuits and what can only be called sophisticated. Johnson combined cocktail and business attire to create a unique style.
The fourth day of runways started compelling and ended similarly, but the designers in between captured the attention of the audience. Kate Barton, a recent graduate from The Savannah College of Art and Design, debuted at fashion week with her collection of metallic leather pieces with hidden magnets that are fitted to the models' silhouettes. Barton mentioned that she wanted to appeal to the younger crowd, like herself, with new and different pieces that are still wearable. In contrast to Barton, the Carolina Herrera collection was composed of bright colors and extravagant skirts with prints.
Another designer making their debut at fashion week was Colin LoCascio. He was one of 11 designers displaying their designs on the fifth day of NYFW. He leaned into vibrant colors, floral 3-D prints and denim. His collection was charming, with a mix of eccentric pieces and everyday wear. The day ended with designer Christian Cowan, who showcased glitter and feather overcoats, red spandex tights and feather headpieces. His collection was inspired by Judy Garland and Broadway, and it translated very well into his designs.
On the closing day of NYFW, the designers introduced their art for the last time until next year. A presentation by Nayon Kim, the former Blackpink stylist and debut designer, showcased a collection that was inspired by Brutalist architecture.
To gain the feel of Brutalist architecture, which is the reconstruction of buildings after WWII using unusual shapes, massive formations and rough surfaces, Kim worked with black and gray colors and materials such as wool and silk. Luar, owned by Raul Lopez, was the last walk on the runway for NYFW, and it was deserved, as the closing spot is the most esteemed. He dedicated his collection to powerful women such as his mother and sisters, and his pieces were made up of regular clothing with an exciting twist, like extreme shoulder pads and unique takes on normal clothing.
The 2023 NYFW was a success for all kinds of fashion and all people that enjoy it. It will be no surprise when people on the street, at parties or on red carpets are going to be wearing these looks.
London Fashion Week: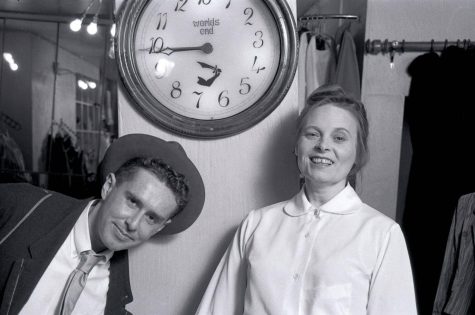 London Fashion Week (LFW) took place on Feb. 21 through the27 in dedication to the iconic British designer Vivianne Westwood, one of the most influential figures in the steampunk scene. The week began with a memorial held in Southwark Cathedral, London. The service was, needless to say, fashionable with fashion icon guests such as Kate Moss, Marc Jacobs and Helena Bonham Carter.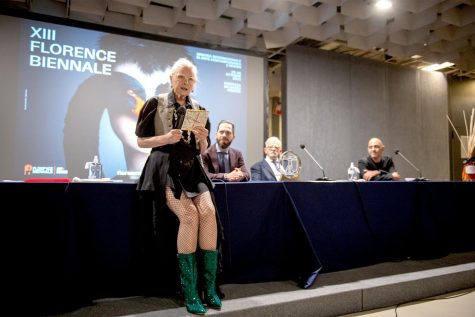 Westwood was born in England in 1941 and became known for her influence of the 1970s punk movement in fashion. Before finding an interest in fashion, Westwood was a school teacher, married Derek Westwood, who became the future manager of punk rock band the Sex Pistols. Westwood and her husband began customizing t-shirts and other articles of clothing by ripping them and adding graphics. After ending her relationship with Malcolm McLaren, she began building her fashion empire, opening boutiques and producing many clothing pieces for both men and women.
Westwood quickly grew in popularity and became a very influential member of the fashion community, especially after the creation of her that she named after herself, brand "Vivianne Westwood." Her collections began appearing in fashion shows all over the world and had hundreds of models walk in her clothing, most notably the fashion icon Naomi Campbell.
LFW had a packed schedule where new and traditional brands were able to show their 2023 winter/fall collections. Newer brands like Buerlangma were able to debut in London for the first time, and closed the day with a collection of malicious masks and gloves.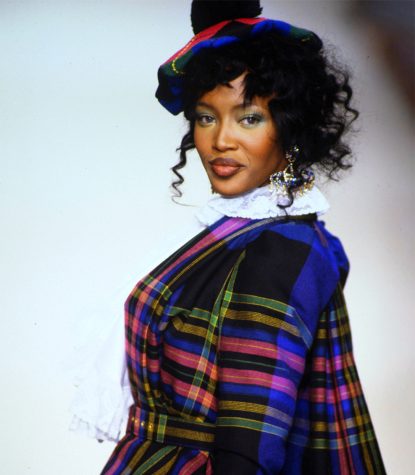 Burberry introduced Daniel Lee as the new chief creative officer during LFW. This will bring new and fresh ideas for the brand, leading to more creative and different designs. Lee was the former Bottega Veneta who released a new collection featuring new and edgy print, a new logo, delicates and an even more "mischievous" vibe. Campbell, at age 52, appears on the runway for Burberry said to be "putting a spin on power dressing," by Women's Wear Daily.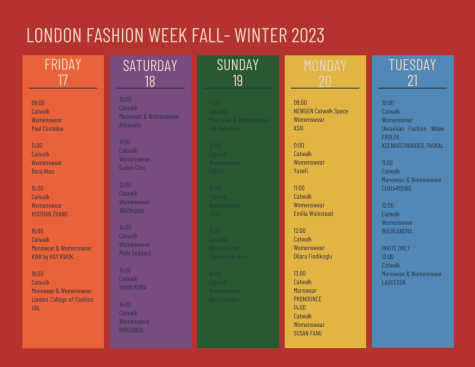 Overall, LFW came to a close with strong reactions from the audience and remembered Westwoods legacy in a true fashion way. There is much more to see from these designers, and we can not wait to see it.