Selena Gomez and Hailey Bieber's drama becomes chaotic following Tik Tok post
Grammy-nominated singer Selena Gomez and American model Hailey Bieber have been feuding since 2018. However, it was just recently when their drama reached a breaking point after Bieber posted an Instagram post on Feb. 27, shading Selena about her make-up routine that resulted in her eyebrows being over lined.
The drama initially began when singer Justin Bieber married Hailey Bieber in 2018 and people started to think she took him from his ex-girlfriend Selena Gomez. Selena Gomez and Justin Bieber started dating around 2010 and ended during 2018. Since Hailey and Justin's marriage was very recent in 2018 after their breakup, fans were speculating on how Hailey "stole" Justin from Selena.
Most of the drama emerged from both fan groups as Hailey Bieber and Selena Gomez did not publicly address the allegations. However, the two women did pose together at an event back in October of 2022. They both seemed content in the photo, however many fans still continued to speculate on their alleged drama.
The speculation continued to rise with model and influencer Kylie Jenner posted on her Instagram story stating, "This is an accident????" with Hailey Bieber on FaceTime where Bieber is showing her eyebrows. This post seemed ironic because it was posted three hours after Gomez's Tik Tok post on her eyebrows that seem over lined in her make-up routine for her make-up brand, Rare Beauty.
Kylie Jenner did not stay silent about the accusations, she then posted a comment on a Tik Tok post theorizing why her and Hailey Bieber were mocking Selena Gomez's make-up routine post. Jenner later responded to the false claims on her shading Gomez.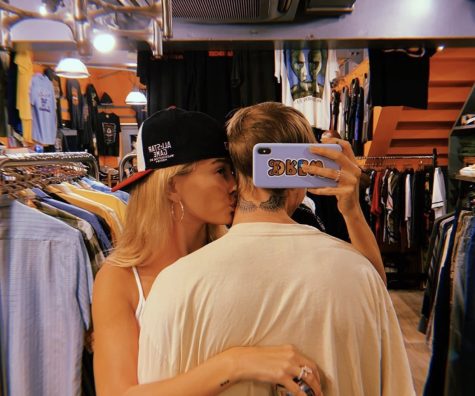 "This is reaching. No shade towards Selena ever and I didn't see her eyebrows posts! You guys are making something out of nothing. This is silly," Jenner commented under the post claiming she was mocking Selena Gomez.
However, the drama is far from done after Gomez commented on an old video about Hailey Bieber as well asGrammy-winning singer Taylor Swift. Bieber is seen being disgusted in the video when Taylor Swift is mentioned, which led Selena Gomez to comment defending her best friend. The reason was unclear why Hailey Bieber reacted like that but it did provoke Selena Gomez to comment.
"So sorry, my best friend is and continues to be one of the best in the game," singer Gomez commented on a Tik Tok post.
Gomez was overwhelmed by the media and took the decision to take a break from Tik Tok. Fans then thought it was because of the bullying and harassment of Hailey Bieber and also her fan group.
Gomez's loyal fan base then started to attack in Hailey Bieber's birthday post for her husband, Justin Bieber with hurtful comments. While her comment section soon became flooded with negative comments, she decided to keep her comments on.
Both parties have yet to publicly respond to each other.As a result of the new coverage of the feud, Hailey Bieber lost over a million followers. Well-known celebrities such as Nicki Minaj, Lady Gaga and Miley Cyrus also unfollowed Hailey Bieber from this altercation. However, fans from Selena Gomez and Hailey Bieber continue to theorize how the shading will end.