Review: "Miss Peregrine's Home for Peculiar Children" displays a fun, exciting fantasy world
Rebecca Schneid
November 8, 2016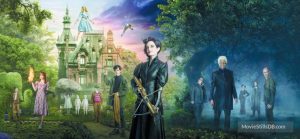 With number one openings in Russia ($6.3 million), France ($5.3 million), Mexico ($3.8 million), Australia ($3.1 million), Brazil ($2.7 million) and the Philippines ($1.8 million) and a gross amount of $1.2 million on opening night, it is apparent that "Miss Peregrine's Home for Peculiar Children," directed by Tim Burton, and based on a novel by Ransom Riggs, had achieved world renowned success early on since its release on Sept. 30, 2016.
Watch the trailer for the film
Distributed by 20th Century Fox, the movie follows the story of a 16-year-old Jake Portman (Asa Butterfield), who for years has been hearing ludicrous stories from his grandpa Abe Portman (Terence Stamp) of fighting monsters during his childhood in Wales and living at "Miss Peregrine's Home for Peculiar Children" with other children, who all have interesting and abnormal powers, known as "peculiarities." After his grandfather leaves him many clues, Jake travels to Wales to this home, where he meets these children and finds a mystery that spans multiple worlds and times.
Throughout the movie, the viewer is pulled into a new and enticing world, and follows a story line that never ceases to keep them on the edge of their seat in wonder. Burton has shown once again his directive talent, as he plays out a movie of both imaginative adventure and dark fantasy and themes into one unexpected roller coaster. The movie is delightfully able to be both funny and light at times, while also mysterious and grim, resulting in a powerful outcome.
Not only does the movie mix both light and dark elements, but also multiple different movie genres, which brings about multiple different types of audiences. The movie is predominantly a mystery/adventure movie, but other elements are at play as Burton as a director adds in a thriller, almost horror-like, component to the film. There are drops of romance, science fiction and comedy thrown into many parts of it, as well, leading to a diverse plot.
While the movie is very well made, there is also criticism that is evident in a lot of Hollywood, from the day of its existence: diversity, or rather the lack of it. Within the movie, there are only white, straight characters and actors, sole for one person: the villain, who is played by Samuel L. Jackson.
Diversity in Hollywood Explained in 12 Infographics
While movies and television have made immense progress in representing people of all races and sexualities, there is still a lot of work to be done. More diversity in movies such as this one could possibly help to further this movement.
Not only does the movie lack diversity, but within the first act or two, it lacks stability. I found that while watching the first quarter of the movie, the plot was a bit messy and had a very long set up time, which made me lose interest at times. Further, the protagonist, Jake, seemed a bit bland to me as a leader, and was by far the least interesting character in the film, possibly because all of the rest of them were so over-the-top.
However, it was the acting that really positively surprised me. The two main leads, Asa Butterfield and Ella Purnell, who plays the aerokinetic peculiar, Emma, steal the show with great ability to play off each other in a way that captivates and amuses the viewers. In times when the plot proved to be a bit slow, the incredible score and unique camerawork reeled the audience back in.
Overall, the film is an exciting, and a very fun family movie to watch mindlessly. I recommend watching the live-action book adaptation, despite its issues.