MSD Book Club hosts Battle of the Books
Rayne Welser, Carolina Ochoa Lozano, Ryan Shimony, and Ashveen Saini
The MSD Book Club participated in the Broward County Battle of the Books tournament in the Media Center from 5th through 6th period on Tuesday, April 18. Battle of the Books is an annual event where students in book clubs from local schools meet and compete to prove who knows books the best. 
Book clubs from 10 different Broward County schools, including MSD, congregated on campus for this year's competition. This year, the MSD Book Club had 10 students on the team to bring them to victory. The book clubs that participate are not only an extracurricular for students looking for an out-of-school commitment, but a place to be social.
"It's a space where you can interact with like-minded individuals and it's not a club that's based on anything academic," participant Schneidine Dorelien, who is a senior at Atlantic Technical High School, said. "It's really a place where you can talk, relax and have fun with others."
For the book selection, the Battle of the Books used the Florida Teens Read program, which selects 15 of the best young adult books every year. The tournament had three rounds; the judges read a quote from one of the selected books and contestants had 10 seconds to answer with the correct book it was from. Contestants from each team had a group leader who, after discussing with their teammates, would write their answer on a piece of paper and hold it up for the judges to see.
Soe schools have been preparing for the event since the beginning of the year, training by reading every book in the selection so they wouldn't miss a single quote. Others had their own strategies to ensure that everyone on the team knew the quotes.
"We basically prepared by making sure that we just wanted every book to be covered in every round; splitting up the books and making sure we allocated one to each person to give everyone responsibility," Dorelien said.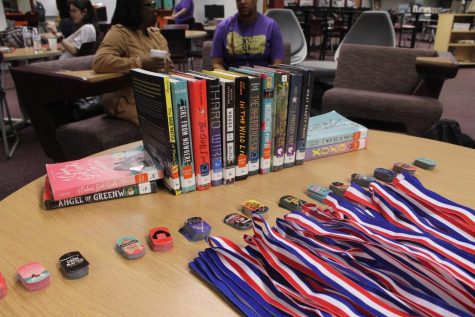 This year, MSD tied with Flanagan High School for first place during the first two rounds and with Coral Glades High School for first place again during the third round. By the end of the battle, MSD students won gold for all three rounds, earning free books and bragging rights over participants who did not place first.
"It feels awesome," MSD Book Club sponsor Debra Jacobson said. "Last year, we came in fourth, which was devastating, but we didn't have people who read the books."
In addition to the awards given to those who placed first, students who read all 15 books before the competition were awarded brag tags; small plastic cards with illustrations of each book and the title printed onto it.
After the tournament, a pizza party with food from Sicilian Oven was offered, ending the competition and rewarding students for their commitment.