Review: "This Is Us" connects with viewers
Carly Novell
January 12, 2017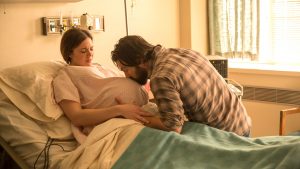 From lack of self confidence to death of a loved one, NBC's hit new show, "This Is Us," created by Dan Fogelman, includes a relatable story line for everyone. After 10 episodes, the show is already one of the most popular on television, receiving an overwhelming amount of praise from critics and audiences.
This Is Us aired its pilot episode on Sept. 20 and immediately gained the media's full attention. Within less than two months on air, the program acquired nominations for People's Choice Awards, Writer's Guild of America Awards, Screen Actor Guild Awards and Golden Globe Awards.
The series follows the lives of an ordinary family that viewers can likely compare to their own lives, which is why it is so intriguing. There are no perfect families, and "This Is Us" recognizes that while also acknowledge the importance of family. Family is cherished and celebrated as the main focus of the show. "This Is Us" personifies family in the form of traditions, love, loss and memories.
Each episode of the show includes heartbreaking scenes and touching moments between characters. It is impossible not to be hooked even after just one episode.
There are many familiar faces in the cast of the program. Mandy Moore, starring as Rebecca, participated in productions including "Tangled" and "A Walk To Remember." Milo Ventimiglia, who plays the role of Jack, additionally personified Jess in "Gilmore Girls." Furthermore, Sterling K. Brown recently won an Emmy for his role in "The People v. O.J. Simpson: American Crime Story" and Justin Hartley of "Smallville," "Revenge," "Mistresses" and "The Young and the Restless" also appears in the show.
The issues that the characters face in their lives cannot help but bring tears to "This Is Us" viewers' eyes. The New York Times called the show "tear-jerking."
"This Is Us" is a refreshing new show and maintains its viewers' interests every week. The show will return Tuesday, Jan. 10 at 9/8c to continue its first season.
Click here to watch full episodes of This Is Us.
Watch the trailer for here.
Click here to see This Is Us cast.