Review: Lefty's makes your day go right
Jacob Brown
March 10, 2017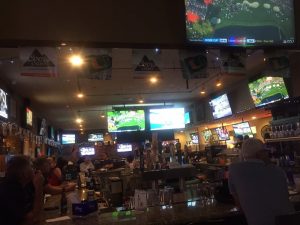 Lefty's is located on Coral Ridge Drive in the Heron Lakes Plaza and maintains a sports bar atmosphere.
Walking into Lefty's tavern and grill can either be hectic or calm depending on the day. The restaurant is rather large and has three different sections; the far right contains the bar and high tops, the middle section is for booths and tables and to the far left are more booths and tables with a game room for kids.
When I entered the building, I was immediately greeted with hostesses. One hostess took me to a booth and dropped off a menu, silverware with a napkin and a lunch specials menu. Soon after, I was greeted by my waitress who took my drink order. Quickly after, she was back with my drink and I told her that I was ready to order. I ordered ten mild garlic wings and a cheeseburger.
TV's and wood flood the restaurant. The restaurant walls are covered in televisions for guests to watch sports or other channels, emphasizing the sports bar atmosphere. The wood which dresses the space is fresh and clean, adding to the welcoming aura.
The food was very tasty. The cheeseburger I had ordered came on metal tray with some light paper on it. The paper had almost a newspaper print on it, which was a nice detail. The wings were delivered in a plastic bowl with celery, extra mild sauce and bleu cheese in plastic containers. Half of the bowl is filled with mild sauce which I personally appreciated. I was surprised about how large the burger was. I finished the wings first and got to work on the burger. I only finished half of it and I barely put a dent in my french fries. I got a small box to take the burger and fries home and signed the check. The total price was a fair $20.
Overall, eating at Lefty's was a pleasant experience. I was served rather quickly and timely. I left the restaurant full, and I really appreciated how clean the restaurant was. Lefty's also gave me all of the necessary condiments as the ketchup was full, they gave plenty of napkins and had plenty of wet wipes on deck for the wings. The restaurant was excellent from the waitress to the bus boys that grabbed my empty plate and brought a to-go box .