MSD prepares for Hurricane Irma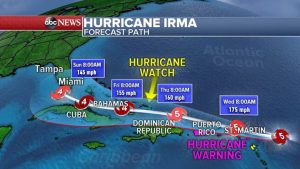 As Florida faces what could potentially be the storm of the century, students and teachers at Marjory Stoneman Douglas High School are rushing to prepare themselves for the worst case scenario.
With the United States still reeling from the devastation brought on by Hurricane Harvey, Americans face a new natural disaster in the form of a second Atlantic hurricane, dubbed Irma, that is currently nearing the island of Barbados armed with 185 mph winds, giving confirmation of its Category 5 status issued by The Weather Channel. Its projected course has it set to rip through Puerto Rico, the Virgin Islands, Hispañola, the Bahamas and Cuba before setting its sights on the Floridian peninsula.
One of the first casualties of Irma was the Douglas homecoming, originally scheduled for Sept. 9 but due to the timing of Irma's impact, homecoming be rescheduled for Nov. 4.

This announcement was followed mere hours later with the news that Broward County Schools would be closed for Thursday and Friday, following the trend set by Miami-Dade. Superintendent to Broward County Public Schools, Robert Runcie, addressed the public with his reasoning for the decision.
"Given the severity of the storm and in an abundance of caution and to give parents sufficient time and adequately prepare we will be suspending and closing school on Thursday and Friday of this week," Runcie said, according to CBS Miami.
These precautions are well founded, especially considering the fact that Irma is predicted to make landfall on Sunday, with tropical storm force winds expecting to be felt as soon as Friday. Gov. Rick Scott has already declared a state of emergency in Florida and there is expected to be a mass exodus in the coming days of locals heading north to escape the path of the storm.
Despite the looming presence of the hurricane, some Douglas students seem relatively unfazed by the natural disaster. Senior Collin Starnes was nonchalant when discussing the impending storm.
"I'm not preparing because there's a good chance we'll only get tropical winds instead of a direct hit. Plus the last few hurricanes that have hit have not had a huge impact on the area where I live so I don't think it's necessary," Starnes said.
However the calm attitude is not found universally across the Douglas student body, with other students, including senior Brandon Rothstein, fearing the worst case scenario that could result from Irma making landfall.
"I'm heading home in order to prepare. I think I might be evacuating so I need to bring all the furniture inside and make sure that there isn't too much damage the hurricane can do if I'm not there," Rothstein said.
The cautious approach is also one that teachers, including sociology teacher Raymond Posada, have chosen to adopt with making preparations in case they are forced to make a hasty escape.
"Currently I plan on staying, but depending on how the storm develops my plans will change. I'm ready just in case I do have to evacuate though," Posada said.
Whether students decide to avoid the path of the hurricane by heading north, or brace the storm here in South Florida it is important that everyone takes precautions to remain safe in the face of the deadliest natural disaster to hit Florida since Hurricane Andrew.