Dance Marathon Comes to MSD
Fallon Trachtman
October 13, 2017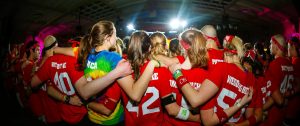 Miracle Network Dance Marathon is an organization that helps raise money and awareness for children suffering from childhood illnesses and injuries. Not only do participants raise money for sick or injured children, but they often have fun while doing it. The organization finds ways to get everyone involved and doing a good deed while enjoying themselves.
"We dance for those who can't," Miracle Network said in their mission statement.
English and Drama teacher Brittany Sinitch has decided to partner with Miracle Network Dance Marathon to host a Dance Marathon at Marjory Stoneman Douglas because of how much of an impact it made in her life as a college student. She attended Florida State University, which was very involved with Miracle Network. She loved it so much that she participated in it all four years of college.
"I was everything from being a dancer, to a captain, to a core member to executive board. It is truly such an amazing movement; I felt that I was literally making miracles for kids with cancer," Sinitch said.
Marjory Stoneman Douglas welcomed Dance Marathon to the school this year in order to inspire positive behavior in the community and contribute toward the generous cause. The marathon will be held on Feb. 24 at MSD. Any clubs at the school can be part of the marathon, but people are welcome to join solo as well.
The organization was inspired when, in 1991, Ryan White, a student at Indiana University, passed away due to HIV/AIDS. The university decided to found Dance Marathon in memory of White who passed away at only 18 years old. Dance Marathon hopes to prevent more innocent lives like White's from being taken too soon by raising money for research of a multitude of childhood illnesses.
People all over North America welcomed the idea of Dance Marathons with open arms. The organization hosts events in hundreds of schools every year. In order to participate in their local Dance Marathon, students find sponsors to give them donations. The sponsors agree to donate a certain amount of money for each hour that the student remains dancing.
"It's fun, and I feel like I'm really doing something amazing for the community," junior Sarah Schmidt said.
The organization's goal is to unite students and get them excited about something that has a good cause. They hope to create more of a friendly community for students after dancing with their fellow classmates for eight to 40 hours.
For students interested in supporting the cause who do not have the best dance skills, every hour on the hour the organizers interrupt to teach everyone a certain dance. After everyone knows all of the steps, participants can jam out to the music, which changes themes every hour.
Additionally, students who participate in the Dance Marathon have the humbling opportunity to meet the families that the money raised by the school will be going towards. This allows students to really understand how much this truly means to the suffering families and personalizes the whole experience. The money MSD raises will go to help the children suffering at the Miami Hospital.
Lastly, the participants play dance-related games, and some marathons even have live entertainment. MSD plans to have their very own student bands perform to keep all of the participants on their feet.
Since the founding of this organization, Miracle Network Dance Marathon has raised over $200 million for over 170 pediatric hospitals throughout North America. Also, the program has committed to keeping all funds raised at schools local to help struggling children in the surrounding areas.
At the end of every Dance Marathon, the coordinators of the event announce how much money they have raised. This is an opportunity for students to give back to their community while having fun with friends.