Pocket Points app leads to less smartphone usage
Tara Gaines
November 8, 2017
*This story was originally published in the first quarter issue of the Eagle Eye*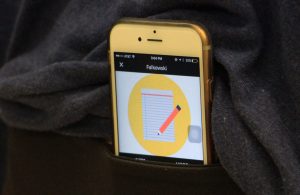 Pocket Points is a new mobile application that grants students rewards for not using their phones during class. Once a student has created an account and is on their school campus, they open the app, lock their phone and start earning points. Points are then used at local and online businesses for discounts, as well as in school for homework passes and extra credit.
This school year, Sociology teacher Sandra Davis introduced Pocket Points to Marjory Stoneman Douglas High School. Now, 60 teachers at MSD participate in the push for a cellphone-free learning environment.
"It is part of our positive behavior plan and rewards the students who have already been doing the right thing in class," Davis said. "It encourages others to stay off their phones as well. It also engages their learning."
Pocket Points started in Northern California as an idea by Chico State University students, Mitch Gardner and Rob Richardson. Garner and Richardson tried to create a solution to excessive smartphone usage in the classroom through the use of discounts to incentivize students. By partnering with local businesses that were willing to offer discounts through the app, Pocket Points was born.
Once the app launched, it quickly became popular among students at CSU. In Spring 2015, the app's success caught the attention of over 100 universities across the nation who were interested in bringing Pocket Points to their campus.
Ever since, Pocket Points has been expanding to additional schools because so many students, teachers and businesses are interested in the app. It is now offered in elementary, middle and high schools, as well as many colleges all around the United States and Canada.
Many students believe Pocket Points provide positive incentives for students to get off their phones during class and that the prizes offered are rewarding.
"I turn on my Pocket Points in class everyday because I know it will help me in the long run when I want to bump up my grade in a class," Avron said.
On the other hand, some students think the system is unfair because some teachers offer the same prize as another teacher for fewer or more points.
"I was disappointed when I saw that my friend's math teacher offered a homework pass for 100 points, and my math teacher offered one for 200 points," Williams said.
With a few exceptions, many feel that Pocket Points is a neat, new way to encourage students to stay off their phones during class time. Many teachers are getting involved by learning more about the app and allowing students to use it and earn prizes.