*This story was originally published in the first quarter issue of the Eagle Eye*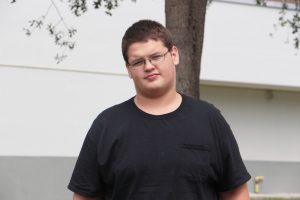 Every year, Marjory Stoneman Douglas High School welcomes new students from around the country through its red gates, and this year is no exception. Senior Matthew White is among the thousands of people who were displaced by Hurricane Harvey, which devastated Houston, Texas and surrounding areas. After the storm, he and his family came to Florida to get a new start.
"Our trailer was destroyed by the hurricane, so we were kind of forced to move here. My uncle and aunt were also affected, but not to the extent that my family was," White said. "I'm not actually sure about [what happened in Houston] because after the storm we got into my Dad's 2003 Ford Explorer and left for Florida. Though I did hear on the news about people helping others with their boats."
White is from Crosby, a small town outside Houston with a population of less than 3,000 people. So, transferring to MSD, a school with over 3,000 students, has been quite a change.
"Douglas is much bigger, and I feel like it is also more relaxed," White said.
White was here when Hurricane Irma made landfall in Florida. Surprised to leave one hurricane and run straight into another, he and his family were fortunately unaffected by the storm.While transferring to a new school can be challenging, White has taken it in stride.
"I really miss my old friends back in Houston. What I like the most [about MSD] is that everyone is very accepting, and they kind of leave you to your own devices. They were considerate of the fact that I might have lost people in Harvey," said White. "It is a bit harder for me to make friends because I'm not the type to go up to people, but I have found friends who accept me for who I am, and in the end, that's all that matters."
Matthew plans to join the TV Production Club and the Anime Club in order to get involved in the many on-campus activities available. Although he has not finalized his college plans yet, he is considering attending community college here in Florida to finish his general classes before attending a bigger university. White and his family are currently looking for a house to permanently make the switch to the Parkland area.