MSD hosts first Kristallnacht event
Suzanna Barna
January 10, 2018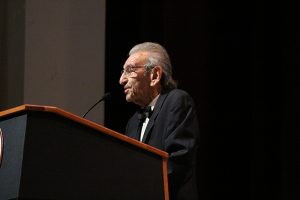 *This story was originally published in the second quarter issue of the Eagle Eye*
On Nov. 9, the 79th anniversary of Kristallnacht, Marjory Stoneman Douglas High School hosted its first "Kristallnacht Commemoration: Let The Light Shine On" event. With parents, students and other members of the community present, the event shared musical performances and somber stories about Kristallnacht and the Holocaust in the auditorium from 6:30 p.m. to 8:30 p.m.
MSD's Holocaust teachers Donna Amelkin, Ivy Schamis and Darren Levine partnered with Sylvia Kahana, an executive producer of Spark Next Production, and Sarah Solomon, a local advocate of Holocaust remembrance events, to organize the program. Together, the contributors combined their ideas and turned their vision into reality for the community to witness.
At the request of Kahana, Daniel Finkelman of Sparks Next Productions filmed the speakers and performers for the company's documentary entitled "The Last Survivor Legacy." According to the event flyer, the documentary attempts to eradicate evil, hate and intolerance, connecting the experiences of Holocaust survivors and our youth to spread peace and unity.
Historically, Kristallnacht, referred to as the Night of Crystal or the Night of Broken Glass, was the mass destruction of Jewish homes, businesses and synagogues across Germany and German-occupied territories on Nov. 9 and Nov. 10 in 1938. Blindly following the request of the government, neighbors and friends of Jewish families committed these heinous acts of violence, arson and vandalism, resulting in numerous deaths and a mass rounding up of Jews into concentration camps. For many Jews living in Nazi Germany, Kristallnacht was the true start of the Holocaust.
While conveying the serious implications of Kristallnacht and the suffering it caused, the program aimed to encourage people to respond to violence and hatred with kindness and tolerance.
"It always amazes me how warm, giving and loving [the Holocaust survivors] are to students or anyone that comes and is willing to hear them, and, I think it just gives you faith in humanity," Amelkin said.
The event also highlighted the importance of learning about history. As more time passes from the onset of the Holocaust 80 years ago, fewer survivors will be able to share their experiences with the world. Future generations will hold the responsibility for sharing these stories, and this Kristallnacht commemoration gave students the opportunity to hear them.
"Here is a chance to see real life living history, and we're going to lose that," Amelkin said. "It is our responsibility, as people who live on, to further history and not repeat it, to tell those people's stories."
The event's entertainment included a dance by two MSD seniors and multiple songs by the Holocaust Survivor Band. Seniors Sofia Cozzolino and Stephanie Kaine choreographed and performed a contemporary ballet dance to an original score titled "Kristallnacht," composed by Rami Yadid with lyrics written by Cecelia Margules.
"We worked so hard in trying to make the dance really special, and we hoped to build a message that would move the audience emotionally," Cozzolino said. "It was an honor to be asked to perform."
The dance and song conveyed a solemn mood parallel to Kristallnacht itself. The dancers wore contrasting costumes—white and black—to convey the opposing sides in the Holocaust. Cozzolino, in white, represented the Jewish people and their suffering, while Kaine, in black, portrayed the evil and hatred of the Nazis.
"The choreography was built around the idea of the Nazi versus the Jew, who eventually becomes an angel," Cozzolino said
Additionally, the Holocaust Survivor Band performed an arrangement of songs such as the classic "God Bless America." The band was founded by Saul Dreier, a Holocaust survivor and drummer and conductor in the band. The other band members are second and third generation Holocaust survivors: Mel Olman, Alex Miloslavsky, Mike Gold, John Morello, Jeff Blacke and Haim Rubinov.
Spreading their message of tolerance and peace, the band was excited to play at the "Kristallnacht Commemoration: Let The Light Shine On" event.
"We thought it was fantastic because I really think that people need to remember these things, and young people don't get a chance to confront what that really was. And this was an opportunity to investigate it and learn about it and internalize it, so they have more of an appreciation of what those people went through," Olman said.
The educational aspect of the program mainly derived from the speeches of Dreier and Morris Dan, two outspoken Holocaust survivors, about their experiences in Nazi Germany and the concentration camps.
Dan spoke of his experiences from an adolescent's point of view in Nazi Germany. Dan explained the horrors of walking down the street and getting spit on and bullied as he displayed his yellow star that read "Jude."
"They took us to a cattle train and pushed in about 60 to 70 people in one cattle car. Imagine a whole night, no water, no wash room…and when the door opened, we didn't know where we are," Dan said
Dan described life in the camps, stripped of clothes, hair and family. With no family left to provide him strength, he considered taking his own life. Fortunately, Dan forced himself to fight, work and most importantly survive.
With the blessing of life, he speaks every opportunity he can, especially to students who he sees as the shapers  of the future.
Dreier decided to keep his story on a lighter tone, but still described his sufferring during his three and a half years in the Holocaust. While he was only 16 and a half years old, Dreier worked in the concentration camps. Dreier was chosen to work for Oskar Schindler as one of the 1,500 workers that he saved.
After their speeches, Dreier and Dan answered questions from multiple students about details about the past and their outlook on the world today. However, the segment was cut short due to the bright auditorium lights hurting the survivors' eyes and time constraints.
"I was very impacted by the survivors' stories since I know that could have happened to any group of people at any time in history. As a Jew, though, it made me thankful that these courageous speakers are able to tell their stories so that we can never forget the horrors of the past. Those who forget history are doomed to repeat it, and it is necessary for their messages to be alive," senior Brandon Abzug said.
The event's audience was not only comprised of MSD students and families, but also students from various schools across Broward County who heard about it from their Holocaust classes. J.P. Taravella High School, another school in the county with a Holocaust class, promoted the event to their students.
"I attended the event because I knew it would serve as a great learning experience that I could share with others. My favorite part was when the man was playing the electric violin in the band because I play the cello myself," J.P. Taravella senior Christian Michael said.
Although admission was free, donations were accepted to assist Holocaust survivors who are in dire need of transportation, medical attention and food. For the same cause, the event also promoted a GoFundMe titled "Holocaust Survivors- Must Help Now" that the audience was encouraged to make contributions to. So far, $104 has been raised out of the $5,180 goal.
Bringing the community together, the first "Kristallnacht Commemoration—Let The Light Shine On" event taught high schoolers a lesson that cannot be attained in a classroom. Through the moving first-hand accounts of survivors, students were able to connect with the horrifying reality of the Holocaust in a way that a textbook could never convey. It rests on the shoulders of these dwindling survivors to ensure that today's youth never forget their stories, and that they resolve to make a brighter and better future moving forward.