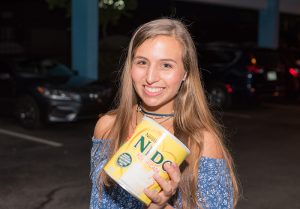 *This story was originally published in the second quarter issue of the Eagle Eye*
This year, Marjory Stoneman Douglas High School's DECA chapter has undertaken the "Voices for Venezuela" initiative as one of its four chapter projects of the year. Voices for Venezuela is a project created by DECA Co-President Ariana Ortega in conjunction with HITS 97.3 and Cox Media Group Miami.
The goal of the project is to help struggling families in Venezuela, a country that has been ravaged with economic crises during the past few years since President Nicolas Maduro took over. Economic problems in Venezuela, which began due to the fall of oil prices and the socialist economy put in place by former President Hugo Chavez, have caused protests to emerge all over the country.
"My cousins and their classmates, just mere teenagers, spend their days preparing to protest amidst showers of toxic bombs, instead of sitting in classrooms. Their dedication and sacrifice portray their deep desire to free the country from the chains of tyranny detaining it," Ortega said.
Ortega, a first generation American with two Venezuelan parents, felt guilty as a privileged American during the turmoil in her family's country.
"I felt a strong pang of guilt as a Venezuelan to be standing here, motionless as the country falls apart," Ortega said.
Ortega created an Instagram page named @VoicesforVenezuela as the first step in her  journey to raise awareness. Along with the help of her Venezuelan relatives, she was able to obtain meaningful graphic images of the protests in Venezuela to share using social media. She began to post the stories, or "voices" as she refers to them, on her website and Instagram page.
"I can be a source of power and energy for them, and essentially their voice and beacon of hope here in the United States," Ortega said. "I wanted to be a part of the American network working towards reaching a hand out to Venezuela."
Her desire to make an impact led her to contact the HITS 97.3 team, which she heard was already trying to raise awareness for the crisis in Venezuela. She successfully negotiated her way into organizing an event with Cox Media Group Miami, HITS 97.3's parent company, at their headquarters in Hollywood, Florida.
"As soon as I had a friend tell me that he heard a radio station speaking about Venezuela, I reached out to them, asking for a partnership between us so that I could expand my small project, Voices for Venezuela, into something impactful and that tied in the entire community as one 'voice' for Venezuela," Ortega said.
Armed with the support from a major radio network, which boasts popular stations such as 99 JAMZ, EASY 93.1 and HITS 97.3, Ortega launched the project as a donation tool for victims.
The "Voices for Venezuela: A Day of Unity" event took place on Monday, July 17, hosted by HITS 97.3's DJ AI-P. The event raised over $20,000 worth of goods for victims in Venezuela.
"The medical and food supplies we sent have been given to university student protest groups, who distribute the supplies to those in need at their local hospitals and schools," Ortega said.
In August, Ortega decided to volunteer her project to DECA, which has over 600 members—the most of any club at MSD. Ortega describes the shift from Cox Media Group to MSD's DECA chapter as a transition from a large-scale fundraising project to a method of uniting her current community to help her previous one.
"With MSD DECA, Voices for Venezuela is now at a position where the local community and school can join in and contribute their own voice," Ortega said. "With the Cox Media Group, we were able to collect mass donations from the Miami and South Florida area, as it was a fantastic marketing medium. But through MSD DECA, we are making Voices for Venezuela a project through which our local Parkland and Coral Springs students and families can show their support."
DECA is now accepting donations in exchange for "DECA diamonds."  Students can support the cause and donate to Cuatro Por Venezuela by visiting www.cuatroporvenezuela.org.
Students can follow the movement's Instagram page @VoicesForVenezuela to stay updated on the crisis in Venezuela.