MSD alumna Sonali Argade releases single after hiatus
Nikhita Nookala
January 10, 2018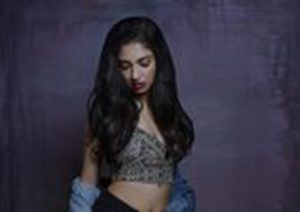 *This story was originally published in the second quarter issue of the Eagle Eye*
Sonali Argade, better known by her stage name, Sonali, is a singer-songwriter living in New York, but her roots are here in Parkland. As a class of 2012 alumna, Argade got her start at Marjory Stoneman Douglas High School and graduated from the Clive Davis Institute at the NYU Tisch School of Arts in 2015.
The influence of Sonali's experience at MSD translated into her real-life habits. She considers herself to be equally creative and academic, attributing her broad range of interests to the wide variety of classes she took in high school.
"There are certain days where it's more fun to do an in-depth demographic analysis of my fans and structure a marketing campaign rather than write a song, and there are some days where it's the total opposite," Argade said. "I think it's cool to have a career that encompasses so many different skill sets; you don't get bored that way."
Argade additionally cited MSD teachers Enrique Acosta, Donna Amelkin, Alicia Blonde, Carla Verba, Darren Levine and Robert Rosen as being the most impactful on her success. Many of her memories at MSD strike familiar chords for current students.
"I actually have a recurring nightmare every few months in which I'm failing an AP Physics test… There were so many other influential teachers I had who don't work at MSD anymore, but all these people were fantastic, and I learned a lot from them," Argade said. "I think the most valuable thing I learned from Douglas was work ethic… I'm no stranger to hard work now, and there isn't much that fazes me."
Sonali has dreamed of being a singer ever since she was 3 years old, and she began taking voice lessons when she was 6 years old. However, it wasn't until college that she started singing pop music. During her freshman year at NYU, Argade's cover of the song, "Diamonds," by Rihanna went viral, eventually catching the attention of Rihanna herself.
Argade and some friends were invited to Rihanna's Newark concert and met the star backstage after the show. She currently credits this as her "big break," but hopes to experience something even bigger soon.
"[Meeting Rihanna] was pretty wild… I'm not sure that I've had one huge defining moment in my career yet; it's just been a build of a solid fan base after years and years of very hard work, and I'm so grateful for them," Argade said.
Argade started releasing music professionally in her senior year at MSD and released an extended play, or EP, upon her graduation from college in 2015. The EP, entitled "Wake Up," received positive feedback from her fans.
"If you need to compare her to another musician… her style is similar to that of Ed Sheeran, only with a bit more of an Americana feel," Scott De Buitléir of the Huffington Post said in a 2014 review of her work. "Still, there is a sweetness and light to Sonali's music that makes it perfect for that happy-go-lucky kind of playlist."
However, she soon ran into an obstacle that caused her to question whether or not she could even continue with her music career. After two years of continuous illnesses and searching for answers, Argade was diagnosed with chronic Lyme disease, forcing her to take a break from singing and cancel her planned 2015 tour.
"There were a lot of moments during that time where it seemed like music wouldn't be a viable option anymore," Argade said. "As I started to get better, I started feeling more like myself again, and in the last few months, I've been able to return to what I love and start working on it full time."
Argade credits much of her success to her mother. Her mother handles the administration of day-to-day activities,  branding, content creation, booking and press. According to Argade, the assistance and support of her mother was essential to accomplishing her goals.
"At the beginning there is just so much to learn," Argade said. "I wouldn't have even known where to get started if she wasn't helping me."
In October 2017, Sonali released a single, "Forever," which is available to stream on Spotify, Apple Music and YouTube, as well as on her website, ItsMeSonali.com.
Sonali can be found on Twitter with the handle @ItsMeSonali in addition to her Snapchat ItsMeSonali13. This debut artist is a rising star and has the potential to join MSD's growing list of notable alumni in the near future.