Review: Eminem strays from classic style on "Revival"
Nikhita Nookala
January 23, 2018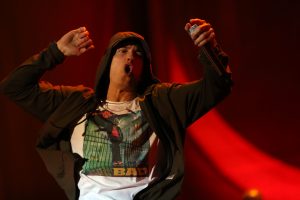 Marshall Mathers, professionally known as Eminem, released his ninth studio album, "Revival," on Dec. 15, 2017. The album was Mathers' eighth album to top The Billboard 200, with 197,000 copies sold in the first week. The collection contains 19 tracks and a staggering 77 minutes of music and features artists such as Beyonce, Alicia Keys, Ed Sheeran and Kehlani alongside "Slim Shady" himself.
The album included three singles, "Walk on Water," featuring Beyonce, "Untouchable" and "River," featuring Ed Sheeran. The latter was received well commercially, reaching the number one spot on the charts in the UK, Norway and Sweden, and making the top 20 in the US.
Mathers made headlines in 2017 for his politically charged performance at the BET Hip Hop Awards, in which he heavily criticized President Donald Trump. Some critics remarked that the performance alienated much of Eminem's fanbase demographic, white men in middle America. Regardless, this sentiment carried over into "Revival," creating a mix of classic Eminem wordplay interlaced with political convictions and criticisms.
"Revival" explores several themes, including the political division in the United States, Eminem's relationships with his daughter, Hailie Jade, and ex-wife, Kimberly Scott, along with his own relevance in music. In fact, the first track, "Walk on Water," includes the line, "it's the curse of the standard that the first of the Mathers disc set," commenting on the difficulty of living up to his old tracks.
Notably, "Like Home," featuring Alicia Keys, is very political and criticizes Trump by using the metaphor of a bird,
"All he does is watch Fox News like a parrot and repeats, while he looks like a canary with a beak. Why you think he banned transgenders from the military with a tweet," Mathers said in his song.
Mathers has always been known for his clever wordplay and fast rap style, most famously in "Rap God," from "The Matthew Mathers LP 2," and "Lose Yourself," from the movie soundtrack of "8 Mile." However, in "Revival," all of Eminem's lyrical skills cannot overcome the weakness of the backing tracks.
Piano and violin background music accompanies some tracks, while others are accompanied by a bizarre mix of percussion and electric guitar. In "Remind Me," Mathers samples Joan Jett's "I Love Rock and Roll," creating a track that is more reminiscent of classic rock than of anything related to hip-hop.
While the album was relatively cohesive and flowed well from track to track, the decision to begin track one with a voice that was not Eminem's was confusing. Beyonce's vocals opened the album, already creating the impression that it would not be in the style Eminem fans have come to love and expect from him.
The concluding track, "Arose," includes the line "I'll put out this last album, then I'm done with it," signalling that this may be Eminem's last album. However, it may be better for the artist to leave the game while he is still on top and while he still has a legacy that will live on.
"Revival" is now available to stream and download on Spotify, iTunes, and Apple Music.