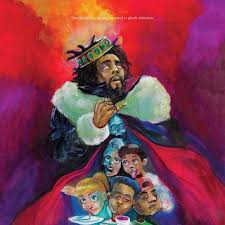 After his fans went crazy over a tweet where he announced an album would be dropping on April 20, J.Cole released the name of his new prodigy: K.O.D. This rap album introduces the harsh reality of  kids becoming so easily addicted to drugs.
Cole, representing Fayetteville, North Carolina, started off in his career by signing with Jay-Z's Roc Nation in 2009. He then dropped "Cole World:The Sideline Story," his debut album, two years later. "K.O.D." is Cole's 11th album.
As soon as people were made aware of the name of Cole's new album, ideas about what "K.O.D." stands for surfaced. Fans of Cole suggested it could mean "king of dreamville" or "kids on drugs." He tweeted in response that "K.O.D." has three different meanings: "kids on drugs," "king overdosed" and "kill our demons".
One day after J. Cole told his fans about the news, he released two photos of the front and back of the album, and in small writing on the front cover it is written that "this album is in no way intended to glorify addiction."
The art on the front and back of K.O.D. features cartoon children using drugs, portraying the characters slowly decaying into skeletons as a way to bring awareness to the self-inflicted harm that comes along with addiction.
K.O.D. emphasizes dependencies on sex, drugs, the internet and money. This album consists of 12 tracks, one of them being "Photograph," a lyrical melody that speaks of a man who falls in love with a woman's social media page and pictures posted online, though never sees her in person. Cole writes that he will not show anybody the pictures he has became obsessed with, so he can "keep this one for himself.
"Photograph" is slow and sweet, though the words can seem harsh. The song goes into the societal issue of excessive electronic use among adolescents, reflecting the role of digital devices in love.
Though some listeners might think that the albums songs come across as creepy, Cole intended on making his beats and words sound as experimental as possible, reflecting the effects of a drug addiction on perception. The music on this album sounds like Cole is giving his audience advice, while telling listeners what he has been through and what he has learned from it.
The introductory song to K.O.D. entitled "Intro" featured a peaceful woman telling Cole's audience that there are "many ways to deal with pain," and asserts to "choose wisely," suggesting that self-medicating with drugs is not a way to solve a problem.
Cole writes a song on this album named "Kevin's Heart," an upbeat, yet laid back song about a girl who is his "number one," but when "temptation" comes to play, he tries hard to stay in the right state of mind. Many people believe that this song is in some way directed to comedian Kevin Hart due to the fact that he has been accused of cheating on his wife, but Cole has yet to acknowledge this theory..
Cole takes a swing at many people in this album, saying he hates "Soundcloud rap," which is a popular app where anyone can upload recordings of themselves singing or rapping to get famous quickly. He does not reference anyone directly by name, but implications were made with his song "1985" toward 17-year-old rapper Lil Pump.
There is one person featured on this album, under the name of "kiLL edward," J. Cole's alter ego. Cole was on a streak of having featureless albums, and as soon as it was thought someone would be featured on K.O.D, fans realized it was still an entire album with only Cole rapping.
As a whole, K.O.D. is unlike anything J. Cole has produced before. The songs are unique,and Cole raps with a new flow. Unlike past albums, he raps as if he is in a haze to portray substance abuse in the most realistic way possible.
Personally, I am obsessed with this album and could not be more impressed with J. Cole. Instead of putting out music about random things that do not have much of a meaning, he focuses on the kids of this generation and serious problems that need to be addressed.
Every song puts the listener in a different situation, further spreading awareness on common problems in today's society. The stand-out tracks so far are "Motiv8," "Kevin's Heart," "1985," "ATM," "Photograph" and "Brackets."