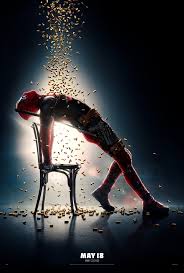 Seldom do sequels live up to their expectations. However "Deadpool 2" is an exception. The hit film left box offices sold out and lines of fanatic fans waiting to purchase their popcorn in hopes of enjoying this comedy packed action movie.
Starring Ryan Reynolds, Josh Brolin, and Morena Baccarin, this superhero comedy was directed by the clever Tim Miller and has already made $783.1 million dollars in matter of 20 days.
With Reynolds returning as the witty and comical superhero, he proves that he may not be the most skilled superhero when he assembles a failed team heros who resemble a sort of knock-off Avengers.
After the loss of an important character, Deadpool is depressed and determined to seek revenge to try to prevent two other acts of vengeance from taking place. His feelings lead him to meeting Russell (Julian Dennison), who is a underdog with unexpectant pyrotechnical mutant abilities that earn him the nickname "Fire Fist".
With the return of both new and old characters, this movie is filled with a plethora of surprises. Shockingly, Deadpool finds himself reconciling with the two X-Men he befriended in the last film: Colossus and Negasonic Teenage Warhead.
There is a underlying message of rising above after loss the story that reveals a softer side to this superhero.
Fans will see that there is heavy reflection of similarities with today's society in the movie. Combining heartbreak, determination, and sarcasm all into one, Deadpool is by far the most entertaining movie of the year. Itis the perfect movie for today's teenagers.
Deadpool offers plenty of funny yet filthy entertainment that will keep you laughing until you hurt. Quite honestly, the sequel is far better than original.