MSD installs bleed kits
Todd Hewling
October 17, 2018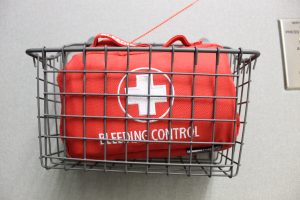 In preparation for the new year, Marjory Stoneman Douglas High School implemented new bleeding control kits during the of Aug. 8.
The bleed kits provide classrooms with the appropriate tools to minimize an injured person's risk of bleeding out. The kits include a tourniquet, compression bandages, regular gauze and chest seals.
"[The bleed kits were] originally founded as a nationwide push right after Sandy Hook because they ran into the same problem that we did — kids got shot and then they couldn't get to them in time," geography teacher, Ernest Rospierski said.
Rospierski, psychology teacher Ronit Reoven and Assistant Principal Denise Reed spearheaded the initiative to implement the bleed kits.
"After the shooting happened, literally three days later, I went disc golfing with a buddy of mine who is a firefighter and he's the guy that introduced this idea to me and actually showed me one [of the bleed kits]," Rospierski said. "He looked at me and said 'would this have helped?' and I said 'yeah.'"
The funding for this project came from a T-shirt sale initiated by sophomore Aidan Spitzer, which raised $20,000, and an additional $2,000 raised by Lori Alhadeff.
Feeling as though the bleed kits could be a beneficial addition to the community, the City of Coral Springs applied for a grant to install the kits into MSD and local businesses.
"The parents and the community felt that there was a need and we just went with it. It wasn't the first time that the community had been approached [about installing bleed kits], but obviously since Feb. 14, their vision has changed," Reed said. "I was told by several companies that we had been trying to get this for a long time, but no one really saw the need and now they do."
Teachers got the opportunity to learn how to administer aid using the kits through multiple training sessions by the Coral Springs Fire Department. Sixty teachers attended the initial training. In the near future, MSD administration plans to also have students trained.
Before the installation, the CSFD and Coral Springs Police Department visited the school to determine the most convenient places for the kits. They decided to place one kit in each classroom and others in strategically placed locations throughout the school.
This story was originally published in the October 2018 Eagle Eye print edition.