Assistant Principal Daniel Most joins MSD staff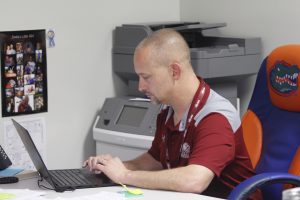 *This story was co-written by Brianna Jesionowski & Amelia Weiss 
From the moment you walk into Assistant Principal Daniel Most's office, it is not hard to understand who he is. Family photos. Marjory Stoneman Douglas sports posters. Artwork from his children. Certificates from his days in the US Army. UF Gator memorabilia on every single wall and shelf. Most's office is a raw and honest representation of who he is as an administrator, a father and a true Gators fan.
Most grew up in Long Island, New York before moving south to attend the University of Florida, where he majored in public relations.
At first, he did not see himself staying in the Sunshine State, but eventually Most decided to move to Coral Springs to start a family with his wife who he met in college.
"[My wife] was from down here and all her family was down here so I stayed here to be with her," Most said.
After the events of Sept. 11, 2001, when Most lost his job in a public relation firm, he joined a concession company known as HomeTown Concessions, created by his father-in-law in Weston. The company often hired teenagers to run the stands. It was during this time that he realized how much he enjoyed teaching children important skills that would help them later in their lives.
"My father was a teacher, my mom was a school psychologist. I always said I was never going to follow in their footsteps," Most said. "My wife said if you really like it you should go back to and become a high school teacher, so I started substitute teaching to kind of get a feel for it and I really liked it so I followed through, finished my masters degree in education and here I am."
After transitioning to education from sales, Most began looking for a job as a social studies teacher in the South Florida area. When he found out that a new school, Everglades High School, was under construction in 2003 and hiring a new staff, he jumped at the chance to start his new career. Most was then selected to be a part of the school's faculty, working as a social studies teacher.
After six years of teaching, he was promoted to the position of assistant principal at Everglades High School, holding the job for another nine years.
"I was very lucky that I became assistant principal to the school that I was already a teacher at," Most said. "I knew so many of the students, the families, the community and the teachers and staff."
The summer after his ninth year as an assistant principal, Most got a call to become an assistant principal at MSD.
"My transfer to Douglas has been really good," Most said. "Everybody here has been super accommodating. I was a little nervous coming here because of the events of last year, but I was really excited about the opportunity to be able to come and help the students and staff in their recovery and healing."
One of his goals for the school year is to enhance curriculum so that it relates to students every day lives, hopefully increasing their interest and focus. He also is working to improve and expand on the wide variety of extracurricular activities already present at MSD.
"I just want the kids here to be best prepared for college and have a rigorous education," Most said. "While I don't want to change anything about the school, I would like to see students work on their inclusivity, and I want everyone to feel like they are apart of a community."
Most's main responsibilities as assistant principal include supervising the English and reading departments, working with Coach Rubinstein on activities and field trips, looking over security on campus and acting as an advisor to the sophomore class. But, his day-to-day jobs often change — he could have one thing scheduled but get pulled into a meeting at any time.
"On any given day my job is visiting classrooms, meeting with vendors to decide if there's new resources or materials we're going to get, to dealing with students who are having a tough time socially, academically or emotionally," Most said
Along with being an educator, Most is a family man and the father to a 9-year-old daughter, spending almost all of his free time with his loved ones. One of his family's favorite vacation spots is Disney World, which they visit multiple times a year.
As his daughter grows up, Most is excited to be able to attend UF football games with her.
"I know everybody thinks that their child is just the best kid in the world, but I know my child is the best in the whole world because we're both educators, we both spent a lot of time, still now, reading to her, going to museums, going to zoos, giving her opportunities to expose her to different or alternative types of education to make sure she would have an appreciation for learning, and we try to continue to push that with her to this day," Most said.
As the newest member to the Eagle family, Most has dedicated himself to paving bright futures for the students of MSD. With his years of experience and faith in youth, he has been welcomed to the MSD community with an open arms. 
This story was originally published in the October 2018 Eagle Eye print edition.