Conflicts involving media worry the public
Hannah Kapoor
October 17, 2018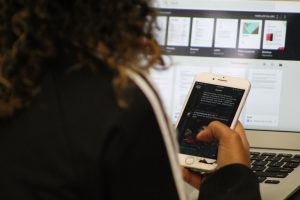 Due to increasingly accessible technology, the presence of media follows us wherever we take our digital footprint. With a never ending tap of information at our fingertips, every realm of modern society has transformed into one that is more easily informed, but also more easily manipulated due to distorted information.
The Statistics Portal reports that as of 2019, there will be about 2.77 billion social media users worldwide. Alongside this expansion has come what Oxford Dictionaries describes as an era of "post truth," in which instead of objective facts, information that appeals to the emotions and personal beliefs of people is in higher demand. From this societal trend, a certain resentment towards the media has brewed.
"By and large the media does what they are supposed do. They report the facts whether or not people want to hear them," journalism teacher Sarah Lerner said. "There are many people who believe that journalists are not doing their jobs simply because they are reporting on truths they don't want out there."
Doubts in the integrity of the media were epitomized by the "fake news" epidemic of the 2016 election. In the scramble for the presidency, many news organizations were targeted for their alleged inability to properly portray each candidate.
"The job of a journalist is to research and get to the bottom of a story all while reporting things fairly and accurately," Lerner said. "If a journalist is not doing that, then that's on them. But we can't be making sweeping generalizations about the media as a whole."
Even though the feud with the media has only recently gained widespread attention, doubts have existed long before 2016. A study by the Harvard Business Review reports that trust in the government and media has been on a constant decline since the Watergate scandal, with 71 percent of respondents stating that governing figures are "not at all or somewhat credible."
"If we don't like a story being told or if there are inaccuracies in that story, we have a right to call it out," Lerner said. "But we can't make blanket statements and call journalists 'enemies of the people.' That leads to a huge mistrust among the American people."
As ordained by the First Amendment, the press is intended to serve as a gatekeeper to American freedom. All forms of media, from TV broadcasting to social networking sites, are expected to uphold democracy by keeping the masses informed.
"If everyone is walking around with the wrong information, then our democracy can't function properly," senior Melanie Cardoso said. "We can't limit a free press, but as citizens we have the responsibility to make sure the information we consume is credible."
As the largest consumers of digital media, teenagers have the challenge maintaining responsible habits when consuming information to protect themselves from the deliberate spread of misinformation. This of course, is different than simply rejecting information that may or may not coincide with one's beliefs.
"Rather than refuting what is being said, people are just blanketly labeling every journalist as an enemy of the people and that is a huge problem," Lerner said.
Tensions with the media extend beyond the accuracy of their reporting, as well. Many criticize the tendency of mainstream networks to overlook the problems of common life.
"Every day I turn on the news and it's about some drama unfolding in the White House," Cardoso said. "While that is important, there are other issues that don't receive nearly as much attention. There are American cities without clean water, countries in civil wars… don't they deserve to be heard?"
At Marjory Stoneman Douglas High School, students have been firsthand witnesses of the media's ability to both unite, divide, inform and misinform the masses. It all started with their coverage of Feb. 14, when the world became witness to the horror unraveling in Parkland.
"After everything that happened it would have been easier to just try and move on with our friends and family," senior Isabella Pfeiffer said. "We needed the media to get our platform across."
From their smart phones, MSD students were able to spark national conversations about gun violence, mental health and school safety — all while overcoming a tragedy. While the media was an essential factor in the outreach of these messages, their portrayal of MSD often brought up questions about  the intent behind certain coverage.
Mainstream networks, such as FOX, CNN and MSNBC seemed to haven taken distinct sides on the tragedy through their coverage of its implications.
"In many ways, I think it was a necessary evil," Pfeiffer said.
Thanks to the media, the issues manifested in the shooting were not quickly forgotten by the American people. But their continuous coverage of the gruesome details have left many questioning their purpose.
"I have seen stories about our school based solely off of tweets — that's not good journalism," Lerner said. "It's very disconcerting when you drive up to school and see a thousand news trucks and nothing is happening. People think it's okay to come here just because it's been a slow news day."
Regulations have been put into place to protect the privacy of students. For example, all media requests are processed by the county's Office of Public Communications where they are heavily scrutinized.
"This is a school, we are here to educate children and I don't think that they [the media] have any business here right now," Assistant Principal Denise Reed said. "Their constant reminders of what happened to us are just not healthy."
MSD students and staff will continue to search for a new sense of normalcy, with or without the media documenting their every steps. The coverage of MSD, however, seems to embody both the perks and flaws of modern media: it has the power to elevate the voices of the unheard, as well as disrupt the tranquility of everyday life.
"More responsible journalists — that's what this country needs," Lerner said.
With free speech comes free will. The media will continue to capture American society for better or for worse, but it is ultimately up to the people to determine what should or should not frame how they perceive the world.
This story was originally published in the October 2018 Eagle Eye print edition.