Students, faculty and district employees volunteer in Marjory's Garden
Kaleela Rosenthal
April 5, 2019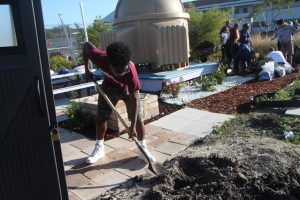 During the school-wide "Day of Service and Love" on Feb. 14, 2019, astronomy teacher Brandon Jeter and 75 student volunteers worked on various projects in Marjory's Garden from 7:40 a.m. to 11:40 a.m.
Marjory's Garden was created in 2016 as a student-centered project, allowing participants to be creative and build a positive environment for the school. When the day of service and love was initially proposed, Jeter knew immediately that the garden's mission made it a good fit for the on campus service projects being offered on campus.
"After last year, that mission became even more important: that we have a positive place on campus," Jeter said. "Everything was planted, painted and built by students, which makes it a lot more personal."
Nearly 100 volunteers, including students, faculty and other district employees worked in the garden that day.
"I want to be here [at Marjory's Garden]. I live here. This is my home," Marjory's Garden Club President Lexi Smith said. "I feel safe here, and I want to feel safe today."
To many of the volunteers, the plant life represented tranquility.
"Gardening is one of the most therapeutic things I do," senior Adiah Cunningham said. "There is something about watching the plants grow that has really helped me deal with everything this past year. There is no other place I'd rather be today."
Throughout the day, the volunteers accomplished a variety of tasks.
One of them was to replace three old trees on Holmberg Road with bigger, healthier ones. They made the decision to plant and transfer the older trees to Marjory's Garden since they were still alive.
In addition, two butterfly experts gave a presentation in the outdoor classroom space. They taught a lecture on the life cycle of a butterfly and brought caterpillars and butterfly crysalli to show students and volunteers.
For many, the garden is an oasis that reduces students' stress during and after school. Whether it is coming on weekends to volunteer time to the garden or spending a class period reading outside, the garden offers something for everyone.
"I wanted to do something fun today, and I want to be helpful to the school," freshman Keondre Edge said.
From calming oneself by painting rocks or simply helping the garden flourish, many clubs continue in monthly volunteering events in the garden.
This story was originally published in the April 2019 Eagle Eye print edition.