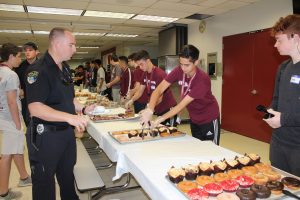 On Thursday, Feb. 14, 2019 approximately 100 students from Marjory Stoneman Douglas High School participated in an on-campus service project where they fed the first responders on duty during the school shooting that took place exactly one year before.
The two-hour long event, from 9 a.m. until 11 a.m., was held in the cafeteria where students passed out muffins, fruits and other pastries to the responders.
Approximately 250 first responders from all over Broward County participated in the event and shared their stories with students. Church by the Glades and Chick-fil-a coordinated the breakfast food items.
"My partner and I had actually just started a new position at the Margate Police Department division, and when we heard the call [on Feb. 14, 2018] we immediately starting listening on our radios to hear what was going on and see how we could help," Officer Samuel Finor said.
The event allowed the officials and students to reflect together and pay their respects. Students also had a chance to meet, thank and talk to the officials who were working during the tragedy.
"It gave me a chance to talk with them and finally say thank you for their service," junior Andre Atencio said.
Many responders also paid homage to the students and reminded students of their own bravery.
"I think [the event] is beautiful, but I think you guys are celebrating the wrong heroes; you guys are the actual heroes," Finor said.
The breakfast also gave the many responders a firsthand look into the growth and eagle pride of MSD. Although, for some, it was not their first time behind these silver and burgundy walls.
"It feels really good. It's kind of a homecoming of me because I actually went to Douglas, I graduated in 95' and it hurt me to see my school hurting in that way," Sergeant Joseph Jaresborker said.
Many students showed up for this service project, to not only give back to the officers, but also for their own well-being. For many students, the service project was a method of healing. It allowed them to be close to the school while still giving back to their community.
"I felt that I needed to come here a year later and give back to the responders because they helped me so much," sophomore Carlos Betancourt said.
Students had a memorable day serving first responders, as they finally got to meet and share in each others company on a day that promoted both service and love.
This story was originally published in the April 2019 Eagle Eye print edition.