HandsOn Broward creates art panels and organizes 17 service projects
EagleEyeNews
April 5, 2019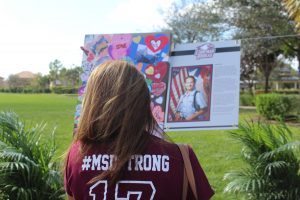 In an effort to give back to the community and help the healing process of the families and survivors involved in the shooting at Marjory Stoneman Douglas High School, HandsOn Broward created Parkland Hearts, an art project, along with 17 service projects dedicated to the 17 victims lost on Feb. 14, 2018
"Our network of volunteers following the tragedy wanted to know how they could help," Kristina DaSilva, COO at HandsOn Broward, said. "A lot of resources were coming into Parkland; we wanted to give folks an outlet to do something, and also not get in the way of all of the efforts that were happening and so we created an art project in those immediate weeks that were following. That art project became a part of the Parkland Hearts Initiative. A second part of the initiative was the Parkland Hearts service projects, that's something that started to happen a little later in the year…so through the support of our network and our committee each one of the projects benefited a cause close to the heart of either the families or the individuals that we lost."
HandsOn Broward inspires, equips and mobilizes people to effect positive change in Broward County through a variety of activities such as creating art in public spaces, building sustainable gardens, teaching financial literacy, responding to disasters and working to protect the environment.
According to ParklandHearts.org, "In the aftermath of a tragedy like the events at Marjory Stoneman Douglas High School in Parkland, shock and heartbreak extend ripples through our schools, neighborhoods, gathering spaces and places of worship. In the moments when it becomes difficult to comprehend how such terrible acts of violence are possible, we are often left only with our words of hope, encouragement and togetherness–and our urgent desire for our world to be better. As a way of honoring all those affected by the Parkland tragedy, HandsOn Broward is calling upon the helping hands of our community to create meaningful service projects and art installations in remembrance of those we lost."
Each service project was created to honor a specific victim and designed to mirror a cause they were passionate about. The service projects were completed between November and February.
"We began the process of coordinating the projects about three months prior to the one year anniversary and the goal in doing that was so we could provide and put as much positivity out there at a time when we knew people we going to be revisiting those painful thoughts and memories," DaSilva said. "These projects became a place for friends and family to come out and to feel safe and to do something meaningful and to make a difference in honor of someone they loved. It became a very special and beautiful process."
The art project consisted of 17 art panels created by Parkland families, friends and local volunteers on Jan. 21. The panels were created from paper hearts that had been sent to HandsOn Broward from across the country.
"It was pretty beautiful in its entirety, to be totally honest," junior Liam Kiernan said. "It was almost a symbol of remembrance in a way, it was able to show what we can do when we all come together, because you know, all the hearts being from all around the country and around like all over the world; it just really shows the love and support."
A sister affiliate organization known as HandsOn Orlando were a part of the response efforts that happened after the Pulse Nightclub shooting. Volunteers in Orlando reached out to HandsOn Broward and offered them insight and advice on what they did after the Pulse Nightclub shooting, which was bringing out huge scrolls to the nightclub for people to leave their personal thoughts and messages. From there the Parkland Hearts projects were formulated and set into action to help the community heal through service.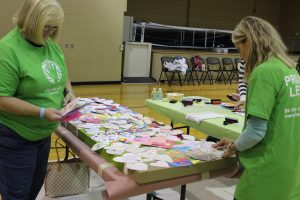 "Aaron Feis meant the world to me and I wanted to do something to pay back to his family and express my feelings for him," Connie Forti, an MSD teacher's aide, said. "This meant the world to me because it was a nice way of paying tribute to the 17 students and faculty. When I went to the park after they were all done and set up I was able to able to go one by one and see the love that was poured out to them, it really helped me start to heal, it's gonna take a long time, but the panels helped a lot. It was beautiful, I walked that line at the park and was able to touch and feel for each person that was there."
All 17 panels were displayed in an art installation at Pine Trails Park on Feb. 14, 2019. The panels served as a memorial for many, as an interfaith service was held at the park in remembrance of the one-year anniversary of the shooting.
"I think it's important to know that this whole thing had one thought in mind, and that was 'service heals,'" Dale Mandell, president and CEO of HandsOn Broward said in a recent interview with The Sun Sentinel. "Healing through service, healing through helping others, feeling like you did something to honor that person, and you honor that person by helping somebody else in need. And I think that's something I feel that every family member got and walked away with."
The non-profit organization aimed is at creating a legacy for the victims and helping others heal through service.
This story was originally published in the April 2019 Eagle Eye print edition.