Sandy Hook Elementary and Columbine High School survivors share advice on healing
Brianna Fisher
April 8, 2019
Abbey Clements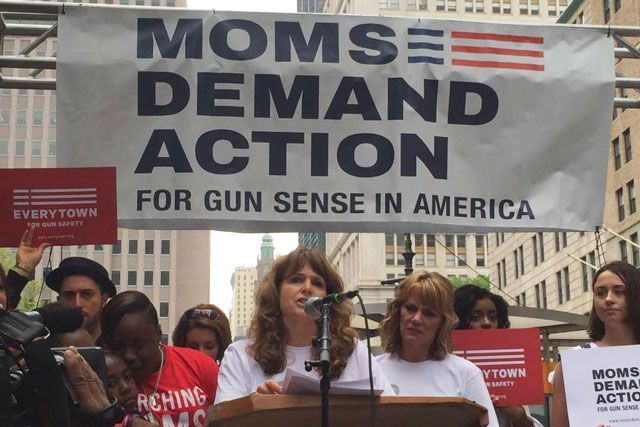 Former Sandy Hook Elementary teacher Abbey Clements did not recognize herself or her feelings after the shooting at her school occurred. Instead, she felt numb and did not know what to do with herself.
"I couldn't eat for days and felt like I was in a different body," Clements said. "Like it wasn't me, and it was as if there was suddenly an old me and a new one."
Clements coped with her feelings by becoming a support system for the students that she taught. Being there for her second grade students made both them and her feel better.
"At first, everything was different," Clements said. "All of my energy was spent on taking care of my students and my own children. Those early months were so taxing and hard. I never cried so much in my life."
Just like other gun violence survivors, Clements has used political activism to fight for justice for her school. Speaking and attending rallies and marches, Clements uses her experience as an elementary school teacher to influence and motivate members of the audience.
"Several months after the tragedy, I was invited to a Moms Demand Action meeting," Clements said. "I went by myself, told my story and never looked back. For me, moving forward means doing my best as a teacher and working toward a country safer from gun violence."
Specifically, Clements believes that taking every day one day at a time is the best way to deal with something so traumatic.
"First, I would say how sorry I am for all that you've been through," Clements said. "We should have fixed this epidemic of gun violence a long time ago and we failed to do so. Getting through the first year mark is a huge hurdle. So, exhale for a moment that at least that's passed, you did it–not an easy thing. And now you just do the best you can. You find things that make you happy, honor what happened, allow yourself to feel the grief, and find healthy, meaningful ways to move forward. It's a clunky path, but you're doing it! Oh, and connect with others who've been through this kind of thing. This is a very important part of my life now. #SurvivorStrong."
Ultimately, coping with trauma takes many shapes and forms. All people deal with it differently, and finding the way that works best is important to ensure that people can continue with their lives while remembering their experiences. From the transformation of negative feelings to motivation for change, finding oneself is most important for healing.
Jenny Wadhwa
Currently a senior in Newtown, Connecticut, Jenny Wadhwa was in middle school when the shooting at Sandy Hook Elementary occurred. Because she experienced the trauma at such a young age, Wadhwa has taken several years to fully understanding what had happened.
"For me, I would say I felt more numb at first. I was so young when it happened that I didn't know what I felt," Wadhwa said. "It's strange because sometimes you're totally fine, but then others it feels like you can't breathe. Now that I'm older and a substantial amount of time has passed, I've just began to realize how much it has and will continue to affect my life. There's never a day that goes by where I don't think about our angels, and honestly, I think it will be like this for the rest of my life.
On a personal level, Wadhwa has changed the way that she lives her life. Motivated by her experiences living in Newtown, Wadhwa has found an urge to try to fix the pain witnessed by her community.
"I don't even think I could recognize the person I was," Wadhwa said. "Since the tragedy, I have become an EMT, so I can literally save lives; a board member of the Junior Newtown Action Alliance to fight politically; a cheer coach, so I can connect with the young kids in my town; and a researcher at Yale studying the origins of violence in teens with bipolar disorder."
Comparatively, Wadhwa has used her motivation for helping others to cope with the feelings of each anniversary. As a board member of the Newton Action Alliance, Wadhwa uses political activism to bury herself in work as each anniversary draws near. However, Wadhwa finds the best way to deal with her emotions is through self care and cleanliness.
"There's always the feeling that you could be doing more and this does eat you up," Wadhwa said. "Activism is rewarding, there's no doubt, but it's so easy to lose sight of why you're doing what you are. Anniversaries are about remembrance, not redemption. I believe that there's a time for being angry and a time for being sad. You can be angry for 364 days, but those feelings eat you up, you need a day to physically feel the loss, the loss of life of those you loved and the loss of the life you lived before."
Paula Reed
Former Columbine High School teacher Paula Reed has needed some time to cope with and understand what happened at her school. While Reed will never return to her normal self before the shooting, she has learned to live with who she has become.
"I don't think it has changed the way I live hugely; it hasn't completely curtailed my life," Reed said. "I know where exits are now when I walk into a building, which I didn't notice before, and make plans in my head if something were to happen. These acts are not accompanied by anxiety, but I do so just because it seems smart. I have realized now that I am not safe anywhere, but I'm exactly as safe as I was before April 20, 1999, so I should keep living my life like that."
As a way to deal with her feelings, Reed has used public speaking to spread awareness about what happened at her school. Engaging in both political and personal topics, Reed is able to share ways in which a person and the community can change for the better.
"I have spoken in a number of venues about arming teachers, which I think would be a huge mistake," Reed said."I think the lawmakers cop out once again. Instead of doing their job, they add one more thing teachers can do. It takes unbelievable gull to ask me to love and nature students, but be willing to kill them at the same time."
Another way that Reed copes with living through multiple anniversaries is by making sure that she is taking care of her mental health. This act, while difficult to some, plays a significant role in a person's ability to feel better when trauma strikes.
"I have a ritual for sure. I definitely spend time with family and friends, but only super close friends, so that I am not scheduling any social outings," Reed said. "I never know what I'm going to be like, sometimes it's super easy, but sometimes it's super hard. I go through closets and drawers and give things I don't use to charity, like metaphorically getting rid of baggage."
Particularly, Reed finds the best way to deal with a whirlwind of emotions is by taking a step back and giving herself time to heal. It takes time to fully come to terms with an event as traumatic as a shooting, and it is okay to not always be fine
"Be patient with yourself. There is no timeline for healing. If you are in unbearable pain or thinking self destructive thoughts, get help. And the sooner the better. When reminders pop up and occasional anxiety attacks happen, it is perfectly natural to have some emotional response. Be patient. And be kind to yourself."
Jami Amo
Former Columbine High School student Jami Amo needed some time to fully come to terms with what had happened in her community. Through the help of friends and family, Amo was able to find the help she needed to alleviate her pain.
"I was in a state of shock for weeks it seemed like," Amo said. "It took a few months to set in that this would continue to be a big deal for a long time. But it wasn't until several years later that I really understood I'd been permanently changed by this trauma."
For Amo, a big part of coming to terms with the traumatic events of the shooting, was facing what had happened head on. Instead of trying to conceal the pain, it is important to embrace the fact that everything does not have to be controlled and perfect.
"In the short term, back in the early 2000s, I did everything I could to avoid facing the reality of the pain I was feeling," Amo said. "If I was so lucky to run out of that building, why didn't I feel lucky? I felt doomed, and I tried to escape it. In the long term, I realized that I'd have to face all of this, the reality I'd been running from. It wasn't as bad as I thought, and I actually got a lot of validation from knowing that my response was normal. It was the circumstance that was abnormal, not me."
Additionally, Amo has found that joining support groups has helped her heal and deal with the pain that she has felt. By talking to people with similar experiences and feelings, Amo is able to relate to others in a way that has given her the opportunity to cope with what happened.
"I went through the rest of high school trying to have a normal teenage life," Amo said. "For several years I participated in a group called The Rebels Project on Facebook, and it's a private group for mass shooting survivors. When the organization was formed, after the theater shooting in Aurora, it seemed kind of natural to be a part of it. I liked the private nature and the comfort of knowing that everyone in the group can relate, even if our situations are different."
Coupled with reaching out to friends and family, Amo has turned to political activism to help turn her pain into a positive force. By volunteering with multiple gun reform groups, Amo has been able to fight for change across the nation.
"On Feb. 14, 2018, the 18th anniversary of my two friends' death by shooting, news broke about the shooting at your school [MSD]," Amo said. "I saw this cycle about to repeat again, but it didn't. The survivors from Parkland demanded action, and I realized that this had to be it. I immediately volunteered with Everytown Survivor Network and Moms Demand Action. I offered to help with and was chosen to speak at the March for Our Lives in Philadelphia. I've established relationships in the last year with a good number of legislators both in Pennsylvania and in Washington, D.C., and I am committed to pursuing both gun violence prevention and dedicating resources to victims and survivors of gun violence."
Amo believes in reaching out to those that have the ability to help. For her, finding a psychologist was one of the best ways to cope with the shooting.
"Talking with friends, family and other trusted people is a good place to start, and there is no shame whatsoever in seeking professional help with issues that bother you. I wish I had started therapy sooner, to be honest," Amo said.
Essentially, Amo advices others to embrace the negatives and create something positive from the experience. This allows victims a chance to recover without damaging their mental and physical health.
"The first year is the hardest in some ways, all of those holidays and birthdays and school events that feel hollow with the emptiness of loss," Amo said. "But it also helps you establish your new path, gives you time to process how this trauma has affected you, and gives the opportunity to consider what to do with this weight. This experience becomes part of you, but it doesn't have to define you. Everyone has an opportunity to define this experience for themselves in the coming years, and into adulthood and may influence your path for studies and careers. Don't let someone else's description of you become your identity. We are survivors, yes, but we are much more."
This story was originally published in the April 2019 Eagle Eye print edition.