MSD drama takes home nine Cappies
Jordyn Laudanno
May 20, 2019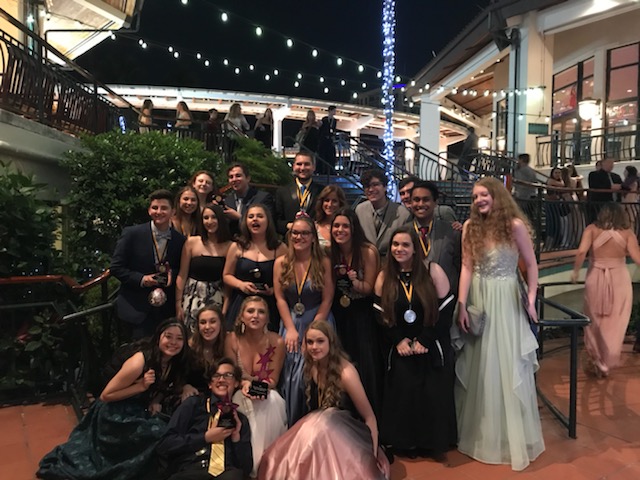 The Cappies Gala is an award ceremony made to critique and complement various high schools in Broward County on their drama programs productions, it is the high school equivalent of the Tony awards. On May 15, MSD drama took home nine Cappies.

The drama club won a Cappie for their play, "The Curious Incident of the Dog in the Night-Time," including individual student awards. Senior Dylan Redshaw was awarded for senior critic, junior Andrea Peña was awarded for creativity, seniors Melanie Weber, Genevieve Martin and junior Jared Block, were awarded for marketing and publicity. Along with seniors Jocey Krooks, Adam Alahanti, junior Alyssa Marrero and freshman Ava DiGilio for sound. Sophomore Cameron Appel was awarded for special effects and technology, while senior Sawyer Garrity was awarded for supporting actress, senior Alex Wind was awarded for supporting actor, and junior Logan Weber received an award for lead actor.

Out of all of these recognitions, Redshaw, recipient of the senior critic award received a $500 scholarship.

"I personally won the senior critic award which is an award for my work as a South Florida Cappies critic this year and all four years of high school, [it] was the most amazing feeling because we worked so hard to make our show the best that it could be," Redshaw said.
Drama instructor, Melody Herzfeld felt very accomplished over the awards given to MSDdrama; especially the award for, "Curious Incident of the Dog in the Night-Time," due to the controversial topic of the show and how the students portrayed it. This play concerns a boy who has Aspergers who is attempting to find out who killed his neighbor's dog.

"I was the proudest I have ever been of a show that was performed at our school, it was an amazing feat for best play because it was such a coveted title that is very difficult to obtain. I was very proud of the end result, although it was a very bumpy road and it was very difficult," Herzfeld said.

The play that won it all for the drama production class, "Curious Incident of the Dog in the Night-Time," includes MSD's win for supporting actress and actor, lead actor, and creativity. The creativity is referenced to Herzfeld's creative idea to have Andrea Peña's skill to underscore certain parts of the play by playing the piano.

"I think there was so much collaboration from the students on this project, for the performance, because everything was student-driven and that's the hardest thing for the students to own what it is that they're responsible for and to know that every single part in the show is so important," Herzfeld said.

This was a very successful Cappie's Gala for MSD's drama production class due to all the hard work put into their projects throughout the 2018-19 school year.