Bieber grows up on Purpose
Tyrone Carter
December 11, 2015
---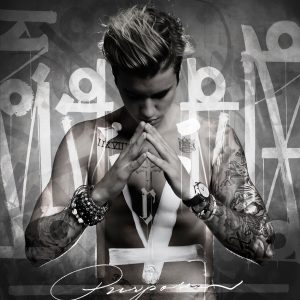 Love him or hate him; there is no way that you'd be able to deny that Justin Bieber's new album, Purpose, is a true work of art. The album was released Friday, Nov. 13 and sent the world into a viral uproar. It features his latest hits, "Sorry," "What Do You Mean" and "Where Are Ü Now," which features Skrillex & Diplo (known collaboratively as Jack Ü).
On the record, the "Boyfriend" crooner proves to us just how much he has grown up since his "Baby" days, owning up to the mistakes he has made in the last few years. Prior to the release of Purpose, Bieber admitted that this album would be his most personal album to date.
Throughout the album, he shows vulnerability on songs like "Mark My Words." On this track, he swears to a lover (or his Beliebers) to be a better man for the sake of their relationship. Meanwhile, "I'll Show You" displays Justin's feelings about the difficult maintenance of his image of perfection and the general public's lack of acknowledgement that he still deals with pain like any other human being. The title track, "Purpose," provides a glimpse of the more spiritual side of Bieber, as he sings about how blessed he truly is.
Other songs on the album touch on topics of finding and losing love, as well as having hope for what the future holds. One of the greatest songs dedicated to losing love on the album, "Love Yourself," features Ed Sheeran. On the collaborative track, Bieber and Sheeran sing about a past lover of whom their friends and mother do not approve, with Bieber crooning "My mama don't like you, and she likes everyone."
Along with Ed Sheeran, many other greats teamed up with Bieber on his new album. Rapper Travis $cott made an appearance on the Track "No Sense," Halsey made her first guest appearance ever on "The Feeling," and Big Sean teamed up with Bieber for a third time on "No Pressure." Additionally, Ariana Grande sang on a remix of "What Do You Mean," Cody Simpson performed a killer guitar riff-off on "Home to Mama," and in the most unbelievable collaboration, Nas was featured on "We Are."
With the album being a huge comeback, Bieber released a new music video every hour after the album's release at midnight. Watch them all here.
Bieber has delivered an album that people of all ages will love, Beliebers and non-Beliebers alike. The album carries the newer sound that he started molding on his previous Journals EP. On Purpose, he has finally completed the transition, changing from a teen pop star to a true musician.
Even if you don't love the Biebs himself, you're guaranteed to love the album. So what are you waiting for? Go buy Purpose on iTunes.