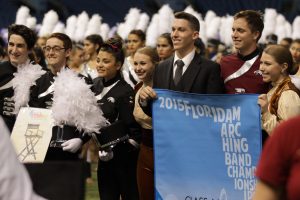 After several exhausting months of nonstop practice, the Marjory Stoneman Douglas band finally made its way to their final competition for the season. The group first competed at several regional competitions. On Nov. 7, they brought home a first place trophy with a score of 92.7. The band was rated a Distinguished Superior, the highest possible rating, and won Best Color Guard and Best Visual.
States were held at the Tropicana Field in St. Petersburg, Florida on Nov. 21. Nineteen different bands from all over the state of Florida drove up to St. Petersburg for a weekend of competitions. After giving it their all, Douglas's Eagle Regiment won second place in the state.
"States was honestly the most emotional experience not only for me but for many others in the band," Drum Major Brianna Sanchez said. "I cannot thank Mr. Kaminsky enough for all of the effort and passion he puts into this band program. This band has worked so hard to get where we are today, and I could not ask for a better second family."
The band suffered through the loss of their band director last year, and they have worked very hard to push through it and continue to succeed in their competitions. The new director, Alex Kaminsky, has worked alongside the band to ensure their ultimate success, according to many students in the program.
"Championships was an incredible experience!" sophomore Nicole Barreto said. "We got second place in the State, and everyone felt so accomplished. It was a lot of hard work, but it was fun and worth it in the end."
After two days of consistent practice and performances, the band celebrated their victory with a trip to Islands of Adventure before making their way back to Parkland with yet another award.