Names in fame
Tyrone Carter
January 19, 2016
From Blue Ivy to Blanket, celebrities have been giving their children obscure names for as long as we can remember.
Though everyday people name their children things like "Sharkeisha" because they want their child to "stand out", in my opinion, celebrities have no reason to do so. Their child will stand out, simply because of their status. So, why do stars give their children such names?
A little over a month ago, Kim Kardashian and Kanye West brought baby boy, Saint West into the world. This wouldn't be Kimye's first strike with obscure or rather seemingly self-sufficient baby names, with their first child's name being North West– we can't decide which is worse. Though, we ultimately assume that since Kanye is well– Kanye, his reason for naming his daughter, North West, and son, Saint West is evident. But, rumor has it that after a tough pregnancy the name Saint was chosen because it was a "blessing" that he was born.
Before Saint or North, there was Blue Ivy. Megastar, Beyonce and Rapper, Jay-Z's baby girl's name has grown on us in the past four years. Just as North has slowly grown on us. But, really? How acceptable would this name be if an everyday human being named their child after their favorite color and number? That's right, Blue Ivy's name was chosen simply by Queen Bey's favorite color (blue) and number (4). According to urban legend, Ivy actually is just a coverup for the roman numeral for the number for, "IV". Yet, overall this may be one of the most tamed celebrity baby names compared to many others.
As the list goes on, things get weirder. What was Michael Jackson thinking when he named his youngest son, "Blanket"? Of course, seeing as though the King of Pop has always been quite a mystery himself, there's no solid reason behind the name.
There are many, many more disturbing and peculiar baby names in the world of Hollywood. But, we'd be here all day if all of them were listed.
What ultimately drives celebrities to name their children things such as Blanket, North, Blue, or even Pilot Inspektor (yes, that's real… look it up)? Is it that they feel that because of their title they have the right to do so?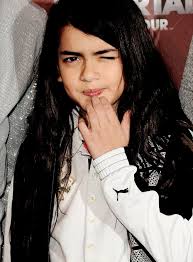 People in everyday life are constantly shunned for naming their children outrageously. But, when a superstar does it, it's perfectly fine. Just because someone has a higher status than another, it does not mean that we should overlook their life decisions.
Celebrities feel entitled to do whatever they please because of who they are and not pay the price for it. If some "average joe" wanted to name their child "Watermelondrea" to make them "stand out", we would speak out on how ridiculous that is. But, if Beyoncé was to bless her child with such a name the world wouldn't think much of it because of who she is.
All the names that celebrities have given their children are as strange or even stranger than the "Sharkieshas" and "Watermelondreas" of the world, and should be treated as such. Their babies do not deserve to be put up on a pedestal for their "uniqueness" while another is shunned for theirs.