Petition to cancel school on Nov. 1 reaches 62,000+ signatures in five days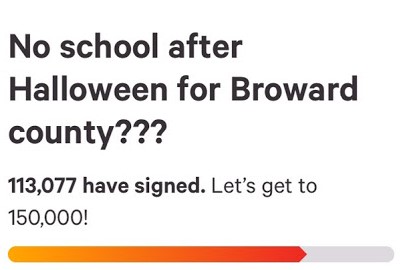 Leah Ronkin
October 30, 2019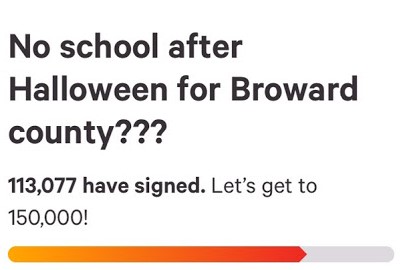 A petition has been started to cancel school on Friday, Nov. 1 for Broward County Public Schools. The petition started on Change.org, by Hollywood resident Karen Doberman, has reached over 62,000 signatures since its creation on Oct. 24.
"I believe that since Thursday is the day of Halloween and everyone stays up very late then school should be canceled on Friday," Doberman said in the petition's mission statement.
Students and teachers alike seem to be backing this idea for many reasons. Many of the supporters and adversaries of the petition commented on the reasoning behind their stance..
Freshman Angelina Accardi will join the thousands of other kids across Broward participating in trick-or-treating this Thursday and agrees with what the petition stands for.
"I think that we shouldn't have school on Friday because multiple people stay out late, even kids," Accardi said.
Some teachers, like AP Government teacher Jeff Foster, are also showing their support for potential school cancellation.
"My kids are going to stay home on Friday because they're going to have a fun night of Halloween themselves. Maybe it's not a bad idea to make it a holiday the day after Halloween," Foster said.
Not everyone is in support of this movement; some believe this school cancellation is pointless.
"I don't see the point in the petition because there's no reason to skip school unless you're 100% drunk and hungover from the night before. People shouldn't be doing that anyway so having school isn't solving anything," senior Ashley Paris said.
Even with the negative feedback, the petition has still received an impressive amount of support. Yet, some believe it will not be enough to sway the Broward County school board.
"I doubt it will work because Halloween has never been an official holiday that warrants a day off and school isn't going to change that for a bunch of high schoolers," sophomore Nicholas Harvey said.
The school board has yet to comment on the petition, let alone whether they will cancel school or not. Still, the petition continues to gain traction and support as more students hope for a Halloween holiday.