DECA presents their first chapter project "Connecting the Generations"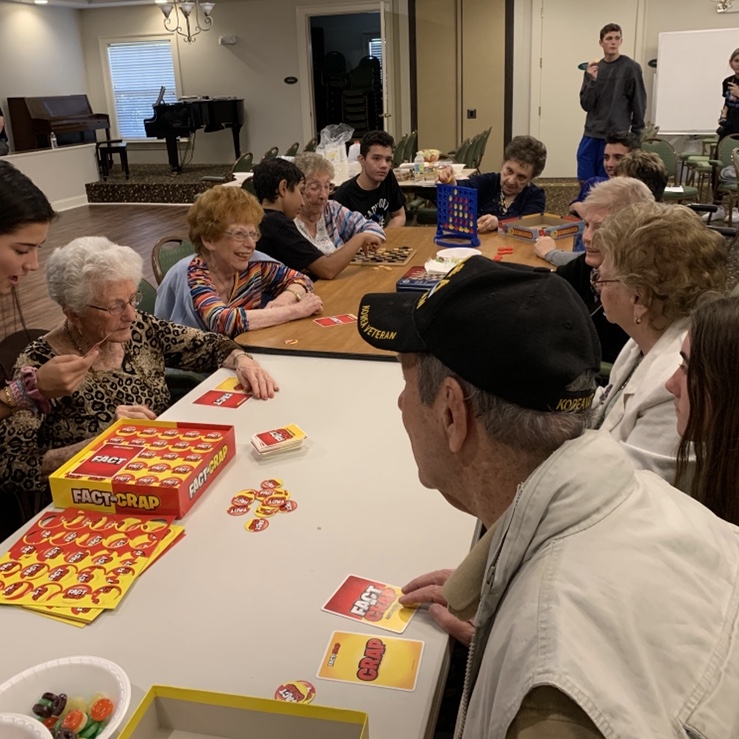 On Thursday, Nov. 21, Marjory Stoneman Douglas High School's DECA had their first chapter project at Aston Gardens, an assisted living facility located in Parkland, Florida. The project was titled "Connecting the Generations" and consisted of many activities including Thanksgiving-themed bingo and board games, which many of the senior citizens participated in.
The event began at 3:30 p.m. and ended at 5 p.m. DECA students were able to sign up for the event via a Google Form online, or through classroom announcements. Many students showed up to support DECA and to spend time with the residents.
"The students [were] actually really excited. We [had] a lot of students showing up today because we knew we were actually making a difference in their [the residents'] lives," hospitality teacher Mitchell Albert said. 
DECA conducts multiple chapter projects every year. Chapter projects are different tasks assigned from DECA's state level. Each project is meant to create an impact on society. In order to qualify as a chapter project, the project must help the community, have DECA members in attendance and include press coverage of the event.
This particular event will not be MSD DECA's last time at Aston Gardens. They are planning to conduct more events there in order to build relationships between the residents of Aston Gardens and DECA's students.
"[DECA students] learn how to connect with the people in the older generation, and learn what it takes to run an event, and how to put on [an] event, and how we can best reach [the residents]," MSD DECA president Mandi Jaffe said. "They'll also learn what board games they like or if they'd rather have food, and just how we can best suit them, and connect with them in our local community."
This chapter project was centered around the holiday of Thanksgiving, where Thanksgiving-themed games were one of the main attractions with the residents. One of the concepts of the chapter project was to help people who are less fortunate in the community and accompany them during the holidays.
"It lets us realize especially during this time of the year, Thanksgiving, that we actually are quite lucky and that there's lots of people who aren't lucky and might be lonely or other things, like not having visitors. We hope to bring a little bit of sunshine to them," Albert said.
MSD's DECA is planning events similar to "Connecting the Generations" in the future. They plan to volunteer at another senior residency, Allegro, continue attending Aston Gardens and maintain chapter projects throughout the year.