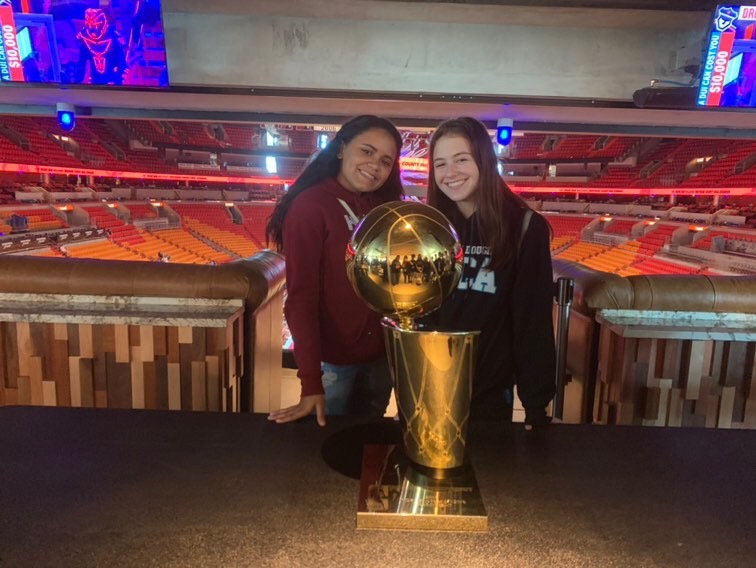 On Friday, Dec. 2, approximately 50 members of Marjory Stoneman Douglas High School's DECA chapter participated in the Miami Heat Career Day, an event that has been sponsored by the Miami Heat for about a decade for all students involved in DECA in Broward County.
The purpose of the event is to expose the students in the program to the different aspects of the arena, allowing them to identify what is necessary to effectively run it. The students are able to see the different job opportunities in the fields of marketing, accounting, as well as hospitality.
The members of DECA attended the Miami Heat vs. Washington Wizards basketball game at 7 p.m., as well as learn the logistics of the game before so. Students were able to experience the environment of employees and how it varies according to the type of occupation of the worker.
Lisa Webster, who teaches accounting as well as finance business and technology within the MSD DECA program, organized the trip for her students. The school has been participating in this event for approximately seven or eight years.
"I believe this trip is extremely valuable for my students. They are exposed to various opportunities within their field of interest and see what it takes to run the arena throughout the day," Webster said.
Many of the attendees expressed their appreciation for the chance to attend the Miami Heat game and learn of all the behind-the-scenes effort that goes into each event held at the arena.
"I think this trip is important because we were really able to see how stadiums that are so successful operate and how much work goes into planning and hosting events," sophomore Evan Rubenstein said.
Throughout the trip, students were able to see the Miami Heat NBA Finals Champion trophy, explore the arena, personally learn from the employees of the stadium and watch the Miami Heat vs. Washington Wizards game. Students left the field trip feeling more educated and eager to return next year for another great experience.