The City of Coral Springs hosts Downtown in December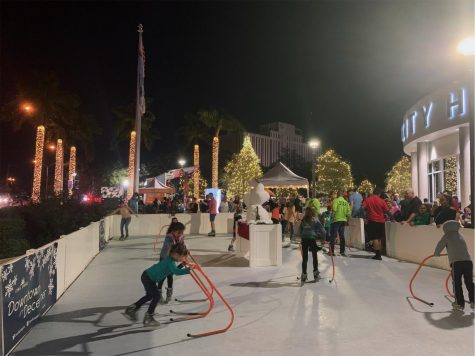 On Saturday, Dec. 7, The City of Coral Springs hosted a Christmas event called "Downtown in December." This event was in partnership with the Salah Foundation Children's Hospital at the Broward Health Medical Center. 
Since 2014, the City of Coral Springs has hosted this family-friendly event to bring holiday spirit to the community. Guests can partake in ice skating, meet Santa and indulge in foods from one of the many food trucks provided. 
This event included a showing of the Nutcracker and the Four Realms on a three-story television screen. There were also activities for little kids such as riding a train around City Hall, as well as making cookies that they could take home. 
The first snowfall of this holiday season was presented by City Hall which filled up the sky.
People of all ages came to this event to participate in these festive activities. 
"This event was so much fun, very family-friendly. My family and I got to get together and watch the Nutcracker on the big screen as well as enjoy the snowfall and entertainment. Definitely put me in a Christmas mood," MSD sophomore Camila Fraser said. 
Lauren Kearney, Social Media Manager and Community Outreach Specialist of the Coral Springs Police Department, was there to be apart of this event. The Coral Springs Police Department helped organize the event and has been participating in a community involvement outreach. The Community Involvement Outreach branch for the police department works to bring together residents and business owners with the members of the department. 
"We do a lot of different things. We were giving out stuff-animals today that were donated to us from Pet Smart in Coral Springs, Florida. It was really cool, we gave out about a thousand stuffed plush animals.  We are trying to tell the community about some of the programs that we have coming up during the holidays, one of which is about our trash, and we got a toy drive going on as well," Kearney said. 
Anyone and everyone had the chance to participate and donate to the toy drive that was being organized by the Coral Springs Police Department. 
"There are a lot of things that we are trying to let everybody know about what is happening in the City. For both people in the city that are getting cool new stuff, as well as people who don't have as much, that they could help and give back to those guys as well," Kearney said.