Eagle Regiment performs at Super Bowl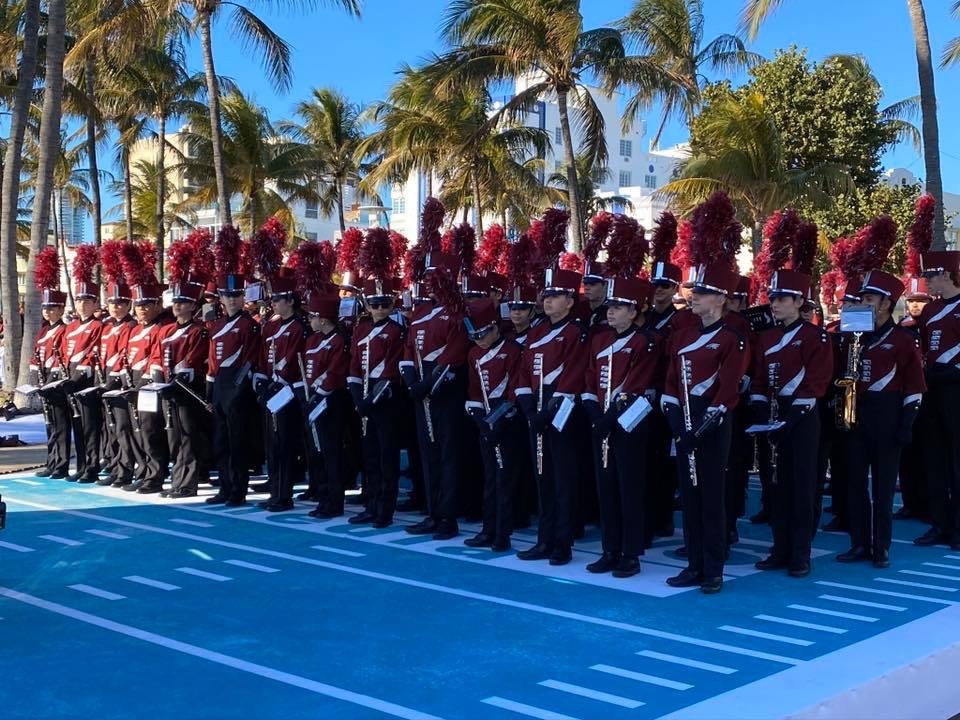 On Sunday, Feb. 2, the Marjory Stoneman Douglas High School Eagle Regiment performed at the Super Bowl pre-game, presented by the NFL. The students in the Eagle Regiment departed school at 4:20 a.m. and returned back to MSD at 7:00 p.m.
Early in the morning at 6:00 a.m., the Eagle Regiment arrived at South Beach in the city of Miami. They performed live on Fox & Friends, which is a morning show.
"It was really an eye-opening experience. There's so much you don't see on T.V. like the people behind the cameras and the amount of work that goes in to make the program run smoothly," Assistant Percussion Major Nico Fraser said. "It was a blast and if I could I'd do it all again."
During their short debut on Fox & Friends, the Eagle Regiment showcased stand tunes, which are the same songs played at the Eagles' football games. Friends and families attending MSD were able to admire the performance on live television in the comfort of their homes.
"My family thought it was really cool seeing me on T.V. They said we sounded really good," freshman Grace Caveretta said. "I was able to watch myself perform later at home because my family was able to record the show."
When they arrived at Hard Rock Stadium, the NFL provided Eagle Regiment members with complimentary snacks and dinner. They were given box lunches that included a variety of sandwiches, cookies, fruit snacks and a drink.
"I had so much fun at Hard Rock Stadium. I had an amazing time performing, and I enjoyed the dinner NFL provided us with after. It was great," Caveretta said.
The Eagle Regiment performed outside of the Hard Rock Stadium from 2:00 p.m. to 6:00 p.m. They performed periodically before the Super Bowl's start time at 6:30 p.m.
"We had fun playing our new stands tunes and being on the news. It was amazing to be a part of such an exciting atmosphere," senior Amanda Manousa said.
The band was offered the opportunity to perform on Super Bowl Sunday from the NFL through parent connections. The Eagle Regiment band director Steve Rivero chose to perform for the Super Bowl pre-game outside the Hard Rock Stadium to present the band's playing skills.
"I began conversations with the NFL, and we were offered performance opportunities the week of the Super Bowl and on Super Bowl Sunday," Rivero said. "We chose Super Bowl Sunday, pre-game outside of the stadium. The whole band was filled with excitement."
The next big event for the Eagle Regiment will be in the London New Year's Day Parade in 2021. Throughout the remainder of the year, the band will be preparing for the parade, as they work with each of their individual sections as well as any other upcoming performance.