DECA goes to Universal for 'The Profit' Business-Learning Series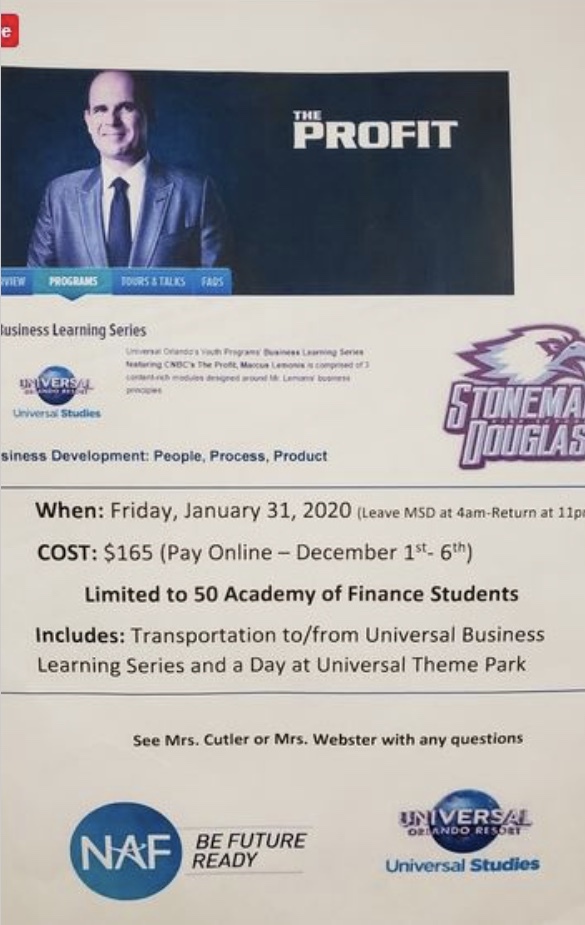 On Friday, Jan. 31, Marjory Stoneman Douglas High School participated in the Profit DECA trip. They departed MSD at 4 a.m. for Universal Studios located in Orlando and returned at 11 p.m.
DECA, which stands for the Distributive Education Clubs of America, is a co-curricular club for students in hospitality and the Academy of Finance. DECA's purpose is to create leaders in business fields, such as marketing, financing and hospitality.
"The Profit DECA trip is done at Universal Orlando Resort and it's a youth program business-learning series where they basically feature the CNBC [Consumer News and Business Channel] 'The Profit' Marcus Lemonis," DECA Finance teacher Sharon Cutler said. "The idea is that the students will learn about their business principles. He always talks about the three P's: the product, the people and the process."
'The Profit' is a television series broadcast on CNBC, which has had seven seasons. The show is about a successful businessman, Marcus Lemonis, who rescues failing businesses. He helps the businesses with not only his knowledge but also his $2 million investments.
Throughout the show, Marcus Lemonis expresses the importance of people, product and processes. These three elements are what leads businesses to success. The students were able to learn about these three elements on the trip.
"The trip was very fun and interesting. We learned the importance of people, product and process in business," senior Sari Kauffman said. "Also, my favorite part was enjoying Universal and going on rides."
On the trip, the students were led by people at Universal learning about business, and afterward, they went on the rides at the amusement park. The purpose of the trip is for the DECA students to not only be able to learn through the Universal Profit Business Series but to also have fun and enjoy the theme park.
"During the educational part of the trip, we were able to learn from a Universal employee that has been there for more than twenty years and taught us many lessons," senior Alyssa Tedford said. "Other than going on rides with my friends, my favorite part of the trip was being able to look at a smaller business in Universal and the specifics of it to make a presentation for the rest of the group."
Universal held a presentation, which introduced The Profit DECA Trip, to all the DECA advisors two years ago at one of the Florida DECA competitions.
"Something that I personally watch is 'The Profit.' We watch some of the episodes in my class," Cutler said. "And so it's something that piqued my interest, and I thought the students would have a good time and actually learn something from the field trip."
This year is the first year that DECA participated in this trip. There is a possibility that DECA may go on this trip again in the future.