Freshman Mina Dinh paints mural in front of the media center
Freshman Mina Dinh walked onto the Marjory Stoneman Douglas High School campus and wondered why there was so much white space. Dinh has been interested in art since she was very young. Her mother always supported her art and even helped her learn new techniques.
Dinh is the artist of the brand new all-black mural on the outside of the media center.
"I first got inspired to paint the mural because when I first walked into the school as a freshman I was like 'Why is there so much white space and why is nobody painting on anything? and 'It's perfect for painting murals,'" Dinh said. "So I asked my art teacher, Mrs. Lombard and she talked to Mrs. Haneski."
Media specialist Diana Haneski worked with Dihn to come up with the final idea for the mural. The painting is a depiction of the Everglades in honor of the school's namesake, Marjory Stoneman Douglas. 
"I have always loved Marjory Stoneman Douglas way before the school was even built. I lived here and I thought she was quite a woman, so when I had the opportunity to work at a school that was named in her honor I felt very honored to be working here… I have always believed that she is strong and I loved her dedication to everglades…" Haneski said. "So here we are our school's named after her, we're at the edge of the everglades here we should be bringing that to the front. People should see more of the everglades.
Dinh's style is simple, line designs normally are done in pen, but she did not mind switching to paint.
"Mrs. Haneski originally wanted something like a zen tangle, which is black and white, usually it can be in color. Then Mrs. Lombard suggested that I do black and white and my normal style is pretty black and white, pretty neutral colors," Dinh said.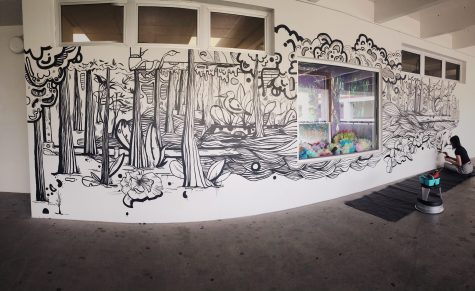 Art teacher Randee Lombard assigned a line design project to her art students. Dinh's design stood out and that is where the meetings began.
"I thought wouldn't this make a great mural and so she drafted up a mural for Mrs. Haneski and that's how we came up with the idea for it to be a line design," Lombard said. "I think the mural is absolutely beautiful. I think there is such attention to detail for the line design. There are also hidden pictures in the line design that has to do with the media center and have to do with Stoneman Douglas." 
Since the media center is such a central location in the school, Dinh has received many compliments from students and teachers. 
"It represents the amazing landscape of the Everglades which is slowly diminishing and it shows the conservation effort can be beautiful and wonderful if done properly," junior Navya Nair said. "I just love the contrast between the bland walls and seeing such a beautiful sight in front of the media center." 
As she continues at MSD, Dinh plans on painting another mural near the 2D art room. Utilizing the same style, Dinh wants to add color to the painting which will match the others in the art courtyard.