MSD Drama presents 'Imaginary: A New Musical'
Ivy Lam, Senior Feature Editor
March 10, 2020
On March 5, 6 and 7, Marjory Stoneman Douglas High School's drama department presented their production "Imaginary: A New Musical." The show began at 7 p.m. in the John Rusnak auditorium. Available for purchase online, adult tickets cost $13 and student tickets cost $8. Walk-ins were $15 for those who didn't buy them in advance.
The musical follows the lives of 11-year-old Sam and his imaginary best friend Milo. The opening scenes portray Sam, played by freshman Logan LaPierre, and Milo, played by freshman Jacob Harris, using their imagination to transform their view of the world into a place full of excitement and adventure.
"Working as Sam and in this show alone has been so amazing. Being a freshman lead is something I worked so hard toward. Over the summer before auditions, I got to know every song and was ready to audition to see what I got and when I got Sam, I was so incredibly happy because of how hard I had worked towards it," LaPierre said. "I did a lot to prepare for the role, including constant reinvention of my singing and speaking voice to sound more like a child. I tried to carry dramatic and comedic timing as best as I could and worked almost every single day to perfect the role."
Before his first day of secondary school, Sam's mom confronts and encourages him to leave his playfulness behind and grow up. In that next morning, Sam and Milo are introduced to the older pupils of the school who appear very strange. They are noticeably super-disciplined in their movement and speech, which reminds the boys of "martian battle robots."
The Headmaster, played by sophomore David Prengler, explained to all the new arrivals that the older students' outstanding behavior was a result of his "upgraded" technique, which guaranteed excellent exam scores.
"I thought David Prengler [the headmaster] put his heart and soul into all of his scenes, I mean all of the actresses and actors did, but [he] was absolutely amazing," AP World History teacher Diane Wolk-Rogers said.
As the school year moves forward in the storyline, more and more students are sent to the Headmaster's office, the most dreaded place in their minds. During his first few days, Sam befriends another student, Alice, played by junior Peri Harris. Alice is really scared at first because she knows her sister is in there and "upgraded," but she and Sam work together to find a solution to set the imaginations of the captured pupils free.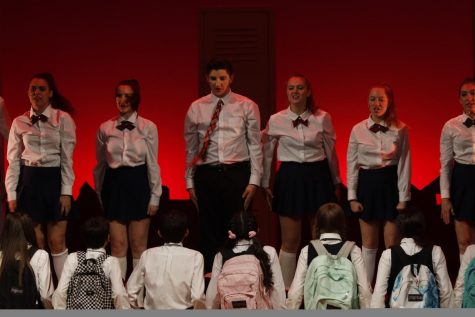 "[To prepare for my role,] we were able to watch the actual show. I did a lot of accent work too because that was difficult, but being able to work through it and see everyone do the accents really well was really heartwarming at the end," Peri Harris said. "I think [my favorite part] was working with my siblings because my brother was Milo and my sister was [Coach] Gruntt. I was really nervous at first because my throat was hurting, but it all ended up really well and everyone went home happy, which is the most important part."
Preparation for "Imaginary: A New Musical" commenced immediately after their previous performance of "Peter and the Starcatcher." Lighting, costumes and props were all key elements of their three-day show. Each act utilized different clothing materials to pull in the audience such as colorful sparkles, feathers and silk. Depending on the scene-at-hand, props were passed on and off the stage, with the signature swing set Sam sits on and the Headmaster's doors as frequent objects moved around.
"My role in the show was to manage everything that was within the lighting aspect, like hanging all the lights, deciding what color they were, queuing the show on the board and running it," lighting designer Ally Reichard said. "Coming from a technical viewpoint, my favorite part of this show was how out-of-the-box it was. Designing lights that have to make imaginations fly out of jars is something that you don't get to do everyday."
Additionally, a handful of professional musicians were involved with supplying the music for the musical. On piano was Esther Umansky-Roth, drama's signature pianist and musical director. Glenn Rockenstein held down the bass part of the selection of the music, with Chris Lopez on the drums. Furthermore, a pit orchestra composed of MSD student musicians was chosen to play throughout the entertaining show as well.
"At some points, I forgot where I was [in the music] because I was so entertained by the play. Those kids are extremely talented in what they do," junior Hunter Frybergh, leader of the MSD Drama Pit Orchestra, said. "Being in the pit orchestra makes me more aware of what opportunities I can have in the future."
Later on in the plot, Sam becomes irritated with the childish way his best friend Milo acts, and ends up telling him he's not real and only imaginary. This moment spurs Big Brenda, a unique larger-than-life character, to take Milo to Imaginary Land, a place where all imaginary friends are sent after their humans forget about them.
"Since I'm a freshman, I felt like I wasn't really going to be able to get much of an opportunity to be on stage this much this year. But being able to be one of the leads of the show has been really exciting and it made me feel very confident about drama," Jacob Harris said. "I think the show went very smoothly because of how great the audience was and how excited they all made us feel onstage. It has made me really excited about theater my next three years in school [and] I've had a really great time doing the show with all my friends."
A 30-minute intermission was placed immediately after Big Brenda's song, "It's Your Time," where he and his backup singers, the Brendettes, attempted to persuade Milo into joining them in Imaginary Land.
"I have to say this has been one of the best shows I think I've seen them do and I've been watching them for four years," Beatriz Alvarez-Peña, mother of two of the cast members, said. "I was extremely impressed by the talent [and] the different things they were able to do, between the dancing, the singing, and the phenomenal orchestra. It was a wonderful combination of everybody getting together."
While Milo is convinced to join his imaginary friends in their world, Sam and Alice have departed on an adventure to break into the Headmaster's office to unveil the truth about the "upgrading" method. Yet as the two sneak into the staff room to steal a key, Alice is captured by the teachers and taken to the Headmaster's base to become transformed into an obedient, emotionless student.
"My freshman son is in the musical. He just got his first part this year so I'm really excited for him," Cathy Jolly, mother of one of the cast members, said. "Ms. Herzfeld is an amazing teacher. She watches not only what they do on this drama stage, but she also keeps an eye on them as far as schoolwork goes and makes sure they're doing the right things."
Soon after Alice's capture, Sam has also been taken and sent to the dreaded Headmaster's office. When in the mysterious room, Sam finally uncovers that the "upgrading" procedure is centered around a machine with the ability to magically remove a student's imagination and store it in a jar. Before Sam falls to its hypnotizing power, Milo suddenly returns from Imaginary Land to save his best friend. Their strong friendship resulted in the Headmaster's prized machine malfunctioning and breaking down, releasing all of the imaginations held hostage.
"The play was actually really good, there was a lot of singing [but] I didn't expect it to be two hours," junior Benjamin Velasco said. "I'd say my favorite part would be when Milo came back and befriended Sam again."
At the end of "Imaginary: A New Musical," Big Brenda and another imaginary friend, Oogie, played by sophomore Hayden Redshaw, reunited with their human counterparts. Just like how Sam and Milo reunited, Big Brenda did too with his human, the infamous Headmaster of the school. Although Milo leaves with his imaginary pals at the conclusion of act two, he promises Sam that he will be with him no matter what.
"My son had an imaginary friend and his name was John," eleventh grade administrator Ivette Figueroa said. "The story is amazing and I think the topic itself brings a lot of feelings. Every time there's a show in this school, it feels like a Broadway show."
The musical was entirely student-led, as the cast and crew handled everything outside of school, on set and behind-the-scenes. The high schoolers have prepared for the show through hours upon hours of rehearsals and practices weeks in advance.
A special appearance was made on Friday, March 6, by Imaginary's music and lyrics writer Stuart Matthew Pierce. He came from the United Kingdom to witness MSD's personal touch on the musical. After the play ended, he gave a quick speech on stage congratulating all the performers and crew wishing them the best in their future endeavors. Pierce also stayed back to autograph playbills, talk to fans and meet the thespians themselves.
"It's wonderful to see so much joy come on the stage. Every time I see a production around the world, it's wonderful to see that every moment we always dreamt [about] would be visualized [on stage], but this [production] cut above it all," Pierce said.
Melody Herzfeld, MSD's drama teacher, constantly voices how proud she is of her theater program. Their show this past week drew in hundreds of attendees per night, with increasing numbers each day. Besides selling tickets, students could also sell chocolate pretzel rods to raise money for their classes. Money earned from every production is always used to cover the fees of that same show, as the total sum of props, costumes and musicians can add up to be costly.
"It is the most surreal thing to have things living in your head coming to life right in front of you," director Jared Block said. "I've had some of these ideas, costumes, and characters since the summer and the cast and crew really extracted it right out of my head and put it on the stage."
Drama's March 5-7 show was the production chosen by the cast, crew and Herzfeld as their Cappies performance. On Saturday, March 7, dozens of "Cappie" drama members from other high schools visited MSD to watch and judge the play. Those same students deliberated and nominated which performers they believed should qualify to receive awards at the 18th South Florida Cappies Gala on Tuesday, May 19 at 7 p.m. in the Au-Rene Theater at Broward Center For The Performing Arts in Fort Lauderdale, Florida.