MSD's World Guard places second place at their home show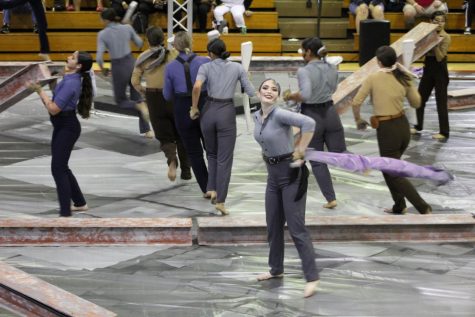 On Sat., March 7, the Marjory Stoneman Douglas High School World Guard competed at their home show, placing second in the Scholastic World category. The contest started at 1:45 p.m and ended at 10 p.m.
The World Guard performed at 7:30 p.m. Their show, "Don't Look Down," is based on the famous photograph, 'Lunch Atop a Skyscraper,' which captures iron workers seated on a beam above the construction of the infamous Rockefelle center.
"The Douglas home show was really fun and exciting because we were able to showcase how hard we have been working to all of our friends and family," sophomore Lauren Clark said. 
Thirty-three color guards from across the Tri-County participated in this competition. Each competed in the category pertaining to their numbers and talent, which ranged from Scholastic 4A to Scholastic World, the highest class. 
Additionally, MSD's A guard, which consists of students from Westglades Middle School and Coral Springs Middle School,  participated at the home show. Their production is titled, "Her Name's Johnnie." which is about cowboys. The young group took part in the Scholastic 2A category. 
There were multiple vendors that served shaved ice, beverages, hamburgers and hot-dogs at the event. A bake sale was set up right in front of the gym as well where they offered a variety of baked goods such as, cookies and brownies.
Members of the band program volunteered throughout the day working at concessions, selling tickets and helping with color guard equipment.
"When the color guard teams brought their props I organized them in chronological order of their performance times," sophomore Nya Owusu-Afriyie said.
At 7:50 a.m, both the World Guard and A Guard arrived at the school to rehearse their shows in the gym before the competition started. Their rehearsal consisted of warming up with stretches to music and numerous run-throughs of their performances.
Throughout the day, both of MSD's guards were able to watch other high schools, as well as middle schools, perform their shows.
"I loved watching performers who are confident and passionate. It was a bittersweet moment to perform at my last home show, but I'm just happy to have been a part of this program," color guard captain Madison Sheib said. 
After watching other guards and indulging in all the food offered outside the gym, the World Guard touching up makeup, grabbed their equipment and went to warm-up before their time slot. Warm-up included repping their tosses, catches and moves to guarantee a successful performance.
At 7:30 p.m, the A Guard pulled out the World Guard's floor and helped them set up the all beams, and the metal crane that the team operates during the show. The World Guard executed their whole show, which was full of entertaining flag spins, rifle tosses and dancing. 
Once the World guard was finished performing, West Broward High School's guard performed their show. Following them, MSD's Indoor percussion performed their show, "No Place like Home." 
One of the members of the percussion ensemble was Nick Hernandez, who debuted his flag solo in the show's ballad.
"It was my first ever performance with my newly added flag solo, and the crowd reaction was incomparable to anything i've ever experienced. It was definitely my favorite part, and I wouldn't trade it for anything else," junior Nick Hernandez said. 
The South Florida Winter Guard Association is a non-profit corporation that hosts all of the color guard competitions across South Florida. During the 2019 Winter Guard Season SFWGA fielded performances by 54 ensembles from 5 South Florida counties which includes the MSD World Guard.