March's Athlete of the Month: Gabby Greenwald
Ivy Lam, Senior Feature Editor
March 25, 2020
Gabby Greenwald, a freshman at Marjory Stoneman Douglas High School and a member of the MSD cross country and track and field team, has been selected as March's Athlete of the Month. Born and raised in Coral Springs, Florida, Greenwald has dabbled in a multitude of sports. Although she currently focuses solely on running, she is also experienced in dance, swim and gymnastics.
"I ran for my whole life but began running seriously in eighth grade," Greenwald said. "When I went for soccer tryouts, I saw that there were cross country practices happening and decided to try out for them the next day."
Both of Greenwald's parents run so she decided to give it a try and fell in love with the sport. Additionally, her older sister graduated from MSD and was an athlete as well. Being active helps the family connect to not only each other, but the people they meet along the way.
"Running track and cross country has given me a second family. The kids on these teams are so tight and are always super supportive of each other," Greenwald said. "I have met some of my best friends on these teams. The coaches are also awesome and are very dedicated to the kids on these teams."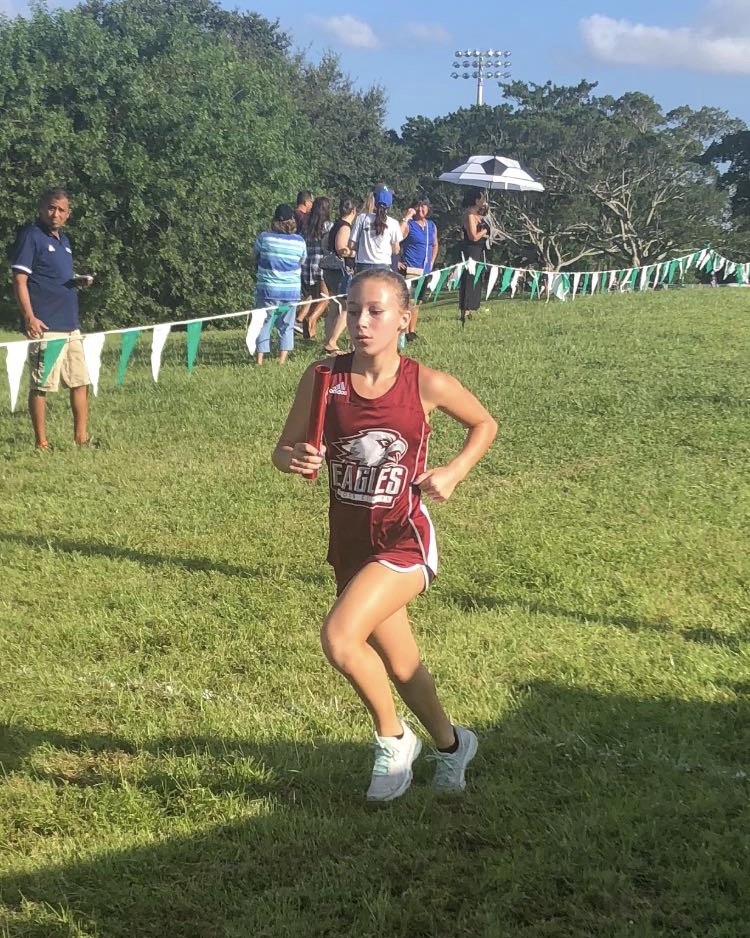 When preparing for track meets, Greenwald and her teammates write a word on their wrists for inspiration and blast their favorite songs to hype themselves up on the bus ride there. Greenwald rubs biofreeze, a pain relief product for joints and muscles, all over her legs before each race and performs a "shakeout" ritual with her team to prepare for the upcoming events they participate in.
When Greenwald was a gymnast, she traveled to various states for competitions. Yet in cross country, she no longer travels far. Instead, MSD's team visit beautiful parks and get to run through the peaceful scenery around them. She also enjoys getting out of school early for her meets and says it's a bonus.
"My favorite thing about being an athlete is the sense of community. Knowing there are other kids just like you training hard everyday, kids that you may eventually be on a college team with, gives me a feeling of motivation and inspires me to work harder," Greenwald said. "This sport has taught me so much about how far I can really push myself and has taught me to push beyond my limits."
Outside of school, Greenwald is involved with Parkland's Best Buddies Sports. She used to do gymnastics at American Twisters and swim at Coral Springs Aquatics Complex. Although she is no longer a gymnast, she works as a gymnastics coach at American Twisters.
Before the coronavirus outbreak, MSD had scheduled a few meets for the rest of the track and field season. Amid the growing concern of COVID-19, those meets have been cancelled along with numerous other sports and extracurriculars at MSD.
Even though the track and field season is no longer underway, Greenwald has learned new things and met new friends from all the practices and meets. She is very excited to train over the summer for a successful cross country and track season as a sophomore. By the end of high school, Greenwald hopes to run in college on a scholarship.