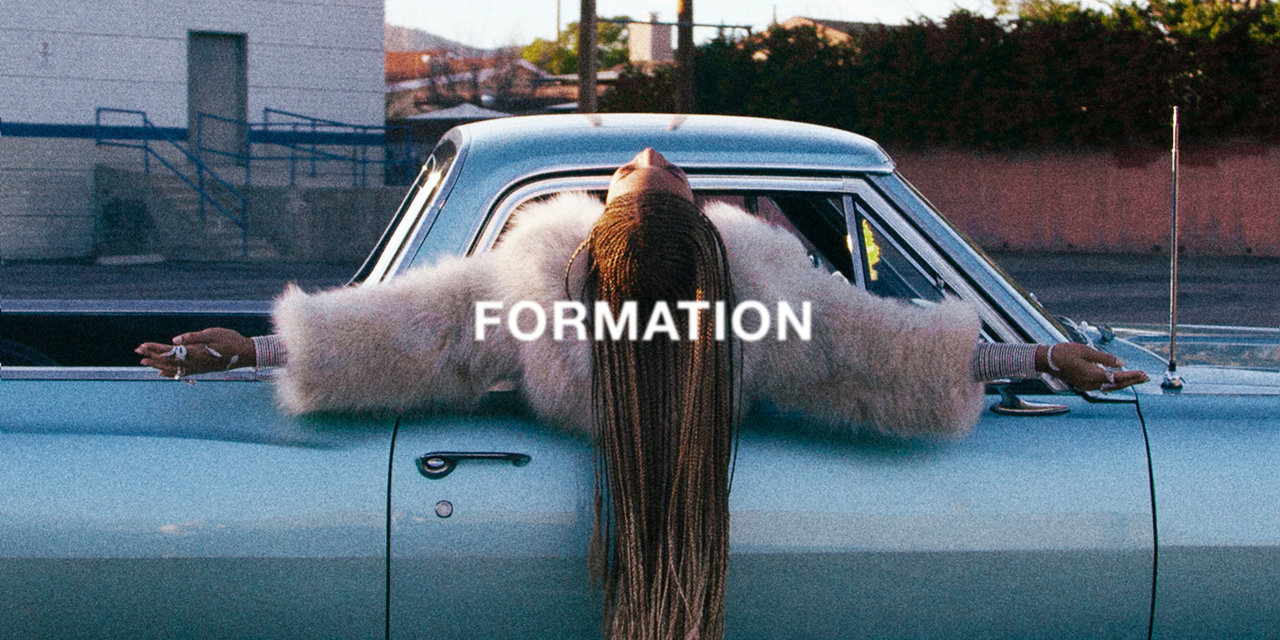 The Queen has returned.
On Saturday, February 6th,  just in time for her halftime show performance, Beyoncé unexpectedly released a new pro-black anthem, entitled "Formation"  exclusively through Tidal. Along with the single, she released a powerful music video that- needless to say- broke the internet.
Throughout the song, the 34-year-old singer proves that she has no shame in her culture and "twirls" on her haters behind a killer beat produced by Mike WiLL Made-It. The song starts with an intro from former internet celebrity, Messy Mya, who was killed in 2010, asking "What happened after New Orleans?" Afterwards Bey kicks in with a fiery first line: "Ya'll haters corny with that illuminati mess."
Along with Beyoncé and her husband, rapper, Jay-Z many entertainers— a number of them being of color— have been rumored to be successful due to their involvement in the Illuminati. After many years of staying silent on the topic, she finally opens her mouth and silences her haters, telling them that black people can be successful without any kind of out of the ordinary deed needing to be done.
As the song goes on, Bey roars out more black power lyrics, mentioning that she loves her daughter's natural fro and her husband's "Jackson 5 nostrils."  She embraces her country roots and tells the world that no matter how much money she has, it can never "take the country out of her."
With lines like, "I got hot sauce in my bag," and the repetition of Bey telling us she "slays," the song is screaming loud that black is beautiful and the music video itself symbolically demands us all to understand the struggles of the black community and also appreciate the culture as it is.
The music video for "Formation" alludes to the devastation in New Orleans after Hurricane Katrina with scenes of destroyed houses and general shots of the people of New Orleans. Beyoncé sits on top of a drowning New Orleans Police cop car as a way of condemning the police for their brutality on black people. There is also another scene of a young child, dancing before a line of armed police and making them put their guns down. Though, it is brief there is a shot of the words "stop shooting us," written on the wall. While shunning police brutality, she also manages to uplift black culture as she
dances with other women of color with various afrocentric hairstyles and shares shots of the cuteness that is Blue Ivy Carter, rocking her natural fro, as a way of telling women of color to embrace their afrocentrism.
Some may not see the true meaning behind the song and video, and may just turn a blind eye to the very deep meaning behind this song, but the "Crazy in Love" singer is not only trying to entertain but also make a statement. She sits the world down and forces them to watch with a powerful message.
Along with giving the world such a powerful message, after her killer performance at the Super Bowl halftime show with Coldplay and Bruno Mars, phase two of the Queen's return was her announcement of her Formation Tour which kicks off April 27th in Miami.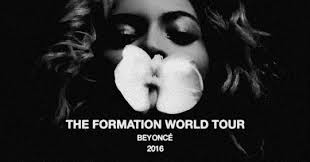 With a surprise new single accompanied by a music video and the announcement of a tour, who knows what else is up the Queen's sleeve for later this year? In December of 2013, Bey digitally released her self-titled album unexpectedly while on the second leg of her Mrs. Carter World Tour. Seeing as though Beyoncé's surprise tactics have worked before, she seems to be keeping the format with the release of her new single and world tour. So no one can quite say what else is up the Queen's sleeve. Another surprise album maybe? The world can only hope. Until then, slay on folks.