Douglas hosts student vs. teacher basketball game in honor of Ethan Lalinde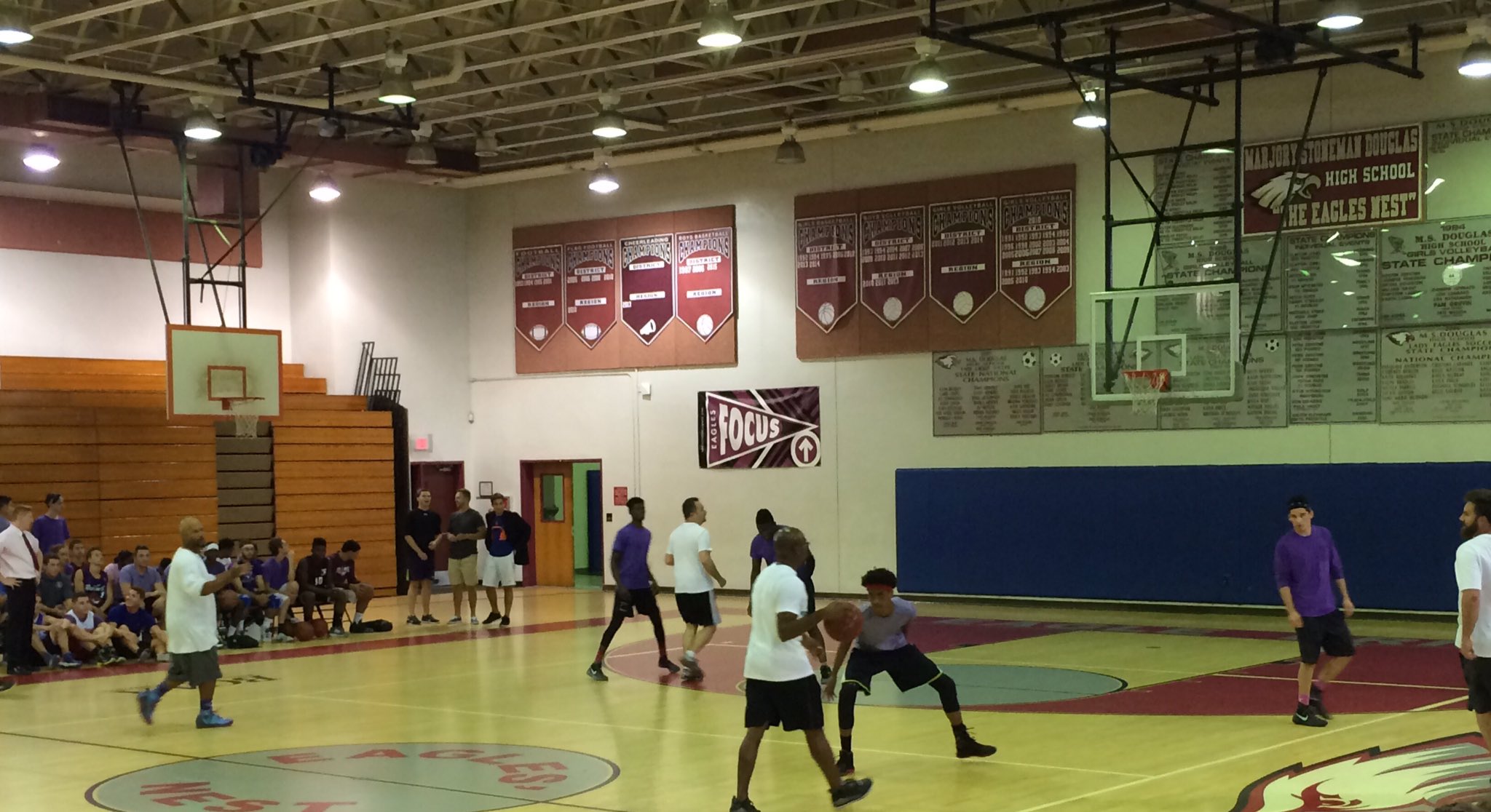 Every year, approximately 1,000 people are diagnosed with cystic fibrosis- a majority of them by the age of two, continuously adding to the 30,000 that currently live with it in the United States and the 70,000 worldwide. But this year was not just like "every year" for the students of Stoneman Douglas, as one of our own, sophomore Ethan Lalinde, passed away on Feb. 5 from complications arising from the disease. A strong, well-liked young man who wanted nothing more but to spend meaningful time with those he loved, Lalinde left behind a mass of mournful friends and teachers alike. In his strength and perseverance throughout his struggle, he inspired those around him and increased awareness of the disease that is still without cure- and one that is still so difficult to understand.
In Lalinde's honor, the student body has taken the initiative to fulfill his wish of creating a greater awareness of the disease. By hosting a successful Cold Stone fundraiser on March 1, creating a team that has collected an amazing $3,195 for the Cystic Fibrosis Foundation's Great Strides Walk in Boca on May 1, and now hosting a "student versus teacher" basketball game to raise money for cystic fibrosis research, Stoneman Douglas students are working hard to keep Lalinde's dream alive.
To get into the gym, everyone had to pay $2 for admission, but were free to donate more if they could- which many attendees, including the players and faculty, gladly did. Before the official starting time, the two teams were allowed a short period of time to practice and get their players together; the "teacher" team consisted of teachers, sports coaches, and administration; while the "student" team, consisted of students from varying grade levels.  After the warm-up period, the game began promptly at 6:30 p.m. Even early-on, the school gym's bleachers were quickly filled.
The teachers took an early lead in the first half on the back of some questionable calls by the potentially biased referees and varyingly confusingly un-athletic plays by the players themselves, but the student team soon made a comeback propelled by their comparatively accurate shooting, ended the lively first half in a 29-29 tie.
"I thought that the first half of the game was very exciting and entertaining to watch," junior Allie Bettinger said. "The fact that we were doing this for Ethan, and that the money raised went towards research for a cure that wasn't available to people like Ethan, made it that much better to be attending the game."
The event then took a moment to remind everyone in attendance about the seriousness of what the event actually stood for- fundraising in Lalinde's name for cystic fibrosis research- by bringing out his father, William Lalinde, to center court. While there, he thanked everyone in the crowd for supporting the cause, and expressed his genuine appreciation for the support shown by students, teachers, and administration in his family's time of mourning. By the end of the speech, virtually the entire gym was clapping for Mr. Lalinde, who walked off the court waving goodbye to the crowd.
"It was a really impactful moment for me, and certainly for many others as well," student team coach Matt Deitsch said. "Ethan's father coming out at an event dedicated to his son just to thank everyone there… it hit me hard."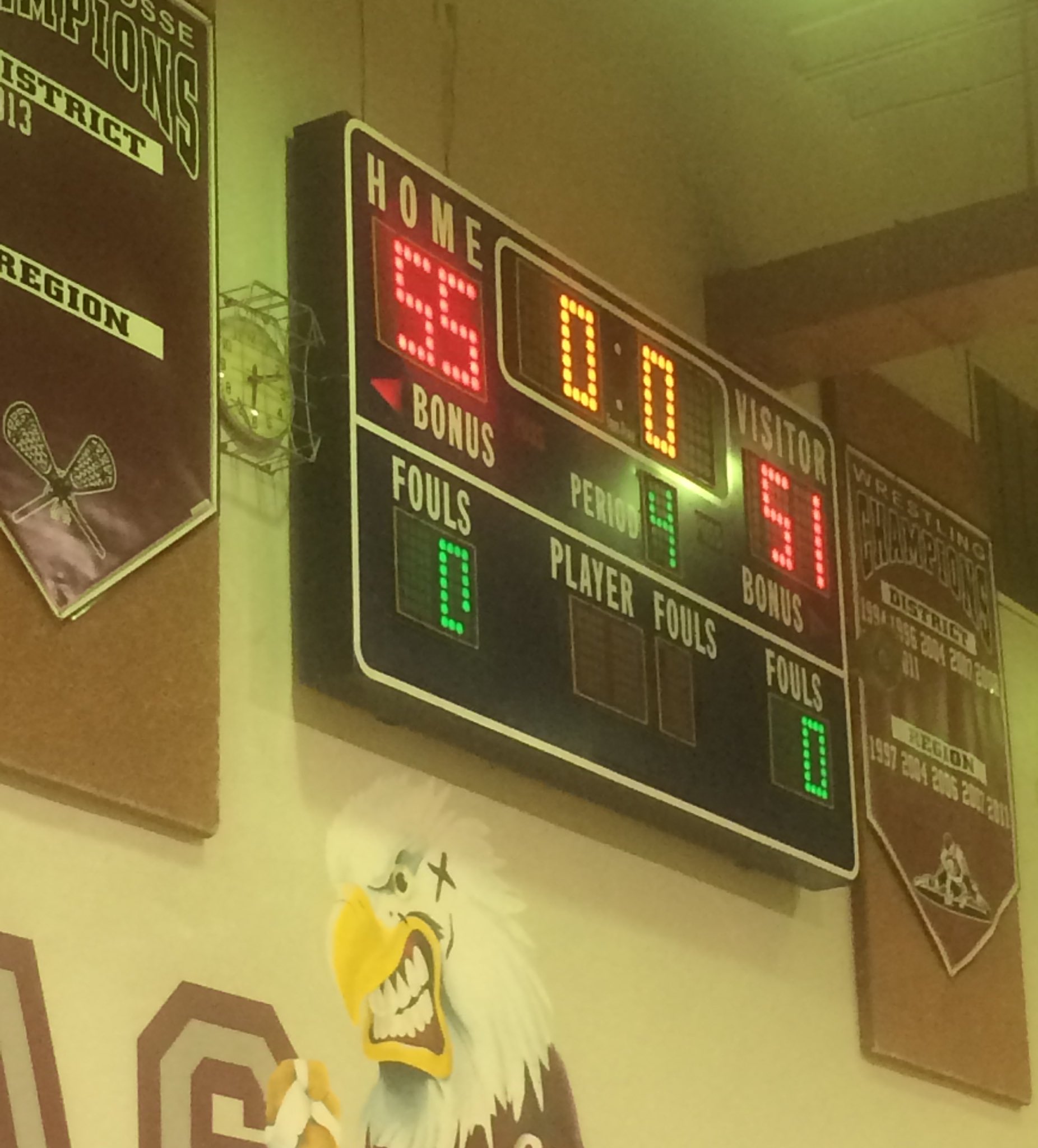 Returning to the lighthearted mood that permeated the building during the first two quarters, the game resumed in the beginning of its second half. The teachers retook the lead going into the fourth and final quarter (where they pushed it up to 12 points,) and despite a string of impressive three-point shots and intense defense from the students that significantly reduced the gap, they never gave up said lead, and the final buzzer sounded with a score of 55-51 in the teachers' favor. But, regardless of the score, it's safe to say that the event- which raised over $500- was a win for everyone.
"Even though we technically lost a disappointingly rigged game," student team bench player Andrew Arboleda said, "I believe that I, along with everyone else who participated and donated money, won tonight by contributed to a very important cause. Ethan still is and will remain in our hearts for a long time, and he has so greatly impacted not just our awareness of cystic fibrosis, but all of us in general. It was a special night to say the least."
Being diagnosed with cystic fibrosis used to be equivalent of a pre-adolescent death sentence, but despite there even now being a significant amount of the disease that is still left to be learnt and understood, the Cystic Fibrosis Foundation states that breakthrough treatments "have added years" to the lives of those who have it, mentioning that today, "the median survival age is close to 40." With the awareness and funds raised, as well as the events held in Lalinde's honor, this life expectancy only continues to rise, as now even more research is made possible.
"The way that the Douglas community has come together in mourning as well as awareness following Ethan's passing means so much to me," junior Keila Velasquez says, who had been close friends with Lalinde. "Bringing awareness to cystic fibrosis would have meant a lot to him, and that is something I believe all the events we had- including this game – have accomplished, while never at any moment letting the memory of Ethan go, but all in good spirits. I can't put into words how grateful I am as his friend to the school and every single student who participated; I can only imagine how thankful his family must be."
If you would like to make a donation to the Ethan Lalinde team for the Cystic Fibrosis Foundation's Great Strides Walk in Boca on May 1, click here: