Shakespeare's legacy at Douglas
Gillian Marton
April 30, 2016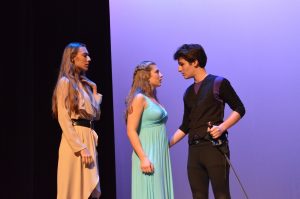 In honor of the 400th anniversary of Shakespeare's legacy, Marjory Stoneman Douglas drama students displayed their gifted acting skills while performing a rendition of Romeo and Juliet On April 28 and April 29.  The show, almost completely student driven, was directed by Junior Dylan Baierlein and Senior Bradley Thornton, who also acted as Tybalt and Romeo respectively.
Unlike many other Stoneman Douglas productions, students controlled every aspect of the play from light design to stage management. It was clear that although maintaining different specialties, the students of the Douglas drama department came together as a cohesive unit to execute the tragedy of Romeo and Juliet with modern characteristics inspired by works such as "The Hunger Games" and "Divergent"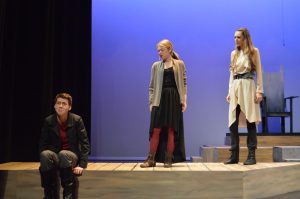 Students and parents filled the auditorium as showtime approached. The production attracted a full house, with only a few empty seats left by the time the drama director, Melody Herzfeld, introduced the show and its purpose to the audience.
As the production began, the audience quickly became engaged in the action as the first scenes depicted a sword fight while incorporating Shakespearean language to establish the essence of the time period and setting.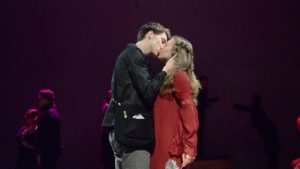 Each of the five acts clearly articulated the passion and emotion which embodies the story of Romeo and Juliet through the apparent chemistry and professionalism of the main characters. Freshman Dylan Redshaw portrayed the charming elements of Juliet and her star-crossed love affair, setting the tone for the enticing production and often eliciting emotion from the audience

As the play progressed, the actors and actresses fully remained in character and maintained a steady amount of energy, making the production compelling and captivating throughout its entirety. By the time intermission broke, the play was receiving raving reviews from parents, teachers, administrators, and students alike.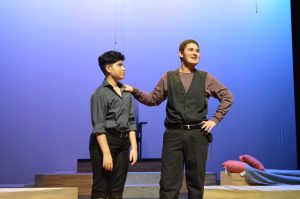 As the production came to an end after two and a half hours of passionate and devoted acting, the students stood center-stage as they proudly bowed in honor of their hard work and dedication to commemorating the 400th anniversary of William Shakespeare's legacy.