Fun or Felony? School locks vandalized, leading to thousands in damage
Lauren Newman
May 23, 2016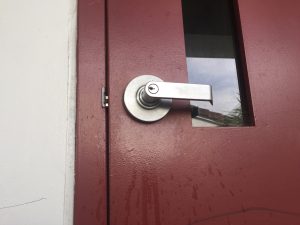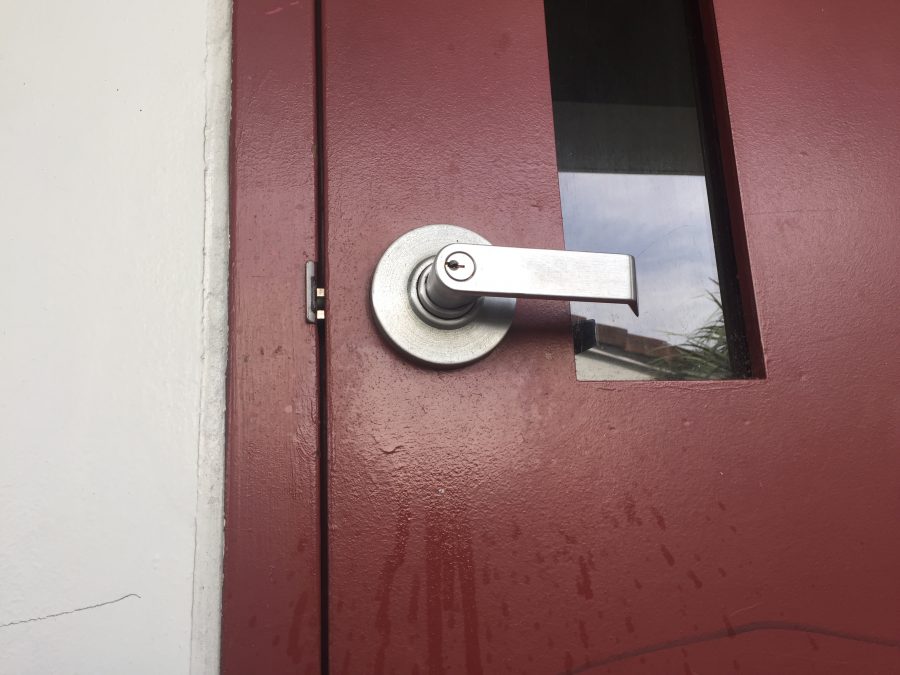 The morning of May 19, 2016, teachers, students and administrators entered Marjory Stoneman Douglas to discover that they could not get into many of the school's outdoor classrooms after the keyholes of many doors were filled with a thick super glue (a relative of the highly adhesive liquid nail product). This incident is the result of one of the most costly pranks encountered at MSD, according to multiple staff members.
To see that repairs of such property will meet a hefty cost, one does not have to look very far into MSD's past. Several years ago the district decided to install a new system of locks to tighten up security within the school, which cost around $150,000. With the improved system, it was close to impossible to recreate any of the keys. In addition to this, teachers were only given keys to their classrooms and closets, in contrast with the previous regulations in which teachers had access to the whole hallway or building.
Approximately 90 percent of the locks in the school had to be replaced. The incident has proven very costly, as the school has to pay $45 for each lock and the labor costs for the workers. Additionally, some teachers broke their keys attempting to enter their classrooms, which also have to be replaced. Assistant Principal Max Rosario estimates that the repairs will cost the school between $15,000- $40,000.
"The administration is very upset about it," Assistant Principal Lucille Flynn said. "This is a school with great pride and a tradition of respect, so we are just going to keep investigating, and hope we find the person that did it and we will see what happens from there."
All across campus, MSD faculty members are similarly outraged by this prank.
"Students need to put their brains in gear before engaging in activities that may forever change their path in life," Chemistry Teacher Teresita Chipi said.
However, not everyone is as phased.
"I think if someone could have gotten more seniors involved, they could have pulled off pranking all the doors," senior Andres Guerrero said with enthusiasm. "It was probably the best prank in the last three years or so."
Although one cannot confirm this is part of the annual senior prank, seniors have been forced to put the official senior prank on hold until the culprits are discovered.
"I heard that this prank was not the one that was approved by administration, and they told them that they were going to do something else," sophomore Halie White says.
According to administration, this is a very common misconception circulating around the school that the senior pranks get approved and are allowed. In reality, all of the senior pranks are against the rules and result in severe consequences for the students involved.
"There has never, ever been an approved prank," Flynn stated. "We would love to say that another senior prank will never happen again, but something to this extent has never happened before."
Administration is considering offering rewards for those aware of the May 19 incident.
"I don't know how much information we want to get out right now," Assistant Principal Winfred Porter says. "We want to know if any kids have information about who may have been on campus last night or early this morning. We are looking at getting some incentives that can help and even giving awards for those students who are willing to act as crime watchers."
According to Porter, on the school level, the minimum punishment would be suspension. If the students are seniors, then they could even potentially be excluded from the graduation ceremony. However on a legal level, the penalty for vandalism is much more severe.
In the state of Florida, vandalism in which the damage is valued at more than $1,000 is categorized as a third degree felony and has a potential penalty of up to five years in prison and fines reaching $5,000.
This is not the first time that the school's locks have been vandalized. Several years prior to this incident, a similar act of vandalism occurred. However, it was not nearly as severe or costly. A group of students had glued pennies to each of the locks, but it was much easier to clean up because the type of glue used was easily washed off and did not affect the mechanics of the locks.
Administration began investigating the May 19 incident since it was discovered around 7:00 a.m. The district sent workers to remove and replace the locks mere hours after the prank's discovery, which took all day and into the early evening.
The search for the people who carried out this operation continued until the four culprits were identified by administration on Friday, May 20.