Douglas Baseball Wins State Title For First Time in School History (Multimedia)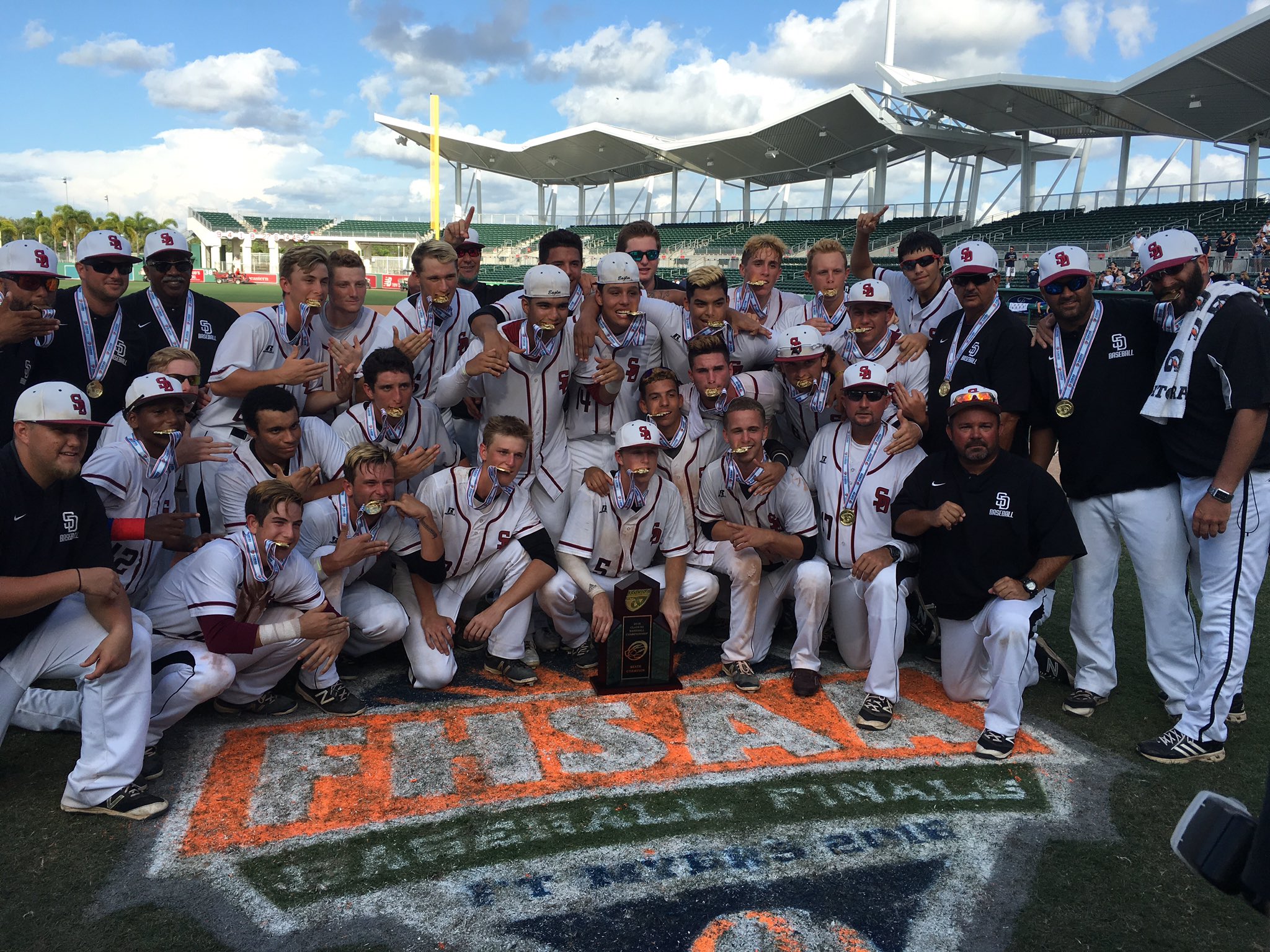 With a 90ºF, clear blue afternoon sky to set the scene in Fort Myers, Florida, the Marjory Stoneman Douglas Eagles stepped onto the foreign green turf of JetBlue Stadium yesterday for a game few had expected them to reach: the State Championship Final. The game marked the peak of what has been a historic season for the Eagles, as along with this being their first time making an appearance in the State Finals, prior to this year they had never come out as the victor in their region.
Rapidly climbing both state and national rankings, the team racked up win after win, soon earning the #1 ranking amongst all teams in the entire United States per the high school baseball site Perfect Game, and going undefeated in their district and 11-1 overall. Players from the team ranked highly in their own positions as well: pitcher Brandon Kaminer, a University of Miami commit, tied for 3rd in the nation for most wins, going 11-0, and throwing 90 strikeouts to place 26th overall; third baseman Colton Welker, another University of Miami commit, hit 6 homeruns to place 7th in nation on a .512 batting avg, which in itself is the 19th best in the nation; first baseman John Mckenna, who will play for West Point Academy, had 32 runs batted in- 16th highest in the nation. Injured pitcher Jesus Luzardo, who will also be playing for Miami next year, and Welker are both nationally acclaimed, ranking as the 12th and 23rd best players in the entire country, respectively.
Their dominance in district play carried on to the District Tournament, pushing past Monarch and Coral Springs High School and onto Regionals, where a much tougher road now laid ahead in an extremely competitive region. With a rather easy 10-0 win over Western in the Regional Quarterfinal, the Eagles took advantage of their hot start, propelling themselves to tightly contested 2-1 victories over West Broward in the Regional Semifinal and Jupiter in the Regional Finals to move on to States for the first time in school history.
"All of the great coaching that we have and the hard work that we've put in together is what has led us here in the first place," ace pitcher Brandon Kaminer said. "Even then, many doubted us, but that only brought us closer as a team and pushed us even more to bring this team to states. We are more then ready."
The Ring Chase Arrives at States
On Friday morning, Douglas' fan bus arrived to States in Fort Myers, filled to the brim with excited students, likely blasting the school's viral song and new team motto Ring Chase created by seniors Demetri Fortaleza, Gordon Jupiter, and team member Joey Bullion. Now, with even more fans being able to cheer on the team than before, the players knew that they had to come prepared with confidence and the ever-present intense determination that made them the top team in the nation. The students have shown how much the success of their baseball team has meant to them, and now the players wanted to bring these fans the championship they deserved.
"The fans and students that have come to support us, as well as those watching back in Parkland, have been such an incredible source of motivation," Kaminer, who would be the starting pitcher for the day's game, said. "We don't take any of it for granted, because we want to give them our best. Their support means so much to us, and just pushes us to get this ring even more."
As students who could not attend the game crowded around any available TV back at school, the Eagles took the field for the State Semifinal against the #19 ranked West Orange Warriors, batting first. Leadoff hitter Luis Acevedo quickly starts the game off with an infield single, and soon after, shortstop Colton Welker is thrown a wild pitch, sending him to second and allowing Acevedo to score all the way from first base; just like that, the team had taken the lead, 1-0. But it didn't last long, as in the bottom of the inning, West Orange put two men on base, with one of them scoring off a single to right field. The first inning alone served as a foreshadowing for the competitive game to come.
The 2nd and 3rd innings were pitching showcases, with both pitchers forcing three straight strikeouts and fly-outs each outing. In the top of the 4th, leadoff hitter Welker hits a double to left field to break the pitching battle, then is sent to third base by a sacrifice bunt by catcher Chad McDaniels, and immediately after scores a run as first baseman John McKenna hits a line-drive single to center field to put Douglas up 2-1. Preserving the lead in the bottom of the inning, Kaminer retires his eight, ninth, and tenth consecutive batters- already with 4 strikeouts thrown- and so West Orange continues its hitless streak until they finally manage to break it in the next inning. In the top of the 6th, Welker gets on base yet again with a double off of a ground ball hit past first base, as does McDaniels after being hit by a pitch. McKenna, already with one run batted in, steps up to the plate with runners on 1st and 2nd, and delivers with another hit- this time a double- and again allows Welker to score a run, putting the team up 3-1 late in the game.
The next batter, Jonathon Pino, is intentionally walked, leaving the bases loaded and Douglas with a prime opportunity to extend the lead even further, but they instead come up short after consecutive strikeouts. With a looming two run deficit, West Orange responded by drawing a walk by their leadoff hitter, and then hitting a double off the wall to score a run and trim the lead to 3-2; Kaminer then walks a batter with two outs, and is subsequently taken out in place of pitcher Brady Norris, who stops them from tying up the game despite having two runners on base. Entering in the final inning, Douglas ends the top of the 7th unable to extend their lead, now having to rely on their pitching and defense to preserve their victory. And they do just that, with Norris throwing three consecutive outs, forcing a fly ball to center fielder Josh Miaskowski on his last pitch of the game. Players and fans alike went crazy- they were moving on to the State Finals.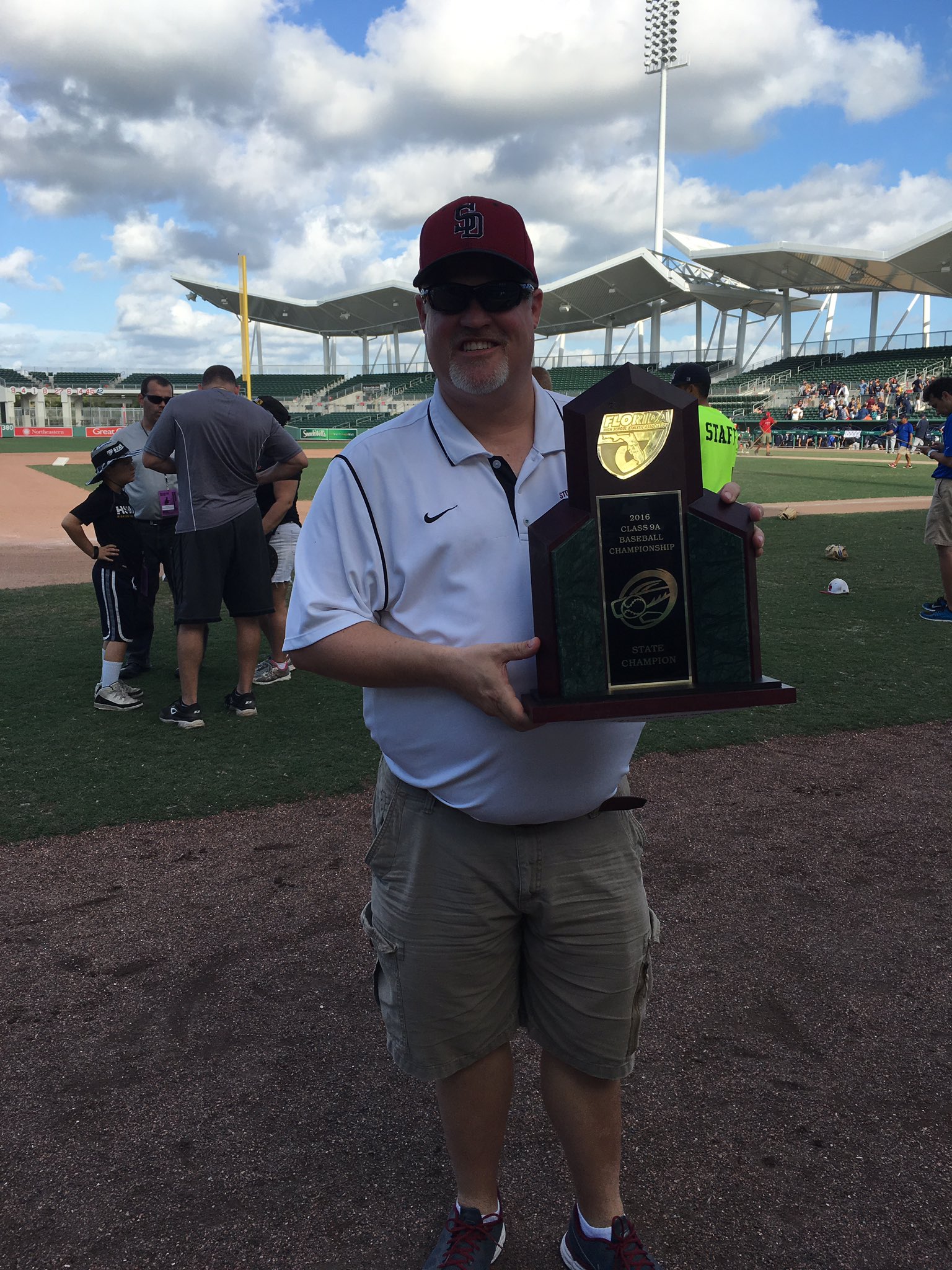 Game Day
"We have been preparing for this game since the very first day of practice," McKenna said. "We worked hard every single day, and put everything we had into reaching this championship game."
The team already had achieved what no other team in school history had, but they didn't seek just to make it to States- they came to win it. But in their way stood a formidable opponent- the #33 nationally ranked Miami based Columbus High School, who's Explorers have also fought through one of the most difficult playoff brackets in the state to be in this position; most importantly, they were the defending State Champions. And so, under this clear blue afternoon sky, and on this foreign green turf of jetBlue Stadium that few had expected them to reach, the Eagles knew exactly why they were there, and they wanted those who were not counting on them to know as well.
With Columbus batting first, Norris, the starting pitcher, gives up only a walk while retiring the other three players with forced fly-outs. At the bottom of the inning, Columbus' pitcher, Dominick Diaz, gives up only a single; immediately after, Welker hits a line drive, which leads to a double play that ends the inning. And so continues the 2nd and the 3rd, with only one hit awarded to Columbus and a double play by Douglas' infield to show for them. The bottom of the 4th showed some promise, as both McDaniels and McKenna singled to centerfield, but Bullion was caught stealing after pinch running and Pino hit a pop up to right field, ending the inning. In the 5th, a similar storyline continues, with both teams getting runners on first and third base with the assistance of opponent errors, yet both coming up short in their chances to score and take the lead. Continuing an excellent pitching performance into the 6th, Norris retires the side with a fly out, ground out, and a strikeout to still hold on to his ongoing shutout. It's still 0-0.
Finally, in the bottom of the inning, the offense came to Norris' aid. After Welker's fly out, McDaniels hits another single, and is replaced by Bullion to pinch run; McKenna yet again pulls through with single to right field, sending Bullion to third, and again putting the Eagles in a good position to score late in the game. The next at bat by Pino results in a infield pop out, and despite McKenna stealing second base, the danger of taking a scoreless game to the final inning still loomed. Now stepping up to the plate, the team needed a clutch at bat by outfielder Kyle Shay; and he sure did deliver, coming up with a single to left field that sent McKenna to third and scored Bullion. The game was now 1-0, and Eagles had gained the lead that they so desperately needed- but they didn't stop there. Still with two outs, Shay steals second base, again putting runners on second and third. Then, third baseman Ivan Nuñez did the unexpected and knocked the ball down the left field line to score both Shay and McKenna- and effectively put the game out of reach with a 3-0 lead. After all this, Columbus manages to get Auerbach to fly out to right field, finally ending the inning.
"Coming at bat after Shay's huge hit to put us up 1, but I knew that I had to step up as well in order for us to put the game out of reach," Nuñez said. "I thought of my family, my teammates, and my coaches, and all of the time and effort we had put into this run. I knew that all that I had to do was get solid contact to put the ball in play."
And while the scoring burst did open up the game greatly, the Explorers still had one more chance to make a comeback and push for the title of back-to-back champions. But the Eagles were too close to let the State title slip away, and with a group of pitchers that had only given up four total runs in their five playoff wins, that did not seem likely.
3 outs.
Norris steps to the mound, and quickly forces a foul out to Nuñez at third base.
2 outs.
The next at bat leads to an easy ground out to McKenna. The student section is at a fever pitch.
1 out.
Norris, now one at bat away from a shutout win in the championship game, forces a swing into a hard ground ball to shortstop Colton Welker, who immediately throws the ball to first baseman John McKenna. The runner is out.
The Marjory Stoneman Douglas Eagles are Florida State Champions for the first time in school history.
"Lots of blood, sweat, and tears have gone into this run," Nuñez said afterwards, "and we finally did it."
The players, half of them seniors, and coaches rush the pitcher's mound from both the field and bullpen, piling on Norris in ecstatic celebration as the Douglas students in attendance proudly cheer on their team's historic victory. The immediate rush of coaches and players alike to embrace each other and decidedly celebrate together marked the true character of this team  a character onto which players credit their success.
"Our chemistry is, and always has been, extremely tight," McKenna said. "We would work, learn, practice and hang out together for hours on end- we bonded. We never got scared and always trusted in each other, believing in everyone to make the play or get the hit. Leaving this team after having won the school's first state title [due to graduating] will definitely be bittersweet. But I wouldn't want my story here to end any other way."
Students and Faculty Host Rally for the Team
Now with the team about to return home, this afternoon a large group of students, faculty, administration, and parents alike joined together in the school's senior lot to welcome home their state champions, cheering them on and clapping loudly as they arrived by police escort, and were given a performance by members of the school's band to commemorate their victory. Local TV station WSVN 7 even came to film the rally, while pictures were being taken by Newspaper and Yearbook staff alike. The amount of enthusiasm and genuine pride coming from the crowd truly encapsulated the support that had provided so much motivation for the team; the community quite literally rallied around them.
"It's the first time in our 26 year school history that we've had a baseball state championship brought home," Principal Ty Thompson said, "so we are extremely elated. Everyone coming together today to celebrate something amazing like this. It just goes to show that we are a true, supportive community."
Players in the MLB also tweeted out their support and joy for the team, including Douglas alumni and current Chicago Cubs first baseman Anthony Rizzo, and Kansas City Royals first baseman Eric Hosmer, who had won a State championship with American Heritage under Coach Fitz-Gerald in 2008. In addition, Parkland Mayor Michael Udine also cheered the team on throughout the season and playoffs, attending the rally to personally congratulate the players and coaches.
"Having Douglas win the championship is just an amazing feeling," Udine said. "The city is so proud of these kids, and I'm so glad that so many people in the community supported them on their run."
And so now the Eagles will have some time to take in their victory. But it won't be long, as before we know it, the team will be ready to prepare for next season on their road to becoming back-to-back State Champions. The second #RingChase is about to begin.
They Call It a "Ring Chase;" Students release song to support baseball team