Marjory Stoneman Douglas High School students rush through the cafeteria doors, eager to audition for the Multicultural Show. With buzzing excitement, they get in line to receive a numbered tag indicating their chance to perform. Waiting for their numbers to be called, students go over their dance routines in their heads, determined to make no mistakes. Soon enough, auditions begin and cultural music fills the room as students give their all to their performances.
MSD's Spanish Club will host its 14th annual Multicultural Show on Dec. 1 in the John Rusnak Auditorium. Other clubs, including the Indian Student Association, Black Student Union and Asian Student Association, will perform in the show as well.
In the Multicultural Show, students share their cultures with their peers through cultural dances. Featured dances include the Bachata, a Bollywood dance and the Kompa. Auditions began on Sept. 11, giving dancers and choreographers approximately 10 weeks to prepare for the official performances on Dec. 1.
Each year, Spanish Club members create an original script for the Multicultural Show that tells a story while introducing each performance to the audience. Virtual reality is the show's theme this year, and the backgrounds, lighting and costumes of the show are all chosen accordingly.
Preparation for the show starts during the last quarter of the previous school year. During that time, prospective choreographers record and submit dances in order to audition. Dance coordinators who lead the show's production are also chosen by performing tasks such as deciding on music and lighting for the performances.
Each dance group practices at least once a week for approximately an hour. Some rehearsals take place at MSD, while others occur in students' homes. A week before the show, dress rehearsals are held in the auditorium after school, which involve every act in the show. The show will be held during the first two class periods on Dec. 1, as well as at 7 p.m. that same day so the performers' families can attend as well.
The Multicultural Show is one of MSD's largest events of the year, as it involves many students and clubs. This show brings students together and helps those participating connect with their cultures while instilling an appreciation for them within their peers.
Sophomore Julia Colon is one of the MSD students involved in the Multicultural Show and will be performing in the Merengue and Reggaeton dances this year. It is Colon's first year in the show; therefore, she is excited to perform in front of an audience and show them what she and others have been working to create.
"I like to bond with the other performers and learn new choreography as well as the end result," Colon said. "It's a fun bonding experience with all the dancers and choreographers and it's all a really cool experience."
Members of each of the participating clubs are responsible for choreographing their dances, picking their music and putting together their costumes. Senior Ronel Chery is a member of the Black Student Union and is helping to choreograph the Kompa dance. Along with his peers, he has been putting time and effort into creating a new interpretation of the traditional Haitian dance.
"I looked into several performances. I did my research on Cocoa, which is the genre of music that comes from Haiti," Chery said. "I took inspiration from Cocoa dances and put them into the upcoming show."
In addition to performers, backstage hands are also needed to manage the music and lights throughout the performances and to manage the flow of people behind the curtain. Members of the MSD Drama Club will be assisting with the technological aspects of production.
The Multicultural Show tradition began at MSD 50 years ago. At first, it was a way for only Hispanic students to celebrate their cultures. However, students and parents wanted to expand the event so that it included other cultures as well, and since then, the tradition has only continued to grow.
"Students liked it so much and started to talk about expanding it to more cultures," Spanish Club advisor Maria Garcia said. "We had tons of support and we ended up having a show that included parents to come and watch. It was a total success and we haven't been able to stop."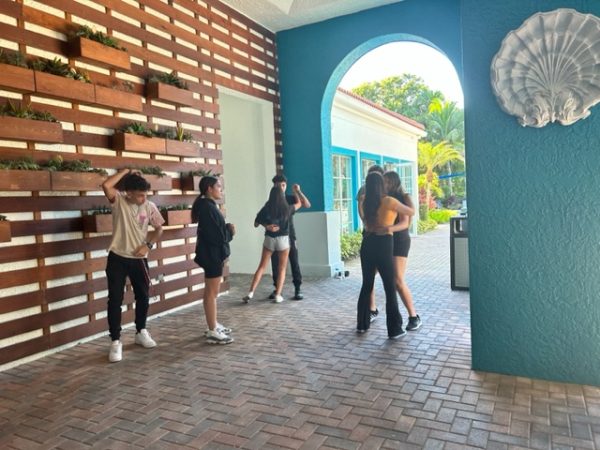 The growth of the show is evident in the fact that, unlike in previous years, the school is no longer offering students an incentive to participate.
"In previous years, I gave out service hours to students that participated," Garcia said. "However, this year, that is not the case. As more students continue to involve themselves in the show purely for the experience, an incentive is no longer necessary."
As the Multicultural Show approaches, participating students are dedicating themselves to learning their culture's dances. On the day of the show, they plan on giving their all to their performances, showing their appreciation for their cultures and their desire to share them with others. Participating students have a passion for the Multicultural Show and what it represents and want to do whatever they can to make it as amazing as possible this year.