Ryan Cruz leads the way for junior varsity football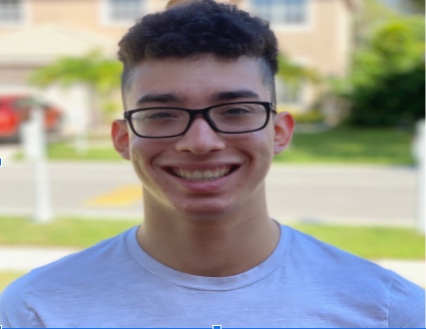 Marjory Stoneman Douglas High School freshman Ryan Cruz is an edge rusher for the MSD junior varsity football team. The Eagles have started off strong and found success in their shortened 2020-2021 season, with Cruz serving as a key player who is paving the way. 
Cruz, who has played football since he was seven years old, has looked forward to being on the MSD football team for a long time. Ever since Cruz saw his older brother, junior Ethan Cruz (15), start playing football, he has had a passion for the game. Growing up, Ryan and Ethan loved playing football together. Ethan is a quarterback on the Eagles' varsity football team. 
"What really got me into football was watching my older brother play," Cruz said. "I love the game of football, the thrill of the game is amazing." 
Cruz had four tackles in his debut game with the Eagles against the J.P. Taravella High School Trojans, helping the Eagles dominate the Trojans 42-0.

"We've been playing really good; we won our first game 42-0. All of our quarterbacks have performed well," Cruz said. 
Cruz is excited to finally get to play, but the Eagles have had to deal with some setbacks due to the COVID-19 pandemic.
"We couldn't have had as much preparation as normal with COVID, everything is more spaced out and cautious," Cruz said.
COVID-19 precautions resulted in the Eagles' games being scheduled to face only three opponents this season, but due to Hurricane Eta, their scheduled matchup against Everglades High School on Nov. 10 was canceled.
The last game of the JV team's season will be against Deerfield Beach High School on Wednesday, Nov. 18. The Eagles have been thoroughly preparing for this game as it's predicted to be a tough matchup. 
"We are practicing hard [and] scrimmaging, focusing on skill positions," Cruz said. "We will need to play as a team and work together; we need to push each other to be great."
Beating Deerfield Beach will be a challenge, but if the Eagles play like they did last week against the Taravella Trojans, they should be prepared to beat Deerfield Beach. Cruz and the defense will need to stop Deerfield Beach's offense in order to win the game.
"I want to sack the quarterback. I want to get better, faster and stronger [for next season]," Cruz said. 
While the football season has been shortened, Cruz's goal of a sack (a tackle on the opposing team's quarterback before they can throw the ball) is very achievable with one game left on the Eagles' schedule.  
Cruz is optimistic about his football team this season and believes that he has a lot of room to improve. He is ready to prove that he can be one of the star players on the team.